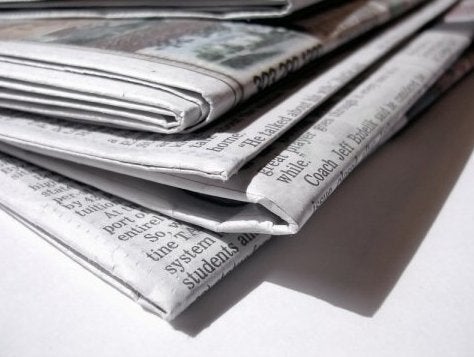 The giant meme-generator that calls itself Facebook spat out an application last week that was a guided tour of the newspaper industry's living museum.
The funniest part isn't that there are still people who know what a pica ruler (or a pica) is, but that many of these items were still in use in the not-so-distant past. Newspapers with dwindling circulations and ad revenues are still using computer systems that are the Australopithecus to Twitter tweets and blogging applications. They're just clearing out the last of the photo loupes and film dryers from old darkrooms and still printing out photo proofs for editors, whose children are e-mailing them jpegs from camp that took a fraction of the time to process. Yet those tools are just a symptom column inches-worth of obsolescence that continue to appear on newspaper pages across America -- like rust bubbling to the surface of a vehicle that's rotting away from its core.
When newspaper as we know it finally does breathe its last, here are some of the features it will take to the grave:
2. Obituaries: Primarily read by the one constituency with a shorter life expectancy than the publication it is reading, the obituary page is a newspaper's way of putting a face on its shrinking circulation numbers. It is written by an intern, a part-time writer/librarian/file clerk or the least valuable member of the full-time writing staff who loves nothing more than to misspell names of the deceased and mistakenly turn surviving children and grandchildren into incestuous married couples (as they did to my family -- twice). As with classified ads, newspapers often expect readers to pay for this privilege. As with classified ads, newspapers are a Craig Newmark away from another lost revenue stream.
3. The Family Circus: This comic is the "Not Me" of the newspaper industry. When everybody's pointing the finger and blaming each other for newspaper's demise, Bil Keane and his little round comic will be sneaking out the back door. The Family Circus and its ham-handed morality and desperate grasps at cultural relevance are an easy target, but it resonates with a larger group of people than you can imagine. Even Timothy Olyphant's drug dealer in the movie Go, who dreads the comic awaiting him at the bottom of the page "waiting to suck," admits he's "strangely drawn to it." Yet Keane is 86 years old, and the planned takeover of the strip by his son Jeff will do nothing more than make Family Circus another nepotistic funny pages tombstone amid Hagar the Horrible (Dik Browne to Chris Browne), B.C. (Johnny Hart to Perri Hart), Blondie (Chic Young to Dean Young) and several others. Like the newspaper itself, it's a creature comfort with value that won't be adequately articulated until it is gone.
4. Dear Abby: Speaking of nepotism, Jeanne Phillips' run as advice icon Abigail Van Buren seems destined to fall woefully short of that of her mother, Pauline. A newspaper fixture since 1956, Dear Abby set the template for nearly everything from Slate's Dear Prudence to Dan Savage. However, much of the radio, television and Internet content that followed achieved more than Abigail Van Buren could have dreamed possible. Perhaps this is why, when Esther Pauline Friedman Lederer (aka Ann Landers) passed away, her daughter Margo left her post at Dear Prudence and filled the void left by her mother with Dear Margo. She has her own brand and a Slate-driven Web savvy that Phillips lacks and seems poised for a life post-pulp. Dear Margo: How do I use HTML? Abby from Page 8 of the Lifestyle section.
5. Horse Racing Results: The same beast that birthed the grizzled, boozy newsman of lore also sired the mythic cigar-chomping, paper-clutching rail rider. Both have become endangered species, but only one has columns of scarcely legible agate typed dedicated to him. The curators of these exacta- and trifecta-crowded columns tend to share their readers' fervor for the ponies, but have twice as much riding on the races. As tracks close or become low-end casinos, the railbirds only lose their pasttime. For the agate man, the dual declines of both horse racing and his industry are heading to a photo finish.
6. Day-old Weather: This just never made any sense. Your local paper doesn't employ a meteorologist. Never has. If you're looking at it from a strictly local perspective, that walk out to your front stoop/step/foyer/lobby to get the paper should give you a pretty good idea what the weather's like for your morning activities. Failing that, use a window. By the time you get around to reading the paper, you've likely heard one of 20 "on the 1s" forecasts on your radio, checked Weather.com at work or had the weather forecast blared into your ear at the gate while waiting for your flight to know what the weather is going to be like. Yet newspapers hold onto this feature for dear life, fearing that some shut-in (who's well sheltered to begin with) will cancel their subscription if they don't take up valuable space that could be allocated to, oh, local news, investigative reporting, etc., with a map of sun shapes and sun/cloud mixes. Here's a fun game: Spot the difference between "Partly sunny" and "Partly cloudy" icons. There isn't one.
7. Lottery Numbers: You know who has the lottery results? The same corner bodega where you fritter away your paycheck every week trying to hit the Powerball. Funny how it always posts them the day after you lose, sometimes with the caveat that some other degenerate who buys his Camels in the same store actually took the jackpot and earned the store more money than you'll make this year? That's right, play your high school locker combinations again -- the town needs a new fire engine, junkie.
8. Pages of Movie Times: When the last newspaper goes online or closes its doors, the only things left in the press room will be a stench of decaying paper and stacks of old movie ads. As automakers and dealers stall and department stores stumble, movie advertisements are one of the only reliable revenue streams newspapers have left. Never mind that before nearly every film, there are commercials for Fandango, Moviefone or some other listings service that is accessible by phone or Internet for free. Or that movie downloads and other home viewing options are sapping away theaters' strength. As long as there's a paper to take quarter-page ads for grappler/thespian John Cena's epic 12 Rounds, there will be an unpaid intern entering its host theaters and showtimes by hand.
10. Printed Television Listings: TV Guide ditched its guide format, is printed biweekly, has randomly dropped certain listings and is hemorrhaging money to the point that the operation was sold for $1. Most cable services have the TV Guide Channel or, if they've updated to this century, a guide system of their own. Does any of this stop newspapers from running TV listings? No. Why? Because people like to bitch. Sure, this does enrage some editors to the point of incoherent ranting, but even in the face of disappearing ads and editorial space, they'll give in. Why? Because they know they need the reader more than the reader needs them, and that they and their colleagues are the only things disappearing from newspapers faster than the 10 items listed here.
Popular in the Community