A glimpse Inside the Untold Stories of Women in Congo
"There is no greater agony," says poet Maya Angelou, "than bearing an untold story inside you." Eleven weeks ago, we met a woman who asked us to tell the world her story. Her story takes place in what some call the most dangerous place in the world to be a woman: The Democratic Republic of Congo (DRC). Rich in minerals and natural resources, yet the poorest country in the world, a woman in the Congo is raped almost every minute. In a country plagued by decades of war, rape is cheaper than bullets.
Yet Congo's crucible has produced hauntingly beautiful stories of hope too. Earlier this year, we traveled with World Relief on a mission called Ten for Congo to the dusty, concrete floors of the rebel occupied, mineral rich territory of Rutshuru. It was here we listened for hours to stories of women who survived brutal rape. It was here we met Esperance, whose name means hope. "Tell my story," she implored, signing her name on a release form in the most human and personal way she knew how, by dipping her thumb in ink and stamping her plea on a page with her name printed underneath.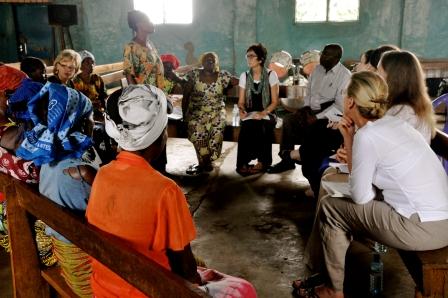 Upon meeting her, our eyes took in only the obvious: orange shirt stained with work; pink and blue tie dye skirt wrapped around a very tiny waist; white head scarf with a grey bow; and neon green flip flops with white daisies. High cheekbones, deep set eyes, her lips pulled tight, her feet planted and calloused like the roots of a tree. She was the first of 11 to speak. Eyes downcast, hands folded at her abdomen, she told us her name, her age, and the number of children under her care. She is 50. She has four children. She unfolded her story, slowly, opening each sentence to the light that filtered through the windows of the remote village church where we sat.
Esperance and her husband had set out to find cooking wood. "It must be done," she said, "even though it is dangerous." They met militia soldiers in the bush; each man carried a machete tucked inside his fatigues, and each man had a gun. In a clearing, the soldiers bound the hands of Esperance and her husband, when her husband resisted, she instinctively threw her hands to the top of her head in surrender. She knew what the soldiers would do. First they shot her husband and then they threw their fists at her face. She was thrown to the ground, stripped her clothes, and raped. When they were done, they left her in the forest, where she remained for three days -- torn, bleeding and unable to walk.
She did not say how she was eventually found. She did not say how she struggled at the hospital with the month-long treatment for the prevention of HIV, pregnancy and STDs. She said only that the violence she endured was so physically devastating it could not be fully repaired with surgery. She would have despaired if it were not for pastors who sent a local caregiver, Mama Odele, who co-leads a recovery program with other volunteer counselors. The counselors cleaned her, clothed her and took her to the hospital for a rape treatment. When she returned home, they visited her, brought her children food and helped her find work. She said it was their kindness that reminded her she was still a human being.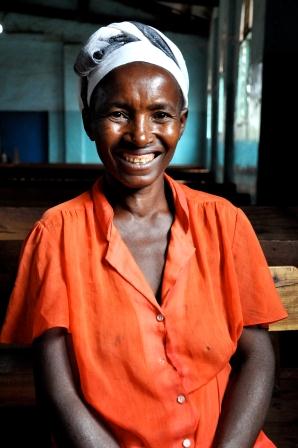 As she finished her story, the shadow of pain slowly eased, and the tightness of her lips relaxed into a smile. Still human. Still a woman. Still a sister.
Esperance's story was the first we listened to that day, and the ones that followed were equally tragic, painting a horrific picture of the realities routinely faced by women in Eastern Congo. In Congo's patriarchal culture, rape has become normalized. Accepted. Okay. From the time they are born, boys are taught that being a man means they have dominion over women. Rapists are even congratulated on being "man enough" to "take a woman." Laws that should protect vulnerable Congolese girls and women are not enforced, yet victims are ostracized by their communities, families and often their own husbands. Even some churches have reinforced this perspective when they preach a distorted message of female submission. In fact, the American Journal of Public Health estimates that nearly two million women have been raped in the DRC, which puts incidence of rapes at nearly one per minute.
Congo does have a law against men having sex with girls younger than 18, but the law is not enforced. It is not uncommon for girls as young as fifth grade to have sex with their teachers in lieu of school fees, or to ensure their "success" in school. University students who don't demand their professors wear condoms when they have sex with them are offered higher grades than girls who do. Women are often asked to have sex with potential employers before they are hired.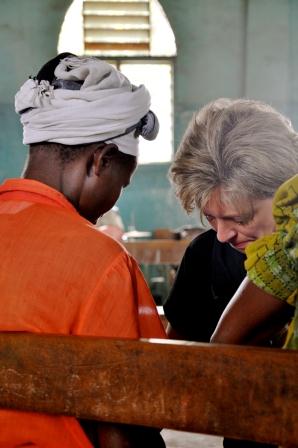 The Ten for Congo team met with Dr. Monique Kapamba Yango, a Congolese surgeon and leader of gender-based violence rehabilitation programs. In beautiful French, she described this grim reality:
Perhaps the deepest problem is that women in a culture such as this are conditioned to believe they are of little value -- they truly believe they are subordinate to men. So they lose the will to fight back, to stand up for themselves, to expect just and loving treatment. Life is what it is.
A Rwandan church leader who translated for Dr. Monique added his own commentary, "In a situation like this," he said, "where there is no rule of law, the church is the only hope." And here is where we found a glimpse of change and promise.
Through the work of people like Dr. Monique, things are beginning to change. There has been a shift in attitude among the leaders in several local communities and churches. Acknowledging the problem of widespread rape, this hopeful group of church leaders have in turn committed themselves to the slow, but sustainable transformation of cultural attitudes toward women and sex. They have organized Village Peace Committees -- comprised of other local church leaders, women and youth -- who are trained to facilitate conflict resolution without violence and rape. Although the work these local leaders do remains dangerous, they unapologetically challenge men to change their thinking, and to actively protect, advocate for and empower their sisters, wives and daughters. Together, there is hope for a solution.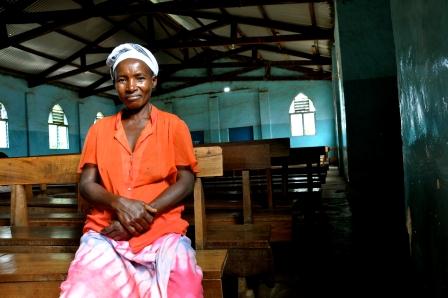 It is imperative for work like this to continue in Congo so the tragedy that befell Esperance does not continue to devastate even more women. Esperance's thumbprint -- her courageous assent allowing us to use her name and tell her story -- represents an important shift in Congolese culture, one we hope empowers other victims. By telling her story, she is fighting the culture of rape in her country. She is taking a stand -- to be valued, to be a woman, to be human.
For information on the Ten for Congo team and how you can support World Relief's work to end the violence in Congo, visit: worldrelief.org/lynnehybels
Lynne Hybels is an advocate for global engagement at Willow Creek Community Church in South Barrington, Illinois. She is the author of Nice Girls Don't Change the World and helped produce Hope and Action, a DVD and participant guide that introduces churches and small groups to first steps in addressing the HIV/AIDS pandemic. Lynne and her husband, Bill, have two adult children and two grandchildren.
Belinda Bauman is teacher, speaker and writer, wife and mother, and advocate. She is currently helping direct the work of Ten For Congo and is writing a book series that helps children understand conflict areas of the world and the hope of peace. Through her life's work, she seeks to bring justice into the dark corners of the world. Belinda and her husband, Stephan, have two children.
REAL LIFE. REAL NEWS. REAL VOICES.
Help us tell more of the stories that matter from voices that too often remain unheard.