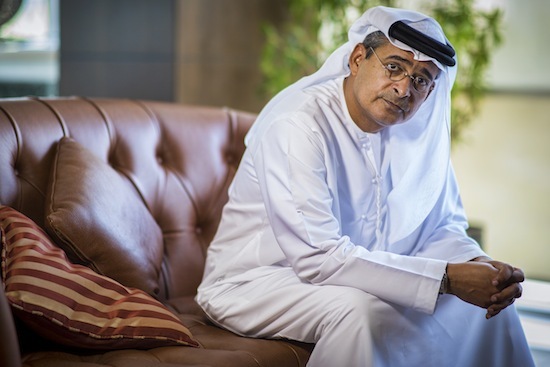 I'm also extremely fortunate that I've been able to turn to Juma on quite a few occasions, whenever a question arises or I need his insight to make something crystal clear. His no-nonsense, 'few words to mean so much' approach to life -- and his work in encouraging, featuring and promoting world cinema -- have provided me with priceless gems of wisdom. Walking out at the end of a screening of Enough Said in Abu Dhabi, I struggled to find the words to describe the film featuring James Gandolfini's last performance. "Wonderful script" Juma quickly jumped in when I met him in the lobby, and with those two words, had the movie forever labelled in my mind.
So for this year's special tenth anniversary edition of DIFF, I naturally turned to Abdulhamid Juma for ten concepts that could clearly define his festival. His words perhaps shed light on the reasons why Dubai, in ten short years, has become the Cannes of the Arab world, the go-to destination for world cinema in the region, and beyond.
Juma explains "We really knew what we wanted from day one. What type of festival we wanted, because I think some of the festivals I hear about, or go to, they just don't know what they want. Sometimes they are for the public, sometimes they are for the industry, sometimes they are for the local productions, sometimes for tourism, sometimes they are for no reason. We had a vision."
This one more of a challenge, in Juma's words "How do you differentiate yourself from other festivals?" And he continues "And that DIFF-erentiation came to us as part of our third reason which is..."
In a sea of film festivals, one kicking off almost every day, Juma stresses what's important "These last three points really go together. A clear vision, with DIFF-erentiation, through a focus on Arab cinema."
Juma elaborates "Film festivals really have to have a very, very niche operation, because of what I call, really, the experience. A film festival is an experience. You might go wrong somewhere but the experience overall has to be over 80%."
The key to a great festival, in Juma's words, "You can do whatever you want to do, but because you are a film festival, you have to have good films. Otherwise you can have all the nine components but at the end of the day, you have to call yourself something else. We are lucky with the team we have, and how we look at films, it's our soul it's not just trying to find a film."
Taking care of your backyard
Part of DIFF's great mission has been to help local filmmakers, which Juma elaborates, include "Emirati filmmakers, GCC Gulf, Arabs, people in Africa and Asia, so you really are part of a geographical area you cannot ignore." He continues, "But you need to have priorities and it takes time to touch on all of them. After ten years, we know we started with the Arab countries and then came Asia and Africa, then came the GCC then came the Gulf and the UAE and then we started with the Gulf Film Festival. So number six is the complement between DIFF and GFF."
Even a film festival needs to give credit where credit is due and Juma says, "The support you get, from the government, from sponsors, from the audience, the people, from the filmmakers, both around the world and in the region. You have to have all their support, otherwise a film festival doesn't work."
Juma explains "It's really understanding where you fit. This is Dubai, you understand what Dubai wants, what the filmmakers want. I see film festivals that are 100% glamorous, no content. They have good stars walking their red carpets, they have good parties, which I think is a must for a film festival. And you see other festivals, which are really only for the industry, they don't believe in stars, they don't believe in red carpets, they don't believe in even dressing up to go to the films. And they will show good films but the media have no interest in them. That's what I mean by the balance. The other balance is really about films... You cannot have 50% of your films coming from Hollywood, although we could. Or coming from somewhere else, you must have a balance of number of films and number of guests coming from everywhere. You have to make sure that balance exists."
In the Gulf, things change daily. It's a young world, the countries of the GCC, where more than half of the population is under the age of 25. This provides a challenge for a film festival that wants to educate and encourage a new film industry in the region. So Juma elaborates, "If you look back from 2004, we have introduced at least three initiatives every year. I'm not saying all of them worked perfectly, some of them we cancelled, some of them we kept... But we just cannot go on doing the same thing every year. It's very easy to have one place every year, you have the closing party or a party or something, but I always look for something new. I like to surprise myself. Be 'DIFF-erent'."
Probably my favorite word, and one I find reflected often in the Arab world. It's the reason I come back again and again, and prefer attending DIFF to Cannes. Anytime. So I'm pleased to hear Juma state what appears obvious once a guest comes to DIFF, "We're really open to learn. We'll never get to a stage where we say, no matter even after twenty years, we should look and say we became Cannes. Everybody has their own value, I will learn also from those who will come after me, not only me but our whole mentality is learning, knowing our place, and not trying to be somebody we are not."
Image courtesy of the Dubai International Film Festival, used with permission
Calling all HuffPost superfans!
Sign up for membership to become a founding member and help shape HuffPost's next chapter