New England culture still feels familiar to me from my years of growing up in the northeast, and since I lived several years in Vermont, I was fairly comfortable writing about the Green Mountain State. Yet once I began the research, I realized there is a lot more to Vermont than just fall foliage, maple syrup, and ski resorts.
Ten Fun Facts and Trivia Tidbits
Billboard advertising was banned in 1968.
Vermont's largest employer is IBM.
The waste from Ben & Jerry's Ice Cream company is given to local farmers to feed their hogs. All flavors are liked except Mint Oreo.
There are more covered bridges per square mile than in any other state.
Vermont became the 14th US state on March 4, 1791.
It is the largest producer of maple syrup in the United States of America.
The Von Trapp family moved to Stowe because it reminded them of the Alpine setting they left behind.
Vermont has the largest number of ski resorts and ski areas in the USA.
Montpelier is the smallest state capital in America, with a population of fewer than nine thousand people.
Freedom and Unity is the officially accepted state motto.
Brought to You by the Letter V
Please indulge me as I can't resist a bit of alliteration on Vermont's behalf.
Vermont's versatile virtues and vigorous values are as vast and vital as the valleys. Visionaries, virtuosos, valors and viticulturists voluntarily abide here without vociferous vituperation. Visitors with voracious appetites venture to villages for vittles and victuals. Vacationers view a variety of vibrant vermillion and vivid viridescent views.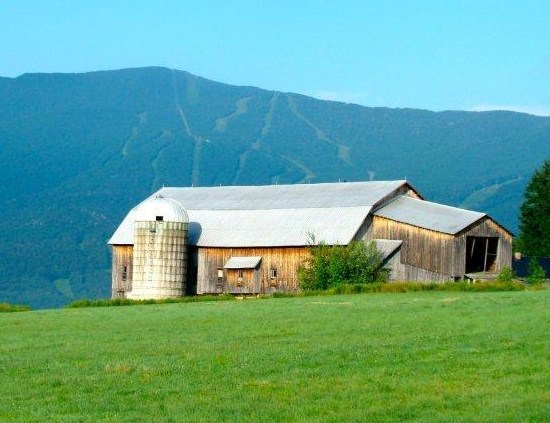 Photo: Kathleen Getchas Falato
Vermont is classic New England. It has a long history, rich in seasonal culture and traditions. Its steadfast residents have an innate respect for community and character. I presented a quick glimpse of Vermont through those ten fun facts and the alliteration, but you can take a better look during a stay at these five Vermont bed and breakfast inns, each with their own historic heritage.

The village of Poultney is at the base of the Taconic Mountain Range in the Lakes Region of Rutland County, known for where much of the slate comes from that graces the roofs of many Vermont buildings. The Bentley House was built as a wedding present in 1895 for Edward Broughton's eldest daughter. This Queen Anne Victorian was their private home until her younger sister stole the husband. It was sold to the academy across the street (Green Mountain College). This B&B is now owned by the Mikkelsens who offer spectacular accommodations.
Historic Windekind Farm and Country Inn, in Huntington, was originally named Higley Hill Farm, and innkeeper Mark Smith admits the house is often called, Grand Dame or Great Lady. Mark built a 1/5 scale railroad and historic reproduction coal trains with various antique tools and machines that have become something of a mini-museum. Mark says, "We are happy to find the marks of past generations...today the old house lives on with fresh purpose for new generations."
Hand-carved marble mantles accent seven fireplaces at the Marble Mansion Inn on the village green in Fair Haven. Relatives of the Revolutionary War hero, Ethan Allen, the Allen family became Vermont's first marble investors when it was readily available and inexpensive. Ira Allen built the three-story French Second Empire home with unique marble grandeur in 1867. Relax amid the opulent elegance.
Built in 1789 by Noah Hoyt, Applewood Manor is one of the three oldest houses that remain from historic colonial Castleton. Noah's older brother Nehemiah was an early settler and assisted in the capture of Fort Ticonderoga. Innkeepers Ralph and Nancy searched New England for three years before finding the perfect property and location. Lovingly preserved with careful renovations, it is now an award-winning bed and breakfast inn.
Hospitality truly meets history at 12 Franklin Street B&B, one of the oldest homes in Brandon, a picturesque town midway between Rutland and Middlebury. Surrounded by Revolutionary and Civil War-era battlegrounds and other historic sites, the area ignites an enthusiastic interest in our nation's past. The well-preserved Federal house was built in 1816 and is listed in the National Register of Historic Places.
Check out the snapshots below...they make me want to visit Vermont soon!
--Shirley Anitra Swagerty