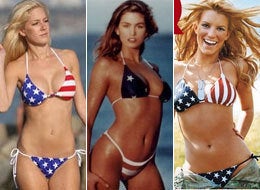 In honor of the great American holiday, Huffington Post has pulled together a slideshow of some of entertainment's finest showing off their patriotism in stars and stripes throughout the years. From vintage shots from a classic television show to modern day magazine covers, the American flag motif has graced bodies in cloth, sequins and even a little body paint.
Below is a slideshow of ten great American flag bikini moments (one on a Brazilian), with a few bonus shots of not-quite-bikinis thrown in as well.
Any iconic shots we forgot? Let us know and leave a link in the comments section.
Popular in the Community