During my morning jog last week I was hit by an idea: I would ask all the painters I knew to send me an image of something they had painted this year and post a "10 Great Paintings from 2011" blog and slideshow. After my email box began to overflow, I realized that my great, impulsive idea had some serious flaws. I had given the artists no criteria, other than asking for representational paintings, and I myself had no idea what I was looking for.
It was sobering to put all the jpegs up on the screen of my laptop and realize that I had about eight times as many really fine paintings as I could actually use, and that I was going to need to send many of my favorite painters a lame, slightly apologetic email along the lines of "Although I really enjoyed seeing your recent work..." Like so many impulsive ideas, this one was going to have one heck of a downside.
I looked over every image, traded email with some of the painters to ask about their ideas, and began to make selections. Then I totally trashed those selections, and started over again... and again, and so on. In the end, my only criteria was that there were several paintings that just really stayed with me. That's why I have decided that this blog should really be called "10 Memorable Paintings from 2011." I also found myself choosing paintings that in some way had an interesting relationship with another image that had gotten my attention.
Because Karen Kaapcke's plein-air painting of the tents in Zucotti Park was the first image I gravitated to, it became my starting point. After spending several days at Zuccotti Park, observing and painting the Occupy Wall Street encampment, artist Karen Kaapcke says she came away different. "My work has changed," she observes, "I am not quite sure how yet." I love the fact that Karen observed a historic set of events and recorded them with a painter's eye.
Next came Nathan Walsh's hallucinatory cityscape "Apple," which I couldn't help associating with the death earlier this year of Steve Jobs. According to Nathan, the painting is a composite of real and imagined elements that deals with "layers of information." To my mind, this painting was a counterpoint to Karen's tent city: a gleaming corporate temple, and a seamless mirage inspired by the company that had more cash on hand than the U.S. government earlier this year.
Ruprect Von Kaufmann's disturbingly powerful "The Prisoners" also combines reality and imagination, but takes us to a nightmarish destination that utterly challenges our sense of humanity. John Brosio's "State of the Union" is much lighter, but it does suggest to us that 2011 is the year when some major chickens came home to roost. In my impulsive opinion, Ruprect and John are at the top of their game as painters.
Since my first four selections had some connection to history and politics, I tried to gravitate next to painters who were dealing more personal themes.
Janice Nowinski and Peter Zokosky both submitted self-portraits. Janice's wonderfully modulated "Self-Portrait in a Blue Shirt" is soulful and reflective; it is like a fantastic cello solo. Peter's "Grand Marshall," in which his dwarf doppelganger leads a tiny personal Rose Parade, is an image that I just found unshakeable and witty.
Leslie A. Brown's "Sweets for the Sweet" is an intuitive cornucopia drawn from the artist's memories and cravings. Brown says that it comes from "... memories of childhood, my grandmother's curtains, infatuation with pop culture, screen sirens of the '40s and '50s, the sweet, sensuousness of a beautiful woman..." After Ruprecht Von Kaufmann's image, I really appreciated the sweetness. By contrast, Sarah Awad's "Vessels of Fortitude," which depicts the Victoria and Albert Museum's cast courts, shows how collecting and hoarding serve to educate all of us about both representation and mortality. Brown's and Awad's paintings both strike me as ambitious and sensitive, but the two artists have bracingly different temperaments.
Heather Neill's "Beginners," is a still life inspired by her friendship with a 95-year-old artist and teacher who is "schooling" her. When he gave her some chunky old Dixon drawing pencils she couldn't help noticing that they had the word "Beginner" embossed on them. "Since then," Heather tells me, "I've recently been hammering home the importance of a strong foundation in drawing skills to a couple of our grandsons who have brought their art questions to my studio."
Since the end of 2011 has coincided with the "end" of the war in Iraq, John Whalley's image of three battered screwdrivers, titled "Veterans," seemed to work well as my slideshow's final image. It is a stunning piece of trompe l'oeil painting, but I think there is quite a bit more that John wanted to say. I'll let his heartfelt painting speak for itself.
Don't hesitate to leave some comments about these paintings. The artists will appreciate knowing what you think, I'm sure. Happy holidays!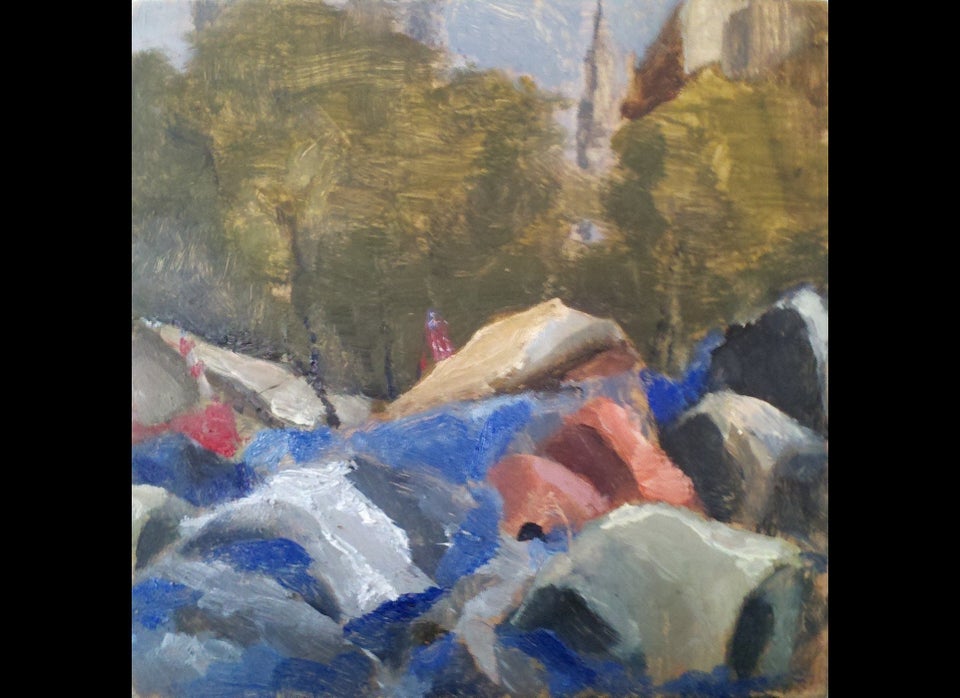 Ten Great Paintings from 2011
Popular in the Community