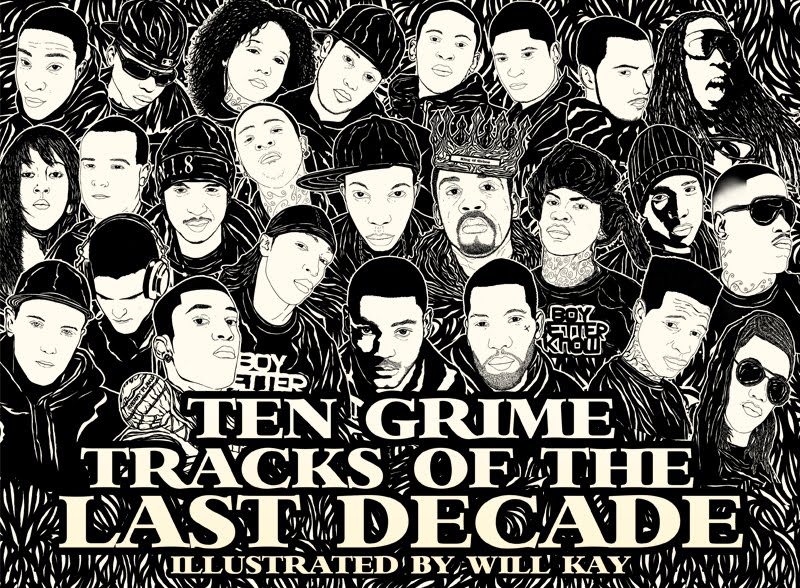 Grime music was never supposed to last this long -- according to aging music critics who have probably never attended a grime club night or listened to Rinse FM in their life -- but ten years on, it's still churning out the potential chart-toppers of tomorrow. To celebrate the longevity of the scene, I've called on a few friends -- who have all played a major part in the growth of the genre throughout the years -- to help me choose ten tracks that has gone on to define the ever-evolving grime sound over the last decade.
In no particular order...
Crazy Titch - 'I Can C U'
An MC known for unleashing anger on the mic, Crazy Titch had an aggressive, yet skippy flow that could cause damage on any given beat - even if it did sound like untranslatable noise, at times. Fuelled by nothing but raw passion for the music, Titch went on to gain a loyal legion of fans, inspiring some of today's most highly-rated MCs along the way. 'I Can C U' is grime in its rawest form.
Lethal B - 'Pow! (Forward)'

Undeniably one of the scene's biggest anthems, 'Pow! (Forward)' caused absolute havoc in clubland when it was released back in 2004. It still causes riots today. Literally! When NME magazine latched on to this mosh-pit-making grime number, the rest of the mainstream media quickly followed suit. Come to think of it, I don't think I've ever seen a 100% grime track receive the same amount of (good) press attention. Here's hoping it doesn't take another decade for the new wave of MCs to come up with something equally impressive.
---
Dizzee Rascal - 'I Luv U'

"I remember when I heard Slimzee and Mak 10 playing this as a dubplate. The kick drums reminding me of happy hardcore, the synth sounding like an angry just-woken-up monster, the chopped up vocal sample -- it was a whole bunch of things that should never work together. All of Dizzee's early beats were made with sounds no-one else would think of using. They were perfect for grime. Then I heard the vocal! If there was ever a song which perfectly captured the attitudes and culture of the time, then 'I Luv U' was it. It was a f*****g smash in our clubs as well! Seeing a slick video for it just inspired everyone, proving that we could make our music and be accepted for it."
"There was a time when -- no matter what time of day it was and no matter what postcode of London you were in -- if you scrolled through the FM dial on your radio tuner, you were guaranteed to hear 'Eskimo' playing somewhere. It is no exaggeration. It was the golden era of pirate radio, where MCs would aspire to make it on to the rooftop of De Ja on a Monday night or the studio of Rinse on a Sunday evening. Perfect in its simplicity, and with a melody catchy enough, it was on everyone's 3310 programmable ringtone. 'Eskimo' kicked off an era of music which is responsible for inspiring nearly every UK MC you see around today."
---
"'Pulse X', released a year after 'Eskimo' on white label, is one of the defining moments in grime, which took the evolving sound from garage to a much rawer, sinister new sound. It was touched by pretty much every grime MC: Dizzee Rascal, Wiley and Durrty Goodz, but also garage MCs like Viper as well. It also spawned countless memorable remixes ('Pulse Eskimo')."
Devlin - 'Community Outcast'

"Where grime was birthed through pirate radio in the early days -- but as more stations got shut down and CDs and the internet became a more powerful form of promotion -- the sound started to take different individual routes. It went from being based around hardcore drops and MCs riding out the vibe, to MCs directly making more structured tracks for promo CDs to get heard, which inevitably made grime more MC-based than ever. After the emergence of Kano, and several others around 2003-05, the spectrum of individual state and their different influences began to take grime down a new route. Devlin's 2006 mixtape, 'Tales From the Crypt', defined this moment for me -- especially with 'Community Outcast'. This took MCs from spitting basic rhymes, to them wanting to become artists and create a more political and personal connection with the message they choose to put across."
---
"I've always been a champion of the more light-hearted aspects of grime and this song -- in which Jammer takes on the persona of a ridiculous superhero -- really heralded the start of grime becoming more fun. The accompanying video is so silly it makes The Benny Hill Show look like a Krzysztof Kieślowski documentary. Jammer showed that grime videos weren't just about running about a council estate in a ski mask, squaring up to terrified pensioners. And his endeavours paid off -- his Murkle Man bars got by far the biggest reaction in raves at the time -- and still do to this day."
XTC - 'Funktions On Da Low'/'Havana'

"What I loved about grime when I first heard it was the candid introspection of MCs like Dizzee Rascal (he's long since lost this, of course). Behind the braggadocio was this really delicate side, bursting with emotion. This instrumental is grime's emo anthem; MCs couldn't help but pour their heart out and feel their aggression seep away when they heard it. It's the musical equivalent of a tiny, month-old kitten looking at you doe-eyed. There's a great vocal version by Discarda (known for usually being a totally psychotic nutjob) where he opens up about growing up without his father, having to spend nights sleeping in cars because he had nowhere to live, and his fears for when his mum dies."
---
Chantelle Fiddy - Contributing Editor, RWD Magazine. Urban Editor, Mixmag. A&R, 679.

"One of the scene's most revered classics, the DaVinChe production set a gritty backdrop for the then teenage Kane Robinson to lace. A fine example of taking MC antics into the mainstream, it laid the foundation for what we hear in the charts today."
"The coming of one Jamie Adenuga signalled a creative change in lyrical output and online marketing. One for those that prefer uni to dossing, it was the start of a wave that's still heard today -- JME recently getting in the top 10 albums chart on iTunes with no single or promo."
Calling all HuffPost superfans!
Sign up for membership to become a founding member and help shape HuffPost's next chapter