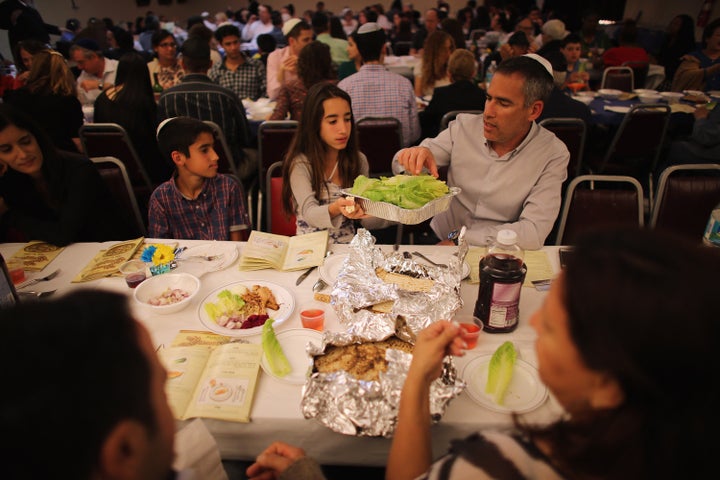 What would Passover be without the Ten Plagues? Or even worse, what would it be without Charlton Heston and the Ten Commandments? While the Four Questions and the four cups of wine tend to get a lot of attention -- the number 10 deserves attention as well. It is with this in mind that I offer my 10 suggestions for making this Passover meaningful.
1. Tell stories, not just the Passover story. Passover is a communal event; we are told that in each generation we should feel as though we ourselves experienced the slavery of Egypt and then the freedom that came after. But liberation is a story without end. Imagine if the focus of Passover was on each person sharing his or her own story, relating the Exodus to one's own life. Past becomes present as young and old join together and talk. Let's not just tell stories, but also carefully listen to one another.
2. Get agitated about injustice in the world. The goal of Passover is not just for Jews to flee from what can seem like a harsh reality, but rather to be motivated to improve it. What is more empowering than the feeling that we can each do our small part to make the world a better place? To realize we must not yield to solutions of retreat, but instead act? Don't wait for the legendary Elijah to show up to bring a messianic age - channel your inner Elijah.
3. Consider heroes who can motivate. Remember the story about Pharaoh's daughter finding and taking pity upon Moses, the baby in the basket. And Moses, saved from his own untimely death, grew up to stand for the children of his community. After the eighth plague, Pharaoh was willing to let only some of the Israelites go. But Moses said, "we will go with our young and our old; we will go with our sons and daughters..." When Pharaoh would not let the children leave, Moses and all of the Israelites stayed and endured more hardship.
4. Remember the seder is only the beginning. After you've reclined and enjoyed a symbolic Passover meal, think about how reliving the mythic Exodus experience can translate directly into political behavior (overthrowing tyrants, freeing those in need of liberation), economic behavior (distributing land and/or other basic needs to all), and legal behavior (justice for strangers, orphans, and others). Passover can be more than ritual, prohibited foods, required foods, bitter herbs, holy time, and prayer. Put the focus on repairing the world today. Get up and do something!
5. Make it experiential. What can feel more real than a holiday tasted in one's mouth and felt through one's actions? What young child wouldn't love to start a holiday by marching around the house on a mission for crumbs of leaven with a flashlight and feather? How many of us fondly remember racing siblings to find the afikoman, the coveted hidden piece of matzah? We taste the ritual foods, and we open the door for Elijah; we spill wine from our cups to express our diminished joy. Include songs, games, and special activities that involve people across generations, dialogues, questions, and answers.
6. Move beyond the text. If your seder is long and boring, that's your fault! It's okay to skip parts of the Haggadah and instead have conversations about meaning and themes. Act out parts of the holiday rather than reading about them. Dress in costumes. Invite friends who can teach you their own traditions.
7. Ask questions. And not just the traditional four questions about why this night is different from all other nights. The questions written by the ancient rabbis are examples of the kinds of questions to ask, but they are not the only questions. Move beyond them. Ask new questions, whether you can answer them or not.
9. Connect with people. Whether in person or via Skype or other technology. Think about all of the Passovers and other holiday experiences that you've had before and the people who were present - who helped make you the person you are today.
10. And, if you don't like gefilte fish, remember you are not alone! You don't have to eat it!