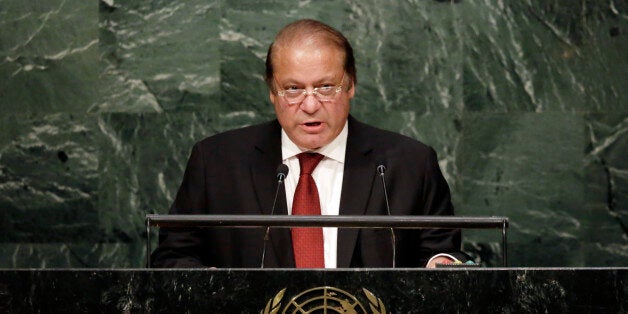 President Obama would be meeting with Pakistan's prime minister, Nawaz Sharif, on Thursday just days after his staggering announcement to extend the U.S. military presence in Afghanistan. The resurgence of the Taliban and some of their disconcerting advancements have compelled the President to review a full withdrawal from the hard country that the United States has failed to fully conquer or control after fourteen years.
Four years ago, Bob Woodward told me in an interview that Obama believed the "poison" (of terrorism) had actually moved from Afghanistan to Pakistan. Fareed Zakaria insists that American efforts to manage Afghanistan will fizzle out unless Pakistan completely abjures support for radical Islamic groups. Obama will definitely discuss a host of outstanding issues with Sharif ranging from fighting terrorism to the safety of Pakistan's nuclear weapons.
However, Pakistan, a nation that has received $20 billion American assistance since 2001, is not very easy to ignore. Washington has in fact squandered billions of dollars in Pakistan and one does not see the impact of this extraordinary American investment anywhere. On the contrary, Pakistan continues to betray democratic values and snub commitments that are essential to democracy. On Thursday, Obama should raise the following ten issues with the leader of the country whose ruling elite thrives on American taxpayers' money.
1-Support for Jihadists: Pakistan has repeatedly defied calls to take action against the Lashkar-e Tayyiba (LeT), a Jihadist organization designated by the State Department as a Foreign Terrorist Organization (FTO). The group killed more than 150 people, including Americans, in a 2008 attack in Mumbai, India. Hafiz Saeed, the organization's head who has a bounty of $10 million from the U.S. government over his arrest, ironically, roams across Pakistan with total impunity. He frequently makes fiery public speeches and appears on news channels to promote his hateful ideology without the slightest fear of being arrested. The signs of LeT's presence were recently found in the Afghan city of Kunduz where one of its commanders was killed in what otherwise temporarily culminated in the Taliban's best advancement since 2001. Obama should confront Pakistan's policy of supposedly fighting the "bad Islamists" and tolerating and harboring the "good Islamists".
2-U.S. Aid: Pakistan is one of the world's largest recipients of American assistance. Yet, ordinary Pakistanis do not feel the trickle-down effect of the American assistance. Most social indicators are abysmally bleak. Successive governments have not sufficiently invested in education, curriculum reforms, youth and women's empowerment. Pakistan's former ambassador to Washington Husain Haqqani asks in his outstanding book Magnificent Delusions why Pakistan could not develop like Japan, South Korea or Germany in spite of being a giant recipient of American assistance. One clear reason is the lack of transparency and accountability. According to the Congressional Research Service, "corruption and lack of sufficient transparency is identified as a key obstacle to effective implementation of U.S. aid programs in Pakistan, and has drawn significant attention in Congress." With no accountability, American assistance will further empower the corrupt civil and military elite and deepen Pakistan's woes.
3- Shakil Afridi: Pakistan continues to detain the doctor who helped in locating Osama bin Laden. America's silence and Pakistan's persistent persecution of Dr. Afridi cancel out the justification of the war on terror. The spying charges against Dr. Afridi by the Pakistani government are ridiculous given the fact that Pakistan had officially and publicly committed to the war against Al-Qaeda and the Taliban. How can the government punish a man who assisted in hunting down the world's most wanted terrorist when the country's military and civilian leadership were doing precisely the same thing (although with a lesser degree of commitment) and still getting hefty financial rewards from Washington for the 'spying' they were doing? The way the Americans ditched Dr. Afridi surely discourages rest of the Pakistanis to report other dangerous terrorists, including Ayman al-Zawahiri, bin Laden's successor, who is also perceived to be hiding in Pakistan. By abandoning Dr. Afridi and imprisoning him, both the United States and Pakistan have set a damaging precedence in fighting terrorism.
7- War Against NGOs: Under Sharif's rule, national and international nongovernmental organizations (NGOs) are facing renewed harassment. The government is denying access to NGOs in conflict-zones like Balochistan where human rights organizations blame the government of committing atrocities against civilians. In Balochistan, the government forced Save the Children, a U.K.-based humanitarian organization, to shut down its operations while the government's new Policy for International NGOs further restricts the operations of these humanitarian organizations. HRW says the new NGO rules are "repressive" because they "threaten humanitarian, rights work."
10- Press/Internet Freedom: Lastly, President Obama should urge Sharif to take Pakistan out of the darkness of censorship and infringement of journalistic freedom. Pakistan should lift the two-year ban on Youtube in order to give young Pakistanis an opportunity to benefit from enormous wealth of information available on Youtube. Furthermore, Pakistan should reopen its doors for western journalists, including the New York Times reporters Declan Walsh and Carlotta Gall, who were kicked out of the country because of what I call as their excellent journalistic work.
President Obama can help in changing that perception by discussing issues pertaining to Pakistan's democracy and convincing its "democratic leader" that Pakistan's future does not rest with developing more nuclear weapons or supporting radical Islamic groups. The country's future instead lies in robust investment in education, liberalization of the society and extending all democratic rights and freedoms to every woman and man living there.
Support HuffPost
The Stakes Have Never Been Higher
Related
Popular in the Community