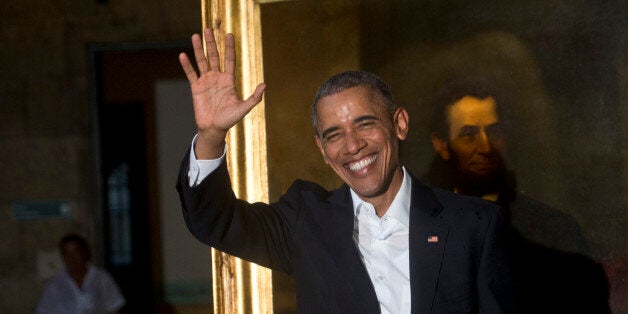 Late last night I flew down to Havana to witness the historic two-day visit of President Obama to Cuba, our erstwhile island enemy and the no-longer forbidden fruit of the Caribbean. Invited by the White House to attend Obama's "meet-up" with island entrepreneurs on Monday and celebrate our shared national past time with a baseball game between the Tampa Bay Rays and the Cuban National team at Cuba's iconic Estadio Latinoamericano on Tuesday, I have been impressed by the rich, varied, and valiant agenda Obama has set for himself during such a short but both symbolically and substantively important visit to the island.
Below I review Obama's schedule offering readers the ten keys I will be using to evaluate the trip's success. After all, I am a college professor who will be giving my own students their midterm exams when I return to the U.S. on next week. So here's what to watch for, call it your #ObamaEnCuba study guide or better yet, cheat sheet:
Sunday, March 20Old Havana Walking Tour1. From where I sat at the airport bar in Miami waiting for my delayed flight to Havana, it looked as if the Obamas' walking tour of Old Havana had been rained out or delayed. That's probably good news given that as Obama's plane arrived the Cuban authorities together with a group of pro-regime counter-protesters were violently rounding up scores of activists from the #TodosMarchamos weekly Sunday protest march led by the Ladies in White. The optics of the Obamas strolling leisurely through colonial Havana as protestors were rounded up across town was not the best image with which to begin the visit.
However, with both the international and emergent independent press on the island flooding Havana, perhaps it's good that the world witnessed the protesters' bravery and the governments intolerance live and in color - especially since one aim of Obama's policy is to take the focus off of the U.S. embargo and shift it onto the regime's internal blockade on its citizens' civil liberties and political rights.
It's also notable that President Raúl Castro did not welcome Obama at the airport, but had Foreign Minister Bruno Rodríguez greet the U.S. President and his family instead. Later in the day, the Obamas could be seen touring parts of Old Havana with city historian Eusebio Leal. Obama was also scheduled to meet with Cardinal Jaime Ortega who - together with Pope Francis - played a key role in facilitating the rapprochement between Cuba and the U.S.
Finally, while some of my Cuban-American friends have questioned the appropriateness of Obama turning the Cuba visit into a family vacation, I think his traveling together with his beautiful, young, black family to the "mestizo" island of Cuba will be well received by the Cuban people as a powerful symbol of what the supposedly "racist" U.S. has been capable of achieving in terms of racial justice and equality (though of course we have along way to go). I'm also sure many Afro-Cubans will compare that achievement with their own lily-white gerontocracy.
2. A second thing to watch for is how the Cuban government will attempt to stage manage Obama's visit to its benefit both in the eyes of Cubans on the island and in the eyes of the world. Of course, the White House has done its own homework ahead of the trip both in terms of consulting with leading Cubanólogos (like me!) and influential Cuban-Americans. Administration spokespeople have repeatedly and emphatically declared that Obama will meet with whom he pleases (including leading dissidents) without asking permission or clearance from the Cuban government and that the trip is aimed at reaching out directly to the Cuban people and sending them a message of solidarity. We will have to wait until Tuesday's speech at Havana's Grand Theater to hear the specifics of that message.
One predictable if lamentable indication of the disconnect between each government's aims is the fact that there have been scores of preventative detentions and house arrests against the island's leading dissidents to stop them from traveling to Havana for Obama's visit. This is even (or especially) true of the handful of dissidents such as UNPACU's José Daniel Ferrer and human rights monitor Elizardo Sánchez both of whom the White House had specifically invited to Obama's Tuesday morning exchange with members of Cuban civil society.
Monday, March 21José Martí Memorial3. The start of Obama's only full day in Cuba begins very appropriately with a wreath laying at the massive José Martí monument in the heart of the Plaza of the Revolution. Obama advisor Ben Rhodes correctly described Martí as "an influential poet, journalist, and political theorist who became a symbol for the Cuban people's bid for independence. The concepts of freedom, liberty, and self-determination feature prominently in his work."
What I'll be watching for at the event is the relative emphasis by Obama of Martí's eloquent criticisms of U.S. materialism and imperialism with his equally powerful denunciation of home-grown authoritarianism and military rule. I expect that Obama gets and can inspiringly capture the complexity of Martí's admiration of the U.S.'s democratic traditions and historic role as a refuge for foreigners (like him) on the one hand with it's less inspiring tradition of being an aggressive "monster" threatening the independence and sovereignty of the nations of Latin America on the other.
Discussion on Entrepreneurship and Opportunity4. For my money, together with his bilateral meeting with Raúl Castro (on Monday afternoon), his meeting with members of Cuban civil society, and his public speech (both on Tuesday morning), the most substantive event on Obama's two-day agenda is his participation in a half-day seminar on entrepreneurship and opportunity to take place at an Old Havana brewery!
One of the primary justifications for Obama's policy of engagement has been the promise of improving the Cuban people's lives through empowering the island's emergent crop of private entrepreneurs. At the event, I'll be curious to see which Cuban entrepreneurs were invited and how broadly representative they are of the heterodox world of Cuban cuentapropistas. Will we only see success stories or also hear stories of struggle and woe from the Cuba's many self-employed survivalists?
Also, since the event will include American entrepreneurs who will share their own experiences with their Cuban counterparts, I'll be curious to see if the event is really a practical way to build long-term bilateral relationships among entrepreneurs or if it will serve more as a symbolic photo-op.
Finally, given the administration's focus on improving Cuba's telecom and Internet infrastructure, I wonder how Cuba's pioneering tech start ups will be involved on the event. I do know that a number of them, including Carlos Alberto Perez (La Chiringa de Cuba), Yondainer Gutierrez (Ala Mesa), and the bloggers and Internet activists activists Norges Rodríguez and Taylor Torres have been invited.
Bilateral Meetings and State Dinner at the Revolutionary Palace5. Day one of Obama's official agenda ends with a top-level meeting with President Raúl Castro followed by a state dinner for the Obama family. I'm curious to discover whether the meeting is a mere formality or of they will do any real negotiation. Is the negotiation cake already baked and if so can we expect to hear any new bilateral policy announcements or regulatory changes?
For example, will Obama privately or publicly offer to connect Havana and Miami via the fiber-optic cable that currently bypasses the island? And if he does, can Raúl take this "yes" for an answer and respond affirmatively? Additionally, Obama has said that he will raise the key issues of human rights, democracy, and civil liberties directly with President Castro. How will Castro respond and can we expect any progress or bilateral breakthrough on this difficult front?
Related
Popular in the Community