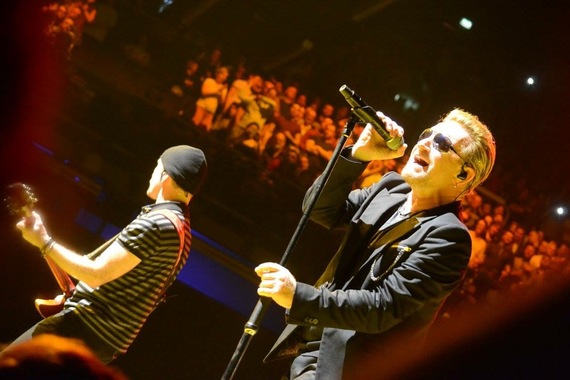 [All photos courtesy of Stefano Aglietti]
Now that U2 is in town, I am super nostalgic for the time I went on tour with them in my 20s. I had met a cute guy in my hometown of DC who worked for Greenpeace as a tour project manager and was headed to Europe with U2. Did I want to go with him as an assistant?
Did I want to go?! To Europe?! On Tour with U2?! Of course I did!
Here are some things I learned from being on tour with U2...
1) Things Are Not Always What You Expect or Doing Something That Sounds Cool Can Actually Suck In Reality - When I got to Europe, the cute guy was distracted, being backstage was not as glamorous as I thought and the band was nowhere to be seen! I met people who had worked for U2 as stage crew for 20 years and had never met the band. I felt awkward and in the way all the time and I really thought about going home.
2) Looking at the Positives Makes Things Better - I decided that even though things were not going as I planned, there were still a lot of positives... I was having a very unique experience. I was meeting lots of interesting people. I got to see loads of concerts for free - usually from the side of the stage. I loved that All Access Pass! When I started to appreciate the good that was there rather than focusing on what wasn't there I started to enjoy myself.
3) The Best Way to Feel a Part of Something is to Make Yourself a Part of It - When I decided that I would stay on tour I dove deep into any activity available to me. In addition to helping set up and man the Greenpeace membership tables, I helped with recycling and wrapping up leftover food from catering for local charities. I got to know the catering staff pretty well through this and then started to feel comfortable backstage. Finally, I was contributing! I had a reason to be there.
4) You Get Nothing Without Asking - I wanted to look cool so I never asked for an autograph, picture or.... anything! This was 1997 before the Selfie Age and it seemed uncool to ask for a photograph. How I regret that now!
5) You Can Get Used to Anything - Good or Bad - Most of the time Marcel and I were on a tight budget. We were taking trains and buses everywhere. Sometimes we would pull into a town at 5:00 a.m., too late to warrant spending money on even a hostel, so we would find a safe looking place and roll out our sleeping bags. It was fine! Sometimes we stayed with Greenpeace volunteers or local staff. One night we slept in a dressing room in Thessaloniki, Greece.
But, just like the positives of being able to hang out back stage and everything that goes along with that, we also got used to the uncertainty of where we were going to stay in each city...
We also had some luxurious experiences like flying on U2's private jet (See Lesson Number 5 - that was Marcel's magical asking... We got a lift from Tel Aviv to Nice and it was amazing)... And while I have to admit, I didn't quite get used to these things, I can see how after a while one easily could.
6) Bono is Genuinely Awesome - When I finally met Bono after being on tour for about a month, it was surreal. I was under the bleachers of Wembley Stadium and I saw him walking toward me all alone. What was he doing there? I had no idea, but I had to introduce myself. I said, "Hi Bono! I'm Patrika, I'm here with Greenpeace." He said, "Oh, I had a dream last night!" I said, "About me?!" He laughed and said, "Not yet!" He said, "About Greenpeace... I was wondering who was here with them." I said, "Me! And this guy Marcel" (The real GP employee mind you...)
We parted ways and I ran to tell Marcel that I finally met Bono and that he totally liked me. Marcel rolled his eyes in an "Okay, crazy lady...Whatever..." sort of way but not ten minutes later we were walking down some stairs and the entire band was walking up, escorted by security. Bono looked up and said, "Hi Patrika, I was hoping I'd see you again." And I was like, "Hey Bono!" When we got to the bottom of the stairs Marcel said, "He does like you!"
I got to meet Bono two more times after that. Our last conversation was on his jet. He had just performed for 80,000 people and he must have been tired. He could have easily looked away or closed his eyes when I came into his field of vision (checking out the bar, of course), but, instead he called me over to chat and to introduce me to his beautiful wife and lovely Dad who has sadly passed since then. After all of his tremendous accomplishments, he actually said, "You're amazing coming on this tour as a volunteer and doing all that you do." Keep in mind, in most of my experience on tour I felt like a serious NOBODY around lots of important people doing important things, but Bono went out of his way to validate my experience and contribution when he really didn't need to. I will never forget that. Shout out also to the Edge and Larry Mullen Jr. who were also super kind and down to earth. I never had the chance to bond with Adam Clayton, but I'm sure he's a star as well.
7) Embracing the Every Day Is Better than Living for the Highlight Reel - After the tour was over and I was heading home (I saw them perform one last time in Minneapolis and Bono dedicated the song One to "Everyone at Greenpeace and especially to Patrika as she goes on her way...") I had a real sense of "What am I going to do now?! What is going to top this?!"
Turns out that what was next was a whole lot of NORMAL. Nothing that out of the ordinary. But, over the 18 years since that tour, I have created a wonderful life with so many beautiful memories. I know Bono would agree with me that appreciating the everyday mystery and magic of life, connecting with loved ones and learning through discovery is better than any celebrity encounter, although I do cherish all of mine.
8) Life Has a Plan Bigger Than Yours - When things were not going well on tour I took some time off when we got to Ireland. I got to know my now husband - an Irishman who I had met at my sister's wedding and dismissed as "not my type." It turns out that I just needed a bit more time with him. We are now married 12 years. If things had been going well on tour I never would have taken a break to stay longer in Ireland and I would not have the wonderful life that I have here and family that I could not imagine living without.
9) Nothing Lasts Forever But That's Okay - I saw Bono again at a private party at the Point after a Beyonce concert about five years after my time on their tour. I had done backstage massage for Beyoncé that day so I was invited to attend. Bono was at a table with his wife, the Edge and a few others. He clearly didn't remember me. He meets so many hundreds of thousands of people on tour, it's perfectly understandable. But, he was so kind when I went up to talk to him and told him how much his kindness meant to me all those years before. He gave me a hug and I let him go back to his group.
10) No One Person Can Save the World, but All of Us Change It Every Day - When I was young I thought the problem with the world was that people were uninformed about social injustice and if they just knew then everything would improve dramatically. I was planning to dedicate my life to saving the world. But after seeing some people ignore Bono's social justice talk at the big stadium concerts, I thought, "If Bono isn't getting through to these people, there's no way that I will!" This was both sad and liberating. What it meant was that I could live my life for myself.
Eventually, I learned what Bono clearly understands. It is not about one person, it is about everyone. Everyone has to do their part. In this current tour, Bono comes on stage to Patti Smith's People Have the Power. As he walks on stage he very deliberately applauds the audience. It felt like more than just, "Thank you for coming and for being our fans." It felt more like, "Thank you for the part you are playing in the world." The theme repeated throughout the show.
In that last conversation on the jet Bono said, "We inspire the fans and the fans inspire us. It goes back and forth."
Before Bono left the stage he took a spotlight and swung it around slowly to highlight every part of the audience and then passed the spotlight over to someone else to hold as he stepped down from the stage. As he walked off I had a strong feeling that it was a call to duty for the rest of us. Now it's our turn to make the world a better place. What are you going to do? What am I going to do? One thing is for certain, for things to improve, it's going to take all of us. U2 has done their part (Well done, lads...), it's our turn now.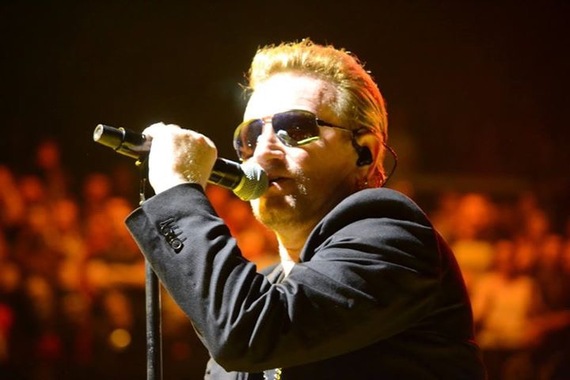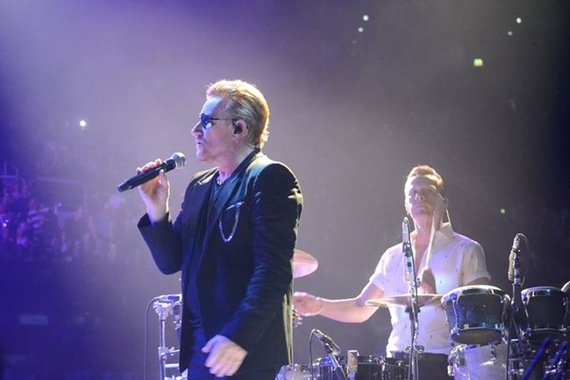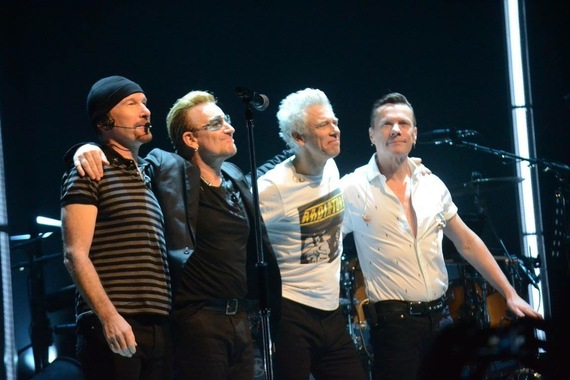 Calling all HuffPost superfans!
Sign up for membership to become a founding member and help shape HuffPost's next chapter