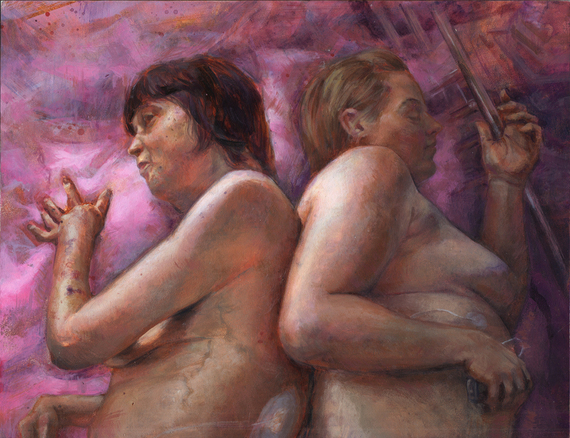 Charis J. Carmichael Braun, Where Do We Go From Here [Janus], 2015
Acrylic on panel, 8.5 x 11 inches
Since I first posted "Ten Memorable Paintings from 2011" on the HuffingtonPost using a virtual slideshow, my annual project has grown in scale and ambition. This year over 400 artists responded to my call for work, making the process of choosing ten paintings especially challenging and exciting. I would like to publicly thank all of the artists who sent work for me to look at: it was humbling to see how much great painting is happening out there.
For the first time I had a partner in this project: Didi Menendez, the publisher of Poets and Artist's Magazine worked to create an online magazine to showcase my ten choices, and then went a step further. I sent her 20 "runner ups" to which she added 10 choices of her own to create a print-on-demand blurb book that can also be read online: "50 Memorable Painters, 2015."
So, for your visual pleasure, here are links to the two publications. I hope you will share these links on social media to help get the word out about these remarkable artists.
Support HuffPost
The Stakes Have Never Been Higher
Related
Popular in the Community