At 25, Kellan Lutz has become one of the most recognizable faces in the world. From his turn as Emmet Cullen in the Twilight films, to his modeling work for Calvin Klein, it's hard to miss him. And the accolades just keep rolling in, including a spot on this year's Sexiest Men Alive list, published by People Magazine.
Today marks the the Twilight: Eclipse DVD release, which Lutz and his fellow castmates, in partnership with Eclipse Gum, are celebrating at a party in Baton Rouge, Louisiana, where they are currently filming the last installment of the franchise. I caught up with Kellan to discuss what it's like to be wrapping up the franchise, what else he's working on and what it's like to be considered one of the sexiest men alive.
Hey Kellan, how's it going?
I'm doing fabulous, how are you?
I'm doing pretty good. So I understand you're in Louisiana filming the last film in the Twilight franchise?
Yeah, I just flew back in. I've been really blessed with these movies. This new one is a big, seven-month movie but it's nice to have time to fly back and forth to LA and other places just because you end up having a week off here and there. So it's nice. I'm back here, it's like my fourth trip flying back. And I love Baton Rouge, I'm really happy shooting here. I shot here back in May, I had a movie that, you know, wasn't as hectic with fans because not all the Twilight (actors) were here, but I just love this town and I love being a tour guide for the castmates.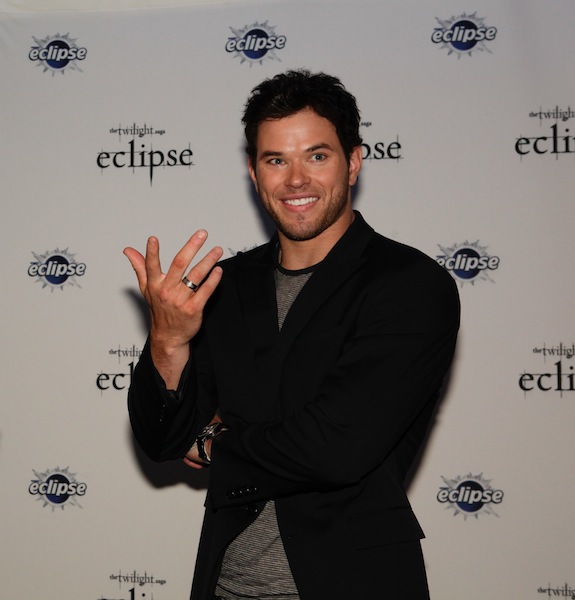 What was the movie that you were filming in Baton Rouge before Twilight?
It's called The Killing Game, a film that Jonah Loop directed, a big hard-R action movie with Sam Jackson. I loved it, I had the best time. I love to fight so I got to do a lot of my mixed martial arts and weapons training. It 's a big exciting movie.
How long have you been doing MMA?
Well I haven't really been doing MMA. When I (was growing) up, it would just be friends having a Fight Club in our backyard. But as far as mixed training, I've been boxing for years now and I love doing my own stunts. I've made a lot of friends who are really well trained [stuntmen] and really professional. [For The Killing Game], I got to set and I had no time to train. We started shooting right away, so at lunch time or whenever we had five minutes, I just worked with those guys¬--tried out new weapons and learned new moves. And that's what I continue to do to this day. When I'm back in LA, that's what I like to do to work out. That's what I want to do with my future--do action movies. So if I can train myself in terms of doing my movies and not having to take a month off to train, it [will be] nice be to able to go back and [have time to] just hang with my boys.
Totally. So, you're currently working on the last Twilight film and you've been working with these people for quite a while now. Are you feeling a little bit sad as it ends?
No, not at all. This whole franchise is definitely special to be apart of. It's really different than, say, the Lord of the Rings movies where you're down in New Zealand for years. These movies are kind of easy and they don't get tiresome. You work for three or four months on each movie and then you go home and with in those time periods, we have weeks off because we do block shooting. So, all the werewolves shoot for a couple weeks and then the vampires shoot. We come and go a lot. We don't really--I mean, none of us have gotten sick of each other, we all love each other. We're all very responsible and we take on the opportunities that being part of this franchise has given us in different field and parts of the industry and in life. So, I haven't even thought about it, it's not going to end really until 2012 and a few months after that--flying around, doing junkets. But no, I'm definitely not sad... It's not work, you know?
So, switching gears a little bit. You were named to People's Sexiest Men Alive list. What's that like for you when you get these, um... awards, I guess...
(Laughs.) It's very flattering. I remember, I've seen magazines like that and I don't really watch TV. But you know, Ryan Reynolds is in there all the time and now on the cover, and it's very humbling that People magazine would have me be a part of that.
What does your family think?
My--my family (Laughs.) I mean, I fell into acting. I've always kind of been "crazy Kellan" and just full of energy and doing my own thing that once I got into acting, it kind of just escalated all that attention for them in a way. Because I like to make my own attention. I just went back to Iowa, where my grandparents live, and I try to see them as much as I can. And they love it. They watch all my movies. We're in a small town, so it's like everyone knows them by their first name, there's one street light and they tell (their friends) that I'm going to come there. They're like, "Oh, he's just going to have his friends over,' because last time I was there the whole town came by and I was just signing autographs. Which I fine, but you think you can get away from that by going to see your grandparents in the middle of nowhere. This time I was like, "Ok, let's just do a big barbeque. We can have everyone come over and take pictures," because I only had a day and a half there. I wanted to go and hang out on the farm, I wanted to see my cousins and stuff and I just didn't have time to spend a whole day doing that again. And we decided to do a dinner and had a bunch of people come over and I stopped by the local gas station and, everyone knows each other, so their [friends] ask, "What are you doing?"
"Oh, this is my grandson, he's from LA--from Hollywood. He's an actor. He's in People Magazine!" They just had this whole (thing) down and I'm just like, "Great! Throw me under the bus like that!" (Laughs.) But they're sweethearts, and it puts such a smile on their face and if I can do that and it tacks on a couple more years to their life, (then) by all means, I want to.
Do you ever miss normalcy?
I mean, I'm really down to earth but I mean--I'm normal but I am very random. I can't just sit down at a computer. I can't just do the normal things. I'm always doing something--being outside, doing things that a lot of people just don't do and I look at that. But in my normal life, I'm still Kellan. Yeah, Twilight's been a world of a change and has really helped me in my career, but I still do the same things I've always done. I still go bowling with friends and go to batting cages and I still go snowboarding all the time, walking my dog, hiking. That hasn't changed. Yeah, the paparazzi get annoyed when I'm (Laughs) and they didn't realize to pack warm clothes. But no, I haven't changed.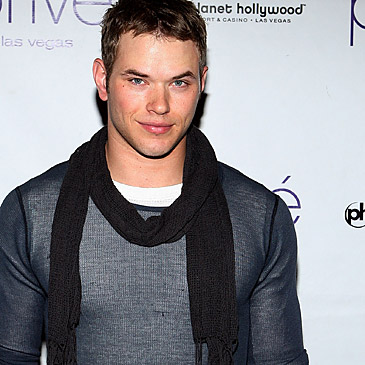 I saw you also had a premeire for an independent film, Meskada. How is it for you to go from a big production like Twilight to a smaller independent feature?
There's definitely a change and I like it. I really prefer the change. I've had a great balance of studio-indie films. I did Love, Wedding, Marriage, The Killing Game, Meskada, A Warrior's Heart, which are all indies. [Then] you have all these Twilight movies, which are larger than life movies. And I [also] did Immortals for Relativity and that's going to be a huge, epic mythology movie. It's really great to do the bigger movies where there's a lot of cogs in the machine, so it takes a lot of days to shoot something and then these smaller, independent movies. You only have three weeks to shoot it so you really are hands on, you really have a big say and you have to know all your lines because you can't afford to do multiple takes. And they're just different. You get to play different characters and there are a lot of great, independent scripts as well as studio movies.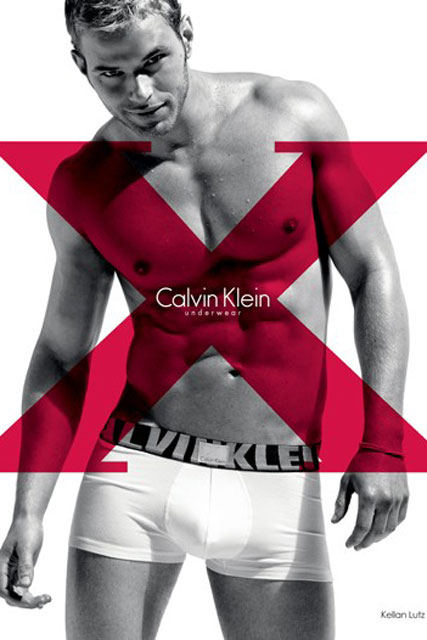 What was it like to work on the Calvin Klein campaign? I mean, I live in LA and I remember driving up Sunset and seeing your rather inescapable billboard. What was that like for you on the other side?
Again, I've been so fortunate with everything. I've just been really blessed and being part of that campaign was just a really amazing experience. I remember the first time I was driving down Sunset and there was some construction going on and my eyes veered left and I saw my mug and my billboard. You get kind of shy and I was embarrassed for a second because I'm just standing there in my underwear, but it quickly turned into being very proud, being very thankful. Calvin Klein made a very provocative, great campaign with all of those guys and I think it's done very well for the company. Just being a part of it--it's tasteful. I love the clothes, so it's great to be part of something that you actually wear and love and I'm very thankful that I was able to do it.
Popular in the Community