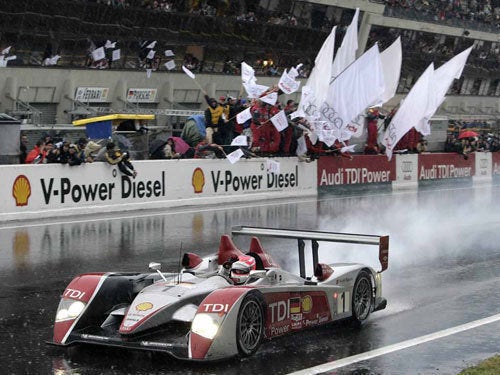 We've had the pleasure of helping to create and now write and and moderate this automotive blog beginning in June, 2008, and so far it has been an enlightening, exciting and very enjoyable journey. It's made me a better writer and researcher. Can't wait to see what happens next!
No one, least of all me, thought that the auto industry was going to be the #1 or #2 story in the world; we always knew Detroit would someday go through what they're experiencing now, but never expected all of this to happen so soon. It's been, as we used to say, a real trip.
As in our previous post about the most significant Detroit Three cars, this list is in no particular order and rather than naming a "best" or "most fun" or "best-looking," these are choices currently in showrooms or arriving there soon, all of which have some important feature or combination of features which makes them interesting and/or important. And we want to hear from you how we're right or wrong, and also want to know what cars should be on our list - but aren't.
Nissan pays Toyota for borrowing their well-evolved hybrid system for Altima hybrid models, the company's first and still-only hybrid offering. Renault/Nissan chief executive Carlos Ghosn (pro: "Gone") says the real "next step" in automotive technology are full EVs, using advanced batteries, which Nissan has been developing for the past four (or more) years; the first Nissan EV should be in the US by year 2010. Nissan is selling a hybrid, says Ghosn, only because Americans expect them to offer one. The company's 2010 Maxima is available with a clean diesel engine, so Nissan is giving customers a choice of technologies. Hybrid mileage figures are 35 in-town, 33 highway. Base price is $26,650.
2009 EURO CLEAN DIESELS: AUDI, BMW, MERCEDES-BENZ, VOLKSWAGEN
Various models on-sale now.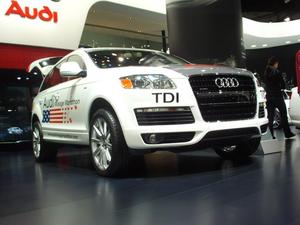 (One of the clean diesel-equipped Audi SUVs which participated in a cross-country, NYC to LA trek with several other Audis and achieved more than 38mpg overall).
Once California's Air Resources Board (CARB) approved clean diesel engines for sale in the Golden State, that opened the floodgates for their sale in all 50 states. Audi, Mercedes-Benz and Volkswagen all have clean diesel models in their US showrooms now; Detroit says clean diesels will be available in 2010, first in their full-size pickups. There are several large-scale projects nationwide to retrofit big rig truck engines with clean diesel technology; that's more than 11 million engines. VW's Jetta TDI starts at $21,990.
Fit is an example of Japan's very popular "kei-cars" (short for: keijidōsha, "light automobile"), which have engines of 660cc's or less and various size restrictions, now translated into an Americanized product. Kei-car buyers in Japan enjoy tax breaks and can avoid having to buy a license to park, a necessity for larger vehicles in Japan's big cities. Fit has a 1.5-liter engine producing a veritably throbbing 117 horsepower; mileage is 28 city, 35 highway with the automatic transmission (better mpg than the stick shift model). Honorable mention: Nissan Versa, Toyota Yaris. Pricing begins at $14,550.
2008 SMART
On-sale now.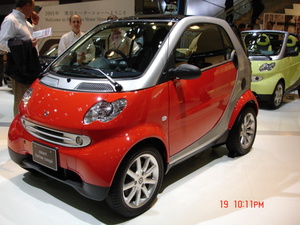 (We shot this photo of the Smart ForTwo, the only Smart now on-sale in the US, at the 2005 Tokyo Motor Show, when the Smart craze was revving-up in Japan).
Smart is the spawn of Germany's Mercedes-Benz (engineering) and Switzerland's Swatch watch (design and styling). In the US, Smart is only sold at around 75 of Roger Penske's new car dealerships (world's second-largest auto dealership group, with about 250 dealerships nationwide). Two-door coupe and convertible body styles are offered. The sole engine is a 71-hp 1.0-liter 3-cylinder that teams with a 5-speed automated manual transmission. Mileage is 33 in-town; 41 highway. Prices begin at $11,590.
Both companies are controlled by Hyundai, a South Korean "chaebol," a huge conglomerate of companies which is responsible for more than 10% of South Korea's gross national product. Over time, Kia and parent Hyundai (both receiving technical help from Japanese carmakers) improved their products, offered great warranties and are now nearly full-line carmakers. A V8 engine has also been developed; high-mileage "Blue Line" 2010 hybrids are expected in late 2009. Prices start as low as $11,070 (Hyundai's 2009 Accent) and $11,495 (Kia's 2009 Rio).
Colin Chapman (sort of a British Carroll Shelby) founded the UK's Lotus in 1953, and since then the company has produced simple, light and nimble cars for the race track and the street. Evora will use the familiar 3.5-liter V6 engine made by Toyota, but in a mid-engine/rear drive configuration with 276-horsepower and mated to a 6-speed stick shift. Lotus, like Ferrari and Porsche, makes a lot of their money doing R&D and engineering work for other carmakers. EV-maker Tesla uses Lotus cars as the basis for their roadster. No mileage figures reported yet; this car is purely for weekend fun. Evora will cost above $75,000.
Mazda 3 models come in sedan and hatchback flavors, and, through their excellent styling, have almost single-handedly revived the hatchback segment, which had, by the '90s, grown old and cheap-looking to American buyers. Engine choices include a 2.0-liter (148-hp), 2.5-liter (156-hp) and turbocharged 2.3-liter models (263-hp), all four-bangers. Mazda and Honda are Japan's best engineering-oriented carmakers. 3's 2010 iteration will get a cosmetic "freshening" and more horsepower. 2009 models' mileage ranges from 18 city to 32 highway, depending on model; '09 pricing begins at $14,690.
2010 PORSCHE BOXSTER
On-sale mid-2009.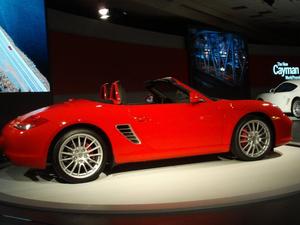 (Porsche's 2010 Boxster, with 2010 Cayman in the background, at their world introductions at the recent Los Angeles Auto Show).
Porsche belongs on any "significant cars" list; they're always up to something new. The 2010 Boxster and Cayman both had their world introductions at November's Los Angeles Auto Show. Porsche's Cayenne SUV is getting a VW-built clean diesel engine in late 2009 (in Europe; US sales not yet announced), and the Panamera, the company's first four-door, will be in the US in 2010 with a 385-horsepower 4.8-liter V8; a turbo version will make 500-horses. Displacing 2.9-liters, the newest Boxster's flat 6-cylinder "boxer" engine develops 255-hp. The 3.4-liter "lump" (what F1 engineers call engines) in the Boxster S with Direct Fuel Injection now delivers 310-hp. No official mpg figures yet; pricing is guessed at a minimum of $52,000 for the base model and $61,000 for the S.
2009 SUBARU IMPREZA WRX STI
On-sale now.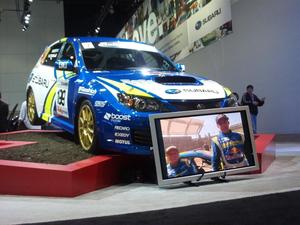 (The Los Angeles Auto Show's Subaru exhibit, with Travis Pastrana in video form from the X-games in front of a Subaru WRX STI race car).
Like Porsche, Subaru uses flat, boxer-style horizontally-opposed engines; so do BMW motorcycles. The newly-styled Impreza WRX STI packs a lot of technology in the company's ultimate street expression of their successful World Rally race cars. Vitals include: a 305-hp 2.5-liter DOHC intercooled, flat-four cylinder turbocharged engine, "Symmetrical All Wheel Drive," Brembo disc brakes and 18-inch alloy wheels. With all that horsepower, the car manages 17 mpg city and 23 highway. They can do better than that, though, and they should. It's a technical tour de force, starting at $34,995.
This is the first all-new Toyota in some time, and the new-for-2009 4-door, five-passenger wagon slots between the Camry and Highlander in size and price while borrowing parts from both. For 2010, Venza will continue in a single trim level, which keeps prices down by making its actual assembly easier and faster. Venza can be ordered with front- or all-wheel drive. Engines include a 182-hp 2.7-liter 4-cylinder and a 268-hp 3.5-liter V6. A 6-speed automatic transmission is standard. Four-cylinder models can tow up to 2500 pounds, the V6 up to 3500. But where's the hybrid version? Camry and Highlander have them; Venza should, too. Expect mileage figures of 19 city to 29 highway depending on engine; base price is $25,975.
REAL LIFE. REAL NEWS. REAL VOICES.
Help us tell more of the stories that matter from voices that too often remain unheard.