There are dozens of notable painting exhibitions on view in the United States this month. In an art world that is overly obsessed with the next hot thing, the life of a mid-career artist can be problematic. For many artists, the gulf between emerging and established is extraordinarily difficult to navigate. As of late, however, many mid-career artists are having their day. In New York, Dan Walsh and Jacqueline Humphries, both veteran abstractionists, each have strong exhibitions of new work. Later this month in Los Angeles, a much anticipated exhibition of works on paper by Carroll Dunham is set to open at Blum and Poe.
More than twenty alumni of New American Paintings are on view this month. If you live in New York City, be sure to catch Franklin Evans' soon-to-close exhibition at Sue Scott Gallery. Evans continues to push the medium of painting in ways that blur the line between painting, sculpture and installation. In San Francisco, Kate Shepherd is currently on view at Anthony Meier Fine Arts. She has always exhibited an extraordinary sensitivity for form and space; her latest works continue this exploration with a variety of media. Also in San Francisco, be sure to check out Topography of Painting at Patricia Sweetow Gallery, which features the finely wrought paintings of Boston-area native, Bill Thompson.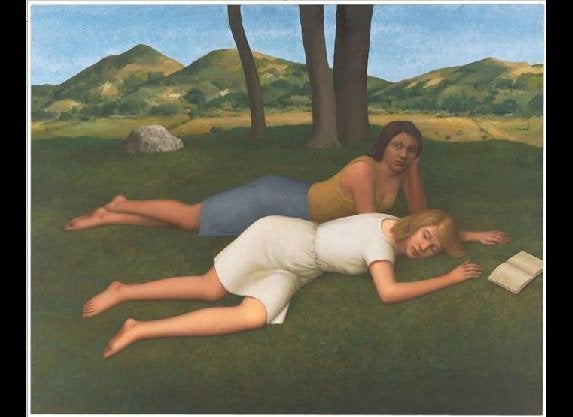 April 2012 Must See Painting Shows
New American Paintings magazine is a juried exhibition-in-print and the largest series of artist competitions in the United States. Working with experienced curators, New American Paintings reviews the work of thousands of emerging artists each year. Forty artists are selected to appear in each bi-monthly edition, many of whom go on to receive substantial critical and commercial success. Additional content focuses on the medium of painting, those who influence its direction, and the role contemporary painting plays within the art world.Visit New American Paintings for more information or to subscribe.
Related
Popular in the Community