2014 was a year of great personal sadness for me. Herewith a short list of things that pierced the veil.
1. The Olivetti Showroom in Venice at the Piazza San Marco.
During the Venice Biennale, I stole away to see some things that were not part of that madcap pot pourri. At the top of the list: the Olivetti Showroom that Carlo Scarpa designed for Olivetti in 1957 and was refurbished in 2011. This is a jewel of a space, and for those of you who are crazy about mid-century Italian design as I am, you will find much to please you here: an elegant stairway, custom coverings for heat/light, marvelous tile floors. Like all great architects and designers, Scarpa left nothing to chance.
2. Greer Lankton at Participant Inc
I was late to seeing this scary, stunning, splendid exhibition as I am not in NY full time. Now, alas, it's down. The gallery owner told me it will be traveling in some form, she's just not sure yet about where. Greer Langton was born Greg and had gender reassignment surgery in the 80s. She grew up making dolls in Flint, Michigan, where it must have been brutal to be her. But it is not just her dolls which are so piercing and dynamic. Like Nan Goldin or even Warhol, she often was the subject of her own art. It may seem weird to make a comparison, but Lankton curated her environment as much as Carlo Scarpa did his. She was a junkie, and anorexic. There was probably little hope that she would live to a ripe old age. But her star flamed brightly in the East Village of the 70s-80s and going down to Participant Inc Gallery felt like a throwback to the time when the East Village was not the locus of every trendy restaurant in New York. This link will help you to know more about Lankton.
3. Curious Incident of the Dog in Night Time
I was fully prepared to be disappointed by this National Theater play now on Broadway. Urged on by some friends whose taste I very much trust I took myself to a matinee just before leaving New York. I am so happy I did. The Wednesday and Sunday matinees have cast a different actor in the role --Taylor Trensch instead of Alex Sharp. I don't think it could have been any better with Sharp. As an autistic child confronted with a secret past he seizes hold of his family and neighborhood and in the process is forced out into the world as much as the world is forced into him. The production is marvelous and reminds us why the Brits seem to have a lock on a certain kind of intellectual but innovative and crowd pleasing theater that is very much home grown and nurtured by a strong state and private system of development.
4 The Neopolitan Triology by Elena Ferrante
Another bandwagon I am jumping on. My friend, novelist Marisa Silver, was an early adaptor of Elena Ferrante's triology of Neopolitan female friendship and recommended it wholeheartedly. I read all three in Paris, not Italy, but I was close enough to the setting to feel a connection since I was writing about a similar time period in France. In a year when friends were scarce and dying, this made me cry and laugh, and hit me right in my heart. It is a magnificent saga, like a female Godfather and more. If you have ever had a long friendship that has been loving, competitive, bumpy, deep, intimate, revealing, you will want to read this book that tells of the torments of two women who do love each other but can't manage to sustain an even keel. It is intertwined with post-war Italian history that makes the seventies and eighties in western Europe vivid. Ferrante is publicity-shy and so far has not come forward to claim her fame. How refreshing and also clever. A perfect thing to dig into over the holiday break.
5. Marlene Dumas at the Stedelijk Museum in Amsterdam.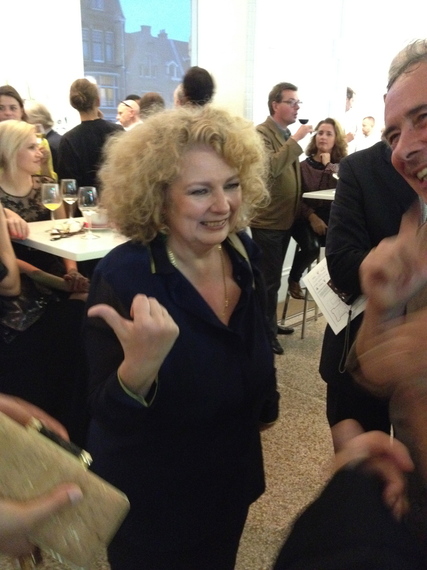 This show is not traveling to the U.S. Dumas was apparently very disappointed in the critical reaction to her work last time in NY (not me). I love her work. She has many imitators, but none achieve the bold and clear-eyed view of the world she has been dissecting for most of her adult life. The work is both beautiful and frightening. Marianne Faithful sang at the opening, and if ever there were two audacious blondes it is these two, a perfect pairing of art and music. If you have the chance to go to Europe in the fall you can catch it at the Tate Modern London beginning February, and then in Paris. If you click on the link you will see an interview with Dumas and other background materials.
6. Soledad Barrio and Noche Flamenco's Antigone.
This is another fearless effort by Barrio and her husband Martin Santangelo to bring flamenco into the 21st century. Rather than resting on Barrio and Cos supreme laurels as flamenco dancers, they have taken flamenco both backwards and forwards as there are hints of flamenco as Agnes de Mille agit ballet, and post modernism too. It is a work in progress and it continues to grow. Full disclosure: Soledad is one of my beloved teachers though I stand in the back row, a great privilege. Her soul, her dedication, her talent rivals the historic ballerinas and Soledad takes ballet and yoga lessons, she draws from many disciplines. She is at the Joyce and Joe's Pub every year and often gives performances elsewhere.
7. William Forsythe at the Festival d'Automne in Paris.
Many of choreographer William Forsythe's works have not been performed in the U.S. Though he was born here, his fame comes from the work he has done abroad. The Festival D'Automne mounted a number of works at Chatelet and at the Paris Opera Ballet (now under the direction of Benjamin Millepied). Along with Alexei Ratmansky, I think he's the finest ballet choreographer working today albeit in a more stylized avant garde vein. His choices are risky, his dancers technically brilliant(he works with a number of European troupes) yet they bring emotion to every step. Let's hope for more Forsythe here in the U.S. (As an aside, the Grand Defile of the Paris Opera Ballet that opens every season with every single dancer from young students to the great primeurs parade onto the lushly re-kitted out Palais Garnier. All in white. It's a dream that only can be compared to Swan Lake. )
8. Netflix, Showtime Anytime and HBO Go.
Thanks to the Gods of Internet for saving my life this year. Many sleepless nights the demons were banished by the obvious (Homeland,Newsroom, ) and not-so-obvious (French films I've never heard of, Scandinavian series that have been ripped off here, British television). More, more, more though my reading pile sits sorely neglected.
9. Festival Albertine, Cultural Services of the French Embassy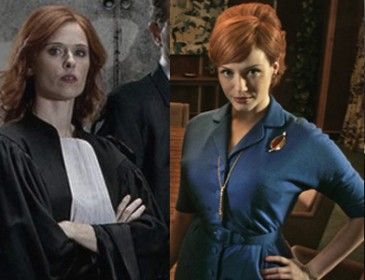 A conversation at the French Cultural Services between Matthew Weiner and Alexandra Clert, the creators and showrunners of Mad Men and Engrenage (Spiral, on Netflix, natch). Expecting a love fest between this man and this woman who have had two hugely successful shows in their respective countries, the tightly packed second floor crowd in the newly redone French Cultural Services building across from the Met at 972 Fifth, instead witnessed a diatribe by Weiner against formulaic women and stereotyping. Weiner turns out to be a total feminist, though you could see that by the interesting women he wrote in the midst of all those suits. His parents are academics and he quoted Simone de Beauvoir and others -- I was both surprised and delighted. Can't wait to see what he does next. The Festival was in honor of the new French bookstore in this building, where they also found the hidden Michelangelo. I worked there many years ago, walked by it hundreds of times and thought of it as a typical knock-off statuary. Hmm....
A few years ago at the Bard Graduate Center in NY there was a hat show that made me, a hat wearer, want to go back in time. Why can't we wear hats even if they don't keep us warm or keep us from sun damage? Every once in a while I find modern hats that make me feel chic and special. In London a few years ago I got two hats at Gabriela Ligenza in tiny Ellis Street off Sloan Street that are hippie and ladies-who-lunch.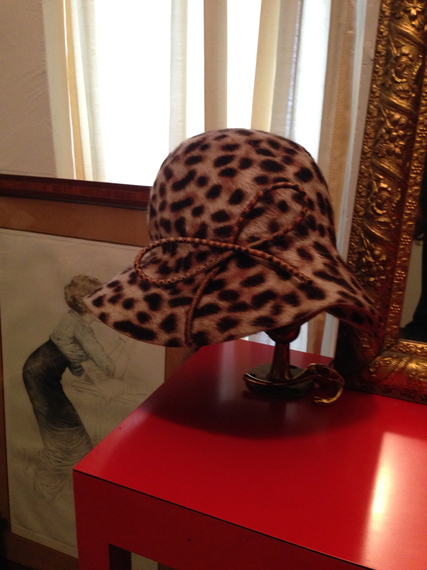 I didn't buy one at Marie Mercie on the rue St. Sulpice in Paris this year as I wasn't feeling chipper but tell me what you think of this one that said Audrey to me.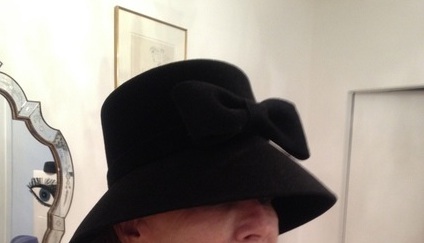 May the next year bring more joy, peace and happiness to us all.
REAL LIFE. REAL NEWS. REAL VOICES.
Help us tell more of the stories that matter from voices that too often remain unheard.