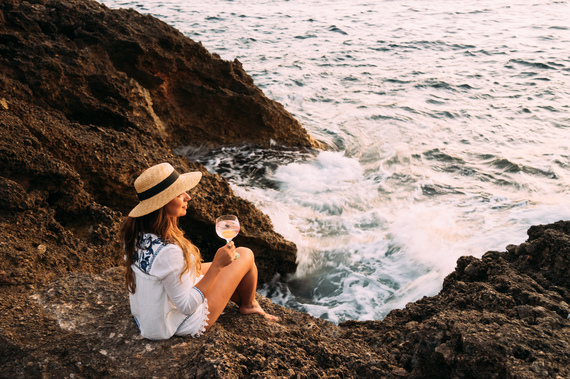 Something has got my attention since I've been in Ibiza. There's been a recurring and overwhelming response to the daily blogs I've been publishing and my live Instagram and Snapchat feeds from the island. People are surprised! In this digital media age of viral videos and explicit memes, it takes a lot to surprise people.
What's the big deal then? My readers cannot believe what Ibiza is really like.
They've seen It's All Gone Pete Tong, watched Ibiza Uncovered and maybe even visited the White Isle themselves, but never made it out of San Antonio or Playa d'en Bossa. They've been to Irish bars in the West End and water parties in Es Paradis. Admittedly, more than one of my past encounters with Ibiza followed a similar theme, so this time I was determined to do things a little differently.
I turned to Essential Ibiza who are the number one go-to guide for insider knowledge and what's going on all over the island, both on and off the party scene. They drew from their extensive archives on essentialibiza.com to recommend some of the best alternative activities and lesser known gems.
My list is unintentionally predominantly day time stuff, proving there's a lot more to do on the island than just party!
Where to eat, drink, sleep and play; here are my top ten favourites from Ibiza
Walk Ibiza
I joined the donation based 'Short and Sweet' (there's tea and homemade cake at the end) two hour long walk from Isla Blanca in the north of the island on an overcast Wednesday morning. Leader Sheila from Walking Ibiza is founder Toby's mother. He started organising tours after walking the entire coast of the island in 11 days with just €1 relying on generous donations of food and drink from locals. We got to experience some incredible unobstructed views as the clouds dispersed and walked along while learning about Ibiza's history in the process. The perfect antidote to a heavy night on the party scene and really interesting to talk to people who've moved to Ibiza and hear their stories about life on the island. Warning - this may make you want to shut up shop and move out here!
Walking Ibiza also run kayaking trips and are about to launch their food tours which will bring you to 8-10 stops around the city of Ibiza sampling typical Ibizan and Spanish local delicacies.
2. Watch Ibiza's infamous sunset at one of the best spots on the island
Most people flock to Cafe del Mar or Mambo for sundowners or sit out on the stretch of rocks in front of the bars, but if you want somewhere with a slightly less rowdy crowd I suggest going to Hostal la Torre for dinner and drinks on the terrace, Sunset Ashram for chilled out vibes or on Sundays go to Benirrás Beach. Grab a pizza from one of the beach front restaurants (I was underwhelmed by Elements cafe) and pick a spot on the sand watching the sun dip into the sea beyond the iconic Cap Bernat rock. After dark, enjoy the drumming and fire throwing and feel like you're in Thailand for the night.
3. Go on a boat trip
For me, there's nothing like getting out on the water to get a unique feel for a place and see it from another perspective and literally a different angle. There are tonnes of group boat excursions from San An, but for a completely luxe experience, you've got to go for a private charter. I've wanted to visit Formentera for years so I was excited when Smart Charter Ibiza organised a day trip that brought us to Juan y Andrea, an exclusive seafood restaurant on the island of Formentera by super fast speed boat. They had paddleboards and a seabob on board, if you fancy braving the waters, or kick back and sip chilled champagne in the sun. Read about the full experience here.
4. Spend time in Dalt Vila
I was lucky enough to be in town when IMS held their outdoor concert right at the top of the castle at Dalt Vila (literally 'upper town') in Ibiza's old town, but it's a spectacular sight on any night of the year. The walk up the steep slope, across the drawbridge and under the archway to the UNESCO heritage site is Game of Thrones-y AF and the lighting and views make you seriously snap happy, but stand back and take it all in.
Some of the best restaurants on the island are along the tiny cobbled streets of Dalt Vila. Two of my favourite meals were from La Mezcaleria a 'Mexiterranea' and Mezcal restaurant and bar (the pork tacos and cocktails with ginger and lime to enhance the smokey mexcal flavours were to die for) and La Dispensa whose interiors will blow your mind!
5. Long and lazy beach bar lunches
Some of my favourite afternoons in Ibiza were spent having long and lazy lunches in beach bars, but there are so many to choose from it can be difficult to know where to go. I was most impressed with Babylon Beach for the small and intimate surroundings, bean bags lined up along the rocky coastline and comfortable and casual dining tables and chairs both shaded and in the sunshine. The difference with the food here is that it's all sourced locally and organically and you can really taste the difference. The flavours are so fresh and their cocktails are a bit different, like the smoked chilli and basil, gin-based one I tried. Delish.
Tropicana Beach Club does some of the best tapas including melt in the mouth jamón carved on site and I was sold by the stairway-to-the-sea!
6. Ride the waves at Surf Lounge
There's no better way to shake off a hangover than donning a wetsuit, making a fool of yourself in the waves and then recovering with a cold beer and sharing a feast with friends for lunch, which is exactly what I did at Surf Lounge in San Antonio. It'd be easy to miss this place, set on the seafront by the inflatable water park, but it's well worth a visit. For only €30 for an hour you can try out the only automated wave machine on the island, surfing or body boarding or just generally flirting with the friendly instructors. Read more about Surf Lounge here.
7. Stay at Pikes
The Ibiza Rocks House at Pikes Hotel has to be my favourite place to stay in Ibiza, or at least to hang out at. I managed to squeeze three visits into my trip which included an overnight stay, an outdoor movie screening and an epic Sunday roast. Each time very different and I've got the feeling that's always the case. There's a genuine sense of mischief in the air, permeating the rock ('n' roll) walls from its colourful past - Wham!'s Club Tropicana video was filmed at the pool here!
Jump in the ball pit for bathtub karaoke, race giant inflatable flamingos and unicorns across the pool or lounge on the massive round day beds with goblets of gin & tonic soaking up the sun. Whatever you get up to at Pikes, its bound to make a good story.
8. Browse the stalls at Las Dalias Hippy Market
Saturdays are for shopping and eating too much. Well, that's what I did anyway and I highly recommend it. Every Saturday from 10am the stalls are set up at Las Dalias Hippy Market selling clothes, jewellery, leather accessories, you name it. Go hungry and share food with a friend so you can try something from each spot. Our favourites were the fresh juices and pizza.
Browse Essential Ibiza's event calendar for listings.
9. Hire a day bed
The ultimate in beach side luxury, make what is already a blissful experience of lounging in the sand by the sea for the day even more paradise-like. Lots of beach bars in Ibiza have big sumptuous beds to sink into, but my favourites are the Harbour Club where the price includes chilled water and fresh fruit and the waiters carry over the chalkboard menu and come to set up little tables with proper linen for lunch. Or, head to Nassau Tanit on Sundays if you want to stick a magnum of blush wine on ice, try some Thai influenced food and listen to DJ Jo Mills on the decks while getting your tan on.
10. Refuel at Wild Beets
Based in Santa Gertrudis slap bang in the centre of the island and close by lots of countryside walking trails, Wild Beets is a raw, vegan and plant based cafe. Organic and locally sourced breakfast, lunch and dinner in an airy stylish new restaurant in the village provided a refreshing balance to the heavy tapas and wine I've been eating all week out here. I'm not about to go vegan or even vegetarian, but there's nothing wrong with a meat free Monday every once in a while.
Naturopath Chloe Silverman has teamed up with Wild Beets to design juice cleanses in partnership with iPurify.
So there you have it, my top ten alternative things to do in Ibiza. There's so much more I still need to tick off; like visiting Es Vedra at sunset, eating at Aubergine cafe and Bambuddha restaurant, that inflatable water park in San An I mentioned earlier, the workout club at Hostal la Torre, beachside voga retreat with House of Voga, the list goes on! That's the thing with Ibiza, it somehow manages to remain consistent yet change with the times, I know I'll be coming back for years to come!
Images by Michael Vanarey, check out his aerial footage to see Ibiza from the sky!