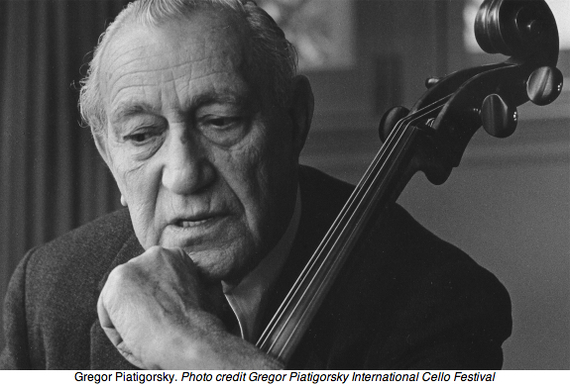 If you want to understand what the great cellist Gregor Piatigorsky was like as a man and a cellist, and most profoundly, as a musician, you'll have to read Terry King's book, Gregor Piatigorsky: The Life and Career of the Virtuoso Cellist. You can get an excellent idea of Piatigorsky from an interview with King published in Strings magazine earlier this year here.
You can also learn a lot about Piatigorsky and the role he played in shaping the 21st century cello world, at the Piatigorsky International Cello Festival taking place for 10 days, at Disney Hall and USC, beginning May 15. There will be concerts, workshops, seminars, displays of fine instruments, marketplaces and more cellists than you have ever seen in one place before. If you can't attend them all, the following ten picks, as they occur throughout the Festival, will give you an essential cello experience:
1. L.A. PHILHARMONIC: GABETTA PLAYS MARTINŮ Sunday, May 15 - 2:00 PM Walt Disney Concert Hall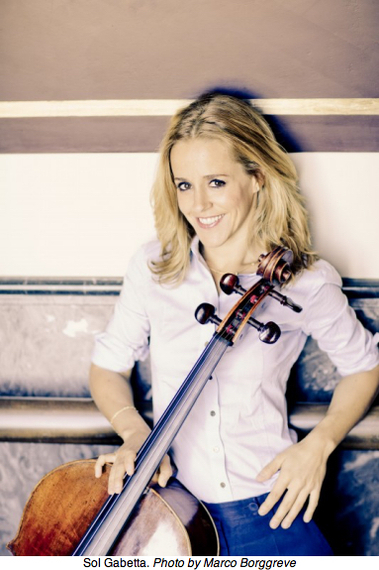 Argentine-French cellist Sol Gabetta has become one of the cello's world most important young musical forces, with her integrity and deep empathy with the music she plays, and her sublimely radiant technique. She has not crashed the North American market. Yet. She will play Martinů's First Cello Concerto with the Los Angeles Philharmonic.

2. GALA OPENING CONCERT AT USC Sunday, May 15 - 4:30 PM USC's Bovard Auditorium
The Festival opens on its home campus, the University of Southern California, with a concert you cannot miss for the Italian cellist and composer Giovanni Sollima's unique improvising, and the cello head of UCLA's new Alpert Music School, Antonio Lysy's multimedia Te Amo Argentina.
3. QUINTET+: CALDER QUARTET & SOLLIMA + LEONARD + SAKURA Monday, May 16 - 6:30 PM USC's Alfred Newman Recital Hall
In a program calibrated by a madman or a fiend, the cello quintet called Sakura plays a Carmen Fantasy, Ron Leonard plays Barber and Boccherini, then Giovanni Sollima and the Calder Quartet will subvert. I hope.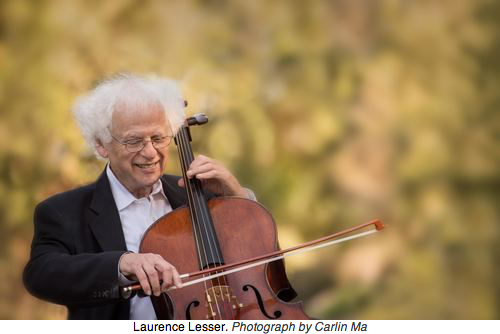 4. QUINTET+: CALDER QUARTET & LYSY + LESSER + SAKURA Wednesday, May 18 - 6:30 PM USC's Alfred Newman Recital Hall
The SAKURA cello quintet plays olde-tyme English madrigals, Laurence Lesser plays his illuminating version of Bach's immense and thorny C minor Solo Cello Suite, and the Calder Quartet, this time with Antonio Lysy, play Onslow's often feverish and intense Quintet No. 15 in C major Op. 48; it's called The Bullet Quintet which is crazier than you think.
5. EVENING RECITAL: SOL GABETTA & DAVID GERINGAS Wednesday, May 18 - 8:00 PM USC's Bovard Auditorium
Sol Gabetta plays boudoir Chopin for openers then David Geringas illuminates the Eastern soul with Schnittke, Vasks, Šenderovas and Tchaikovsky.
6. IMPROVISATION WORKSHOP WITH GIOVANNI SOLLIMA Thursday, May 19 - 5:30 PM USC's Alice and Eleonore Schoenfeld Symphonic Hall
According to Evgeny Tonkha, the young cellist around town who runs the K17 series of private concerts, Giovanni Sollima has the kind of musical footprint that makes his own compositions and improvising as unique as his cello playing. And all of this is communicated with style and charisma. His improvisation workshop will be geared towards helping cellists express themselves more fluently through their instruments. This event is free. Seating is first-come, first-served.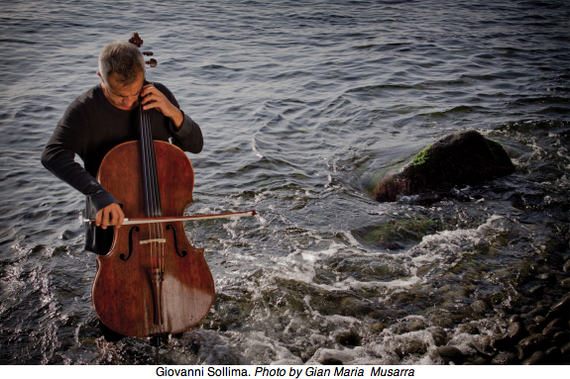 7. EVENING CONCERTO CONCERT: GERINGAS, QIN & WALLFISCH Thursday, May 19 - 8:00 PM USC's Bovard Auditorium
An extraordinary trio of concertos by an extraordinary trio of cellists. Absolutely not to be missed. Backed by the USC Thornton Chamber Singers and Wind Ensemble, Raphael Wallfisch and Li-Wei Qin will play concertos by Jacques Ibert and Freddy Gulda, and David Geringas will play Sofia Gubaidulina's 40-minute long Canticle of the Sun for Cello, Chamber Choir and Percussion.
8. REMEMBERING GREGOR PIATIGORSKY Saturday, May 21 - 6:30 PM USC's Alfred Newman Recital Hall
Four of Piatigorsky's outstanding former students--Laurence Lesser, Mischa Maisky, Jeffrey Solow, and Raphael Wallfisch--celebrate the career of their great teacher through film and a panel discussion, hosted by KUSC's perennially popular Gail Eichenthal. The spirit of Festival namesake Gregor Piatigorsky will be present not only in the recollections of his students, but also in images and the sound of his voice. This event is free. Seating is first-come, first-served.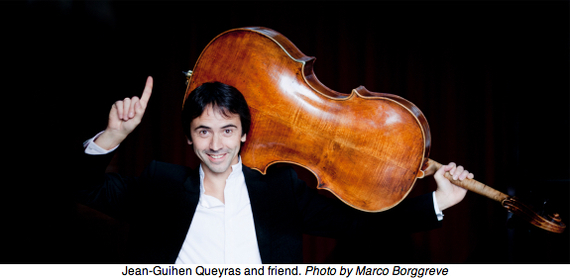 9. FOUR BAROQUE CONCERTOS WITH THE LOS ANGELES CHAMBER ORCHESTRA Saturday, MAY 21 at 8:00 PM USC's Bovard Auditorium
It will be Jean-Guihen Queyras in an obscure Giovanni Benedetto Platti concerto, Giovanni Sollima in somewhat more well-known Leonardo Leo and Boccherini concertos, then Colin Carr, Thomas Demenga and Queyras again in popular Vivaldi and CPE Bach. Crackling, competitive, cooing stuff. Not to be missed.
10. BEETHOVEN CLOSING GALA CONCERT Sunday, May 22 - 7:00 PM USC's Bovard Auditorium
The 2016 Piatigorsky International Cello Festival concludes with a Beethoven free-for-all, featuring Ronald Leonard, Laurence Lesser, Thomas Demenga, Colin Carr, Matt Haimovitz, Mischa Maisky, Andrew Shulman and Jean-Guihen Queyras, with pianists Bernadene Blaha and Jeffrey Kahane, in all of Beethoven's music for cello and piano. It's really most cellist's heart and soul, although they'll say Bach, and if you can stay the course you'll find out why yourself.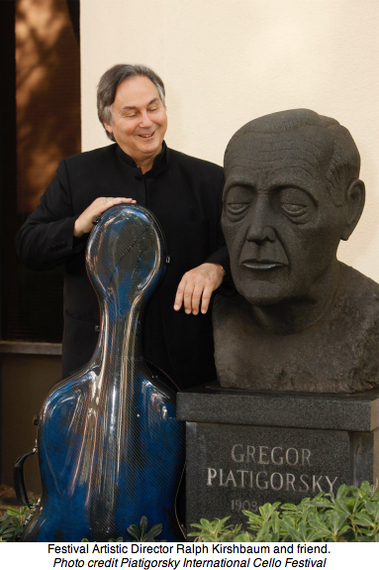 Popular in the Community