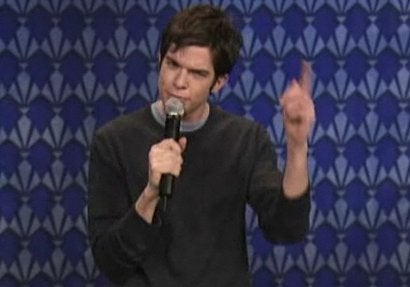 You may have seen him on Saturday Night Live's "Weekend Update," or as a talking head on VH1's regrettably canceled Best Week Ever. But John Mulaney continues to tour the country doing stand-up comedy, now bringing his blend of charming and awkward to the Punch Line Comedy Club in San Francisco. I spoke to John about his career, his upcoming shows, and how to get Best Week Ever back on the air.
Louis Peitzman: Is all the traveling you do the best or worst part about doing stand-up comedy?
John Mulaney: Going on the road for long stretches can seem daunting, and I certainly miss being home sometimes, but the chance to see so many different cities, let alone perform in them, is something I am really grateful for. Plus I have so much hotel stationery now it's just unbelievable. When they find me dead under a pile of it, everyone is gonna be like, "Wow, that dead guy saved a lot of stationery."
LP: How has your career changed over the past few years?
JM: I think it's gotten better. Why? What have you heard?
LP: How did you get involved writing for Saturday Night Live?
JM: I knew some folks from SNL like Seth Meyers and Amy Poehler through the UCB Theater in New York. I think I sent the show a tape of me on Late Night with Conan in the spring of 2008. I auditioned for the show that August and they said, "We don't have a spot for you but would like you to write for the show." And I said, "Absolutely." I was with my mom at a restaurant when I got the call and she told the waitress. The waitress was very impressed.
LP: What is it like writing material for someone else to perform?
JM: Well it's not just someone else. It's the cast of that show. And honestly they are some of the most talented people I've ever seen. So it's a thrill to write something that I know I could never pull off and have someone like Bill Hader or Fred Armisen nail it.
LP: Will we be seeing more of you on SNL next season?
JM: I plan to join the SNL band as a maraca player and stand behind saxophonist Lenny Pickett. That way they will at least cut to me before commercial breaks. I'll be sure to look right into camera.
LP: What gods should I pray to if I want to get Best Week Ever back on the air?
JM: Greek Gods. Mt. Olympus canceled the show after Zeus found out me and Nick Kroll had lain with Athena after giving him a sleep potion.
LP: What can audience members expect from your upcoming San Francisco shows?
JM: I am about to tape a Comedy Central special so folks here will see the makings of my brand new hour.
LP: Tell us a little bit about your opening acts.
JM: Joe Mande is one of my best friends and a wonderful comic. He has a silly life and will describe it for money on-stage. Emily Heller is a great comic I've known for the past three years and she and I have worked together in New York. I'm so excited she is hosting for the week!
LP: Who were some of the biggest gifts to comedians so far this year?
JM: Was that Dunston Checks In this year? Or was that like 15 ago? I can't remember. Either way, it's a great movie and was a gift to comedians as well as civilians.
LP: Are there any up-and-coming comedians you think we'll be seeing a lot more of in the near future?
JM: Besides Joe Mande and Emily Heller, San Francisco's own Sheng Weng is one of my favorites.
John Mulaney performs at the Punch Line Comedy Club 8 p.m. June 22 through June 25, with 10 p.m. shows on Friday and Saturday. The opening acts are Joe Mande and San Francisco-based Emily Heller.
REAL LIFE. REAL NEWS. REAL VOICES.
Help us tell more of the stories that matter from voices that too often remain unheard.