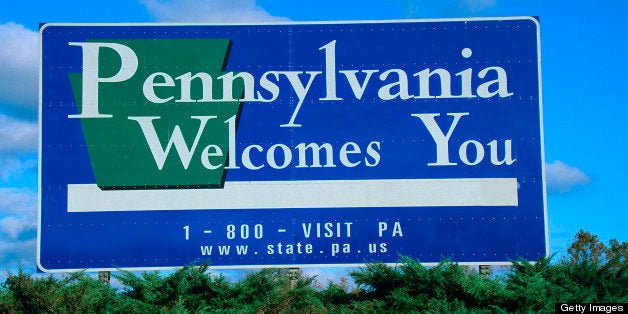 "You're going to Pennsylvania?" our friends asked. "You're usually flying off to some destination we've never heard of, but the state named after William Penn? Why Pennsylvania?"
I could hear the thud of a gauntlet being tossed down when the words "why Pennsylvania?" were uttered. I picked up the metaphorical glove and flew east to answer the question.
Because eyeballs get weary and time is a more valuable commodity than emeralds, I will share with you 10 answers to the Pennsylvania challenge. You will note that great restaurants and hotels are omitted here, and quirk rules. But you have a reader's chit for information about all of the above in a later post.
1. The State Capitol building in Harrisburg is arguably the most beautiful capitol in the U.S. The dome is an homage to St. Peter's Basilica in Rome, the staircase is modeled after the one in the Paris opera, and the paintings of a woman named Violet Oakley adorn some of the most ornate and spectacular chambers. At a time in our misogynistic past when Ms. Oakley didn't even have the right to vote, she was depicting world peace, an end to slavery, and an end to the enslavement of women. In one painting, a woman is in shackles. You go, Violet! (http://www.pacapitol.com)
2. In Tamaqua, Pennsylvania, the "Tulip House," as it is affectionately called by locals, could make earth worms sit up and take notice. In this historic anthracite coal mining town, where 80 Victorian facades have been restored to the glory of former coal baron days, a rather reclusive woman spends much of her life tending her front and backyard gardens and adorning them with thousands upon thousands of color-coordinated flowers. In the summer, petunias bloom. In the winter, mums. And when I was there, it was tulip time. I stepped from my car and beheld a sea of pink, purple, mauve, fuscia and lilac-hued tulips. I am not a flower person, but I instantly became one. (http://www.tamaqua.net)

3. In Bethlehem, in a l741 house where I began a historic Moravian tour, I learned about the fascinating sect that practiced polyglot singing (adherents came from many countries and each sang in his own language); had female pastors; and separated congregants according to age, gender, and marital status. Between 18 and 24 months, a child was taken from its parents and placed in a nursery to be raised--think: kibbutz. There was a separate house for suckling mothers. Another one for widows. All needs were paid for and taken care of by the community --from food to education to health care. They were very prosperous and probably had the first pumped water system in America. And the missionaries learned Native American languages and didn't force people to convert. (http://www.historicbethlehem.org/index.cfm?organization_id=127§ion_id=2292&page_id=9377)
4. Porter's Pub, in Easton, is a 25-minute drive from Bethlehem. The ceiling is lined with 3700 mugs, and if you drink every one of the 60 craft beers on the menu--with names like "Blithering Idiot" and "Flying Dog Doggie Style Pale Ale"--you get your own mug and become part of the architecture. You can also go on the "Beer-muda Triangle," which includes Porter's Pub, Black & Blue Restaurant and Two Rivers Brewing Company. (http://www.porterspubeaston.com)
5. Everyone is curious about the Amish, and the best way to appreciate the simple life they live is to drive on your own through Amish Farmland country in Lancaster County. The Anabaptists ride by in horse-drawn buggies, plough their fields, and hang their traditional black and dark blue clothes to dry on clotheslines. You can stop at Amish shops to buy candles, quilts, fresh hot pretzels, and crafts. If you wish to take an Amish- led tour, google will get you the options.
6. President Buchanan? I'll wager you know nothing about our only bachelor President, who preceded Lincoln. Learn about why he never married, why his vendetta against Stephen Douglas split the Democratic party and enabled Lincoln to win the election, and why he was accused of being a "doughface" (a northerner with Southern sympathies) at Wheatland, his home. (http://www.nps.gov/nr/travel/presidents/james_buchanan_wheatland.html)
7. Can you name the only resort in the United States that has a private wildlife habitat; off-roading school; dog sledding; art tours of a $50,000,000 collection that is out in the open, accessible, and not hidden behind glass; buried (fake) prehistoric bones that kids can dig up; vintage autos and a vintage airplane museum; a big chunk of the Berlin wall; a pet spa with private condominums (avec flat-screen T.V.s, of course), blueberry facials, a presidential suite and orthopedic beds? Five words say it all: Nemacolin Woodlands Resort and Spa. (http://www.nemacolin.com)
8. You have seen photos of Frank Lloyd Wright's Fallingwater, but nothing, repeat, nothing, equals the joy, amazement and awe one feels at the house that seems to float over a waterfall. The cantilevered marvel, with balconies suspended in mid-air, is a crown jewel of organic architecture. As you walk through the house, you are accompanied by the sound of rushing water. From what the guide implied, Wright was a horrid human and I think that, with few exceptions, most of his love was lavished on nature and natural elements. (http://www.fallingwater.org)
9. Speaking of floating, you can float on a raft for a historical tour with a guide dressed in Colonial period knickers and a billowy white muslin shirt. Learn about George Washington's only surrender; how Washington's surveyor was roasted alive by Native people; the history of the railroad and rye whiskey; and the coke ovens, with the other coke. Raft and tour provided by Wilderness Voyageurs. (http://wilderness-voyageurs.com)
10. Meadowcroft Rock Shelter, in Avella, Pennsylvania, near the Ohio border. The oldest inhabited site in North America. 16,000 years ago, some campers spent a night or two making fire, eating, and sleeping. Were they really so different from us, except in technology? Films, a visit to the archeological site, and villages representing those who lived in the area for the last 16,000 years. (http://www.heinzhistorycenter.org/meadowcroft.aspx)
So, let me know. Have I won the Pennsylvania challenge?
---------------------------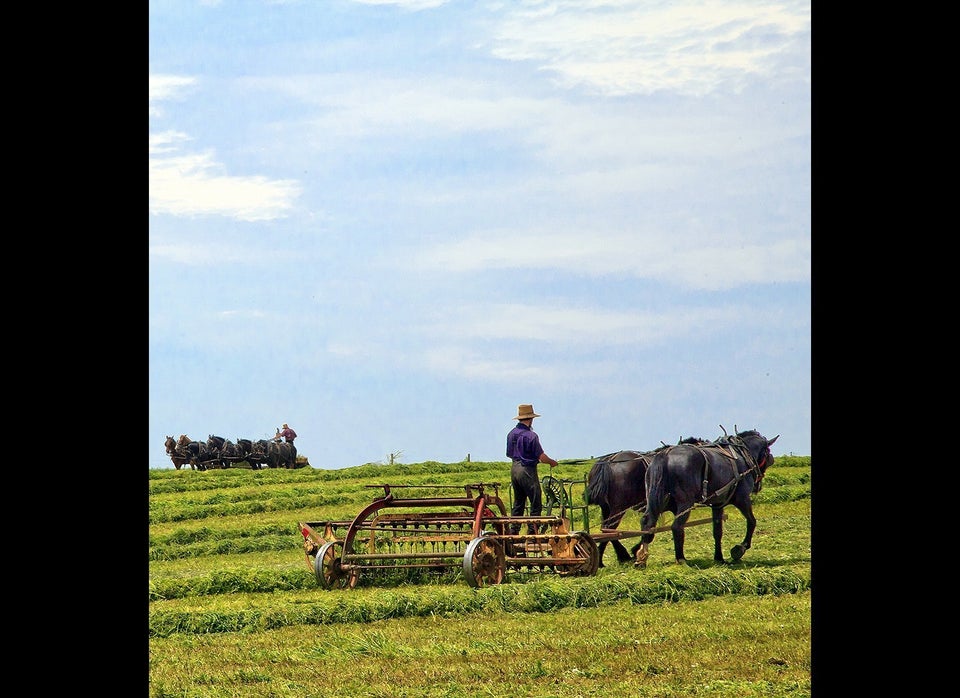 Reasons to Love Pennsylvania
Judith Fein is an award-winning travel writer who has contributed to more than 100 publications. She is the author of LIFE IS A TRIP: The Transformative Magic of Travel.
Her website is www.GlobalAdventure.us