Never in my lifetime have I heard of a science fiction theatre festival -- perhaps because they never existed until actor/writer David Dean Bottrell came up with the idea in 2013 after reading The Wife's Story, a dark and unusual short piece by the great Ursula LeGuin. One ambitious Kickstarter campaign later, Sci Fest L.A. was born. The inaugural festival took place a year ago and proved such a crowd-pleaser with its twisted and brilliant one-act stage plays (which included a fabulous staged version of the LeGuin story) that Bottrell, along with veteran theatre producers Lee Costello and Michael Blaha, created the second annual celebration of all things sci-fi. A wondrous celebration of all things the genre can be, Sci Fest L.A. is a gem of a festival, and currently chills and thrills packed houses at Hollywood's Acme Theatre (135 N. LaBrea) Thursdays through Sundays to May 31.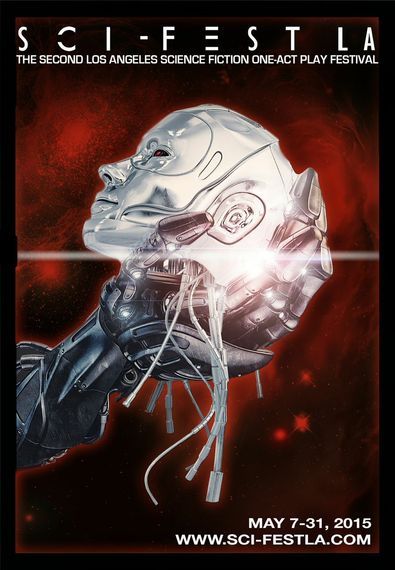 I attended opening weekend of Sci Fest L.A. -- twice! And feeling duly inspired, I came up with ten reasons (in no order) why this theatre festival needs to be seen...
Reason #1. NEIL GAIMAN has a one act play in the festival!
The author of Coraline, The Graveyard Book, Stardust, The Sandman comic book series and American Gods (to name a few) penned The Case of Four and Twenty Blackbirds a delightfully twisted nursery rhyme/film noir mashup. Gaiman himself attended Sci Fest L.A. this past weekend, and upon seeing the one act play, said: "I wrote this piece when I was 21 and never cared much about it. Until I saw it performed tonight."
Actress Angeline Rose Troy shines in a trio of roles as The Queen of Hearts, Little Bo Peep and Humpty Dumpty's mysterious sister. Mark Povinelli (Boardwalk Empire) delivers as Detective Jack Horner while Walking Dead fans will love seeing Jeryl Prescott Sales as Mother Hubbard and The Old Woman Who Lived In A Shoe. Add Burl Moseley, Ari Frenkel and Bruno Oliver and you've got a winning, memorable climax to Program A.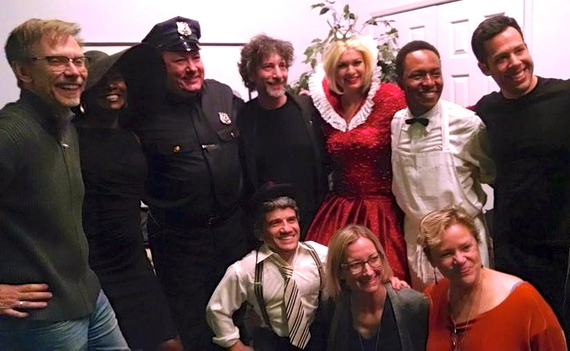 Top Row from L to R: David Dean Bottrell, Jeryl Prescott Sales, Bruno Oliver, Neil Gaiman, Angeline Rose Troy, Burl Moseley, Ari Frenkel. Bottom Row from L to R: Mark Povinelli, Director Annie McVey, Producer Lee Costello. (photo courtesy of AEFPR)
#2. Sci Fest L.A. features two TOTALLY DIFFERENT PROGRAMS
Yes, every other weekend the lineup changes from Program A to Program B. Five completely different one act plays. So you could go two weekends in a row and it's all new! Both evenings are packed with treasures.
#3. The actors are from science fiction film and TV franchises that we love!
The festival features no less than FIVE Star Trek alum (Tim Russ, Armin Shimerman, Tucker Smallwood, Nazneen Contractor, Rico Anderson), two from Alien/Aliens (Veronica Cartwright and Alan Polonsky), Eddie McClintock the star of Syfy's Warehouse 13, a trio from True Blood (Dale Dickey, Marque Richardson, and Bottrell), Patricia Tallman of Babylon 5, Jasika Nicole of Fringe, David H Lawrence XVII of Heroes, Woody Shultz (Avatar), NIcki Aycox (Supernatural), and many others. It's like Comic-Con just landed on LaBrea!
#4. Yes, CLIVE BARKER contributed a play!
Program A's haunting, poetic tale of the afterlife The Departed was written and submitted to Sci Fest L.A by the iconic horror/fantasy writer himself. Added bonus: The play features real life husband and wife team Tara Platt and Yuri Lowenthal, both renowned Anime voiceover artists.
#5. The world's very FIRST science fiction play is being staged!
1917's Efficiency (Program B) -- which will star Cullen Davis (Agents of SHIELD) -- still has the power to freak you out nearly a century after it was written. Reimagined in a bizarre steam punk universe, Efficiency's message is eerily timely.
Equal parts frightening, hilarious and sick, Leticia (Dale Dickey of True Blood, Winter's Bone, Iron Man 3, Super 8, etc etc - we LOVE her!) and her mute, deranged brother Bobby (Jack David Walker) star in The Lunchtime Show (Program A). A duo straight out of your darkest white trash-horror nightmares.
One of the festival's most hilarious pieces (Program B) -- it's, yes, Moby Dick in space.
#8. Sci-Fest L.A. Radio Theatre
A star-studded company of players perform a classic Sci-Fi radio script live on stage (Program B).
#9. The Tomorrow Prize and The Roswell Award!
Sci Fest L.A. isn't just entertainment - it also hosts a sci fi writing competition, and these programs honor the best (out of hundreds of entries). The Roswell Award celebrates sci fi short stories written by adults (Sun, May 24 at 7pm) while The Tomorrow Prize celebrates excellence in sci fi writing by high schoolers (Sat, May 16 at 4pm). Interestingly all the high school finalists this year are female. The Tomorrow Prize will raise money for the winner's high school science department.  The stories will be read aloud by actors from film and TV.
#10. Twilight Zone fans (and who isn't?) will find much to love about Sci Fest L.A.
Think about Rod Serling's The Twilight Zone - the episodes were quiet, intimate, spooky, mind-bending stage plays. And episode to episode, the themes would shift from light to dark. This is also true of the bizarre collage that is Sci Fest L.A. Joel Silberman's poignant Human History (Program A) frames racism intergalactically. Spencer Green's funny, fast-moving Access (Program B) examines one couple existing across multiple dimensions. Nathan Wellman's A Billion Tuesday Mornings (Program B) unfolds as a creepy puzzle told through the POV of a lonely autistic man. Chris Graybill's Turnover (Program A) transports us into the distant, terrifying future of the U.S. prison system. Something for everybody indeed.
REAL LIFE. REAL NEWS. REAL VOICES.
Help us tell more of the stories that matter from voices that too often remain unheard.