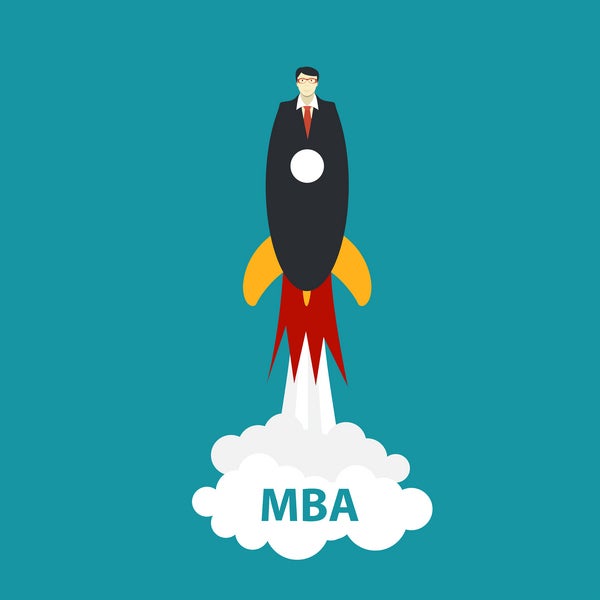 Ever feel like you're the only one in the room who doesn't have an MBA? You're not alone.
With more people than ever earning post-graduate degrees, and a huge portion of them MBA's, it can be intimidating to be surrounded by colleagues who have higher levels of education than you. However, there's so much more to a career than a person's educational background, and there are plenty of legitimate reasons to choose not to pursue an MBA, or to at least postpone it until the time is right. Here are 10:
2. The value of an MBA depends greatly upon the rank of the school.
3. The debt puts you risk averse at a time you should be trying things out.
Getting an MBA is expensive. Crazy expensive—as much as $100,000 from a top school, and that doesn't include the loss of the salary you would be earning if you're going to school full-time and not working. Post-graduate programs in general are even more expensive to finance now than undergrad, since, as of 2012, the government no longer offers subsidized student loans to post-grads (thanks, Congress!). Pursing an MBA is a long-term investment, and with any investment, you should investigate all your options and make sure you are committed before taking the plunge. There's no better way to figure out what you want to do for sure than getting your feet wet in the professional world. It's a smart move anyway, because employers prefer to recruit MBA's who also have professional experience, and most MBA programs require you to have professional experience anyway. Spending a few more years in the workforce can help you figure out if an MBA is truly the right path for you, and you can pay off debt and build your savings in the meantime.
4. Earning an MBA is a time suck.
Part-time MBA programs enable you to continue working full-time, but can take up to 5 years to finish. Not all schools offer part-time programs, though, so you might not be able to attend your school of choice. And you'd be giving up most of your nights and weekends for the foreseeable future. Point is, earning the degree doesn't happen overnight and will take time out of the other areas of your life regardless. If you're not ready to make some major sacrifices in your personal, social, and professional life, an MBA isn't for you.
5. An MBA may not be relevant to the job you truly want.
An MBA education focuses on standard business skills, like accounting, finance, operations, and marketing, but it also focuses on key skills like critical thinking and analytical skills. This type of education can certainly give degree-holders an edge for managerial positions. However, in a lot of industries, companies want to hire managers who have specialized knowledge and experience in their particular industry, not necessarily those who have general educations, like the MBA curriculum. Make sure you understand what hiring managers in your field are looking for. In many industries, an MBA won't be useful to your career advancement.
6. The value of an MBA doesn't last forever.
The reality is that at some point, your MBA will become obsolete. Because the MBA curriculum takes a scientific approach to a business education, and science is one of the most—if not the most—rapidly changing fields, it's nearly guaranteed that what you're taught when you earn your MBA will not be what MBA's are being taught in 10 years, or even 5.
Even with an MBA, you'll be expected to keep current on the trends and best practices of your field, which will most likely vary greatly 20 years after you earned your MBA. So while an MBA can help boost your career at a specific stage, how well it will serve you down the road largely depends on how you manage your career, and your ability to remain on the cutting-edge in your field. Goals we should all strive for, regardless of education level!
7. You don't need it for a career pivot.
There are so many other ways (much less expensive and time-consuming ways) to advance your career and build your professional skillset without pursing an MBA. Companies that actively recruit MBA candidates report that they value the critical thinking and problem solving skills of MBA candidates. So honing in on classes or programs that help you develop these skills could certainly give you a foundation for skills desired by employers and help you decide if this type of education is for you.
This confident blogger insists that 1/3 of what you learn getting your MBA is available online for free. Maybe a bit of a stretch, but it does serve to show that you can gain skills to enhance your career from a variety of other sources: free online programs, learning from colleagues, or attending conferences or seminars in a field that that interests you. Your employer might even offer reimbursement for programs that charge a fee, if they're related to your field. While this method of career enhancement certainly doesn't give you the much-coveted branding of an MBA from a top school, it will help you gain invaluable professional skills, without the financial obligation and stress of a formal MBA program.
8. Hiring managers may perceive you as overqualified.
9. You don't need an MBA to build a solid professional network.
10. The degree has become diluted.
You want to stand out in the workforce, right? You want to really impress your interviewer with all your stellar credentials, right? So do you really want to become just another MBA? It's become the most popular postgraduate degree in the U.S, accounting for about ¼ of all Master's degrees awarded annually. That's nearly 200,000 MBA's in 2012 alone. You don't need an MBA to understand the basic concept of supply and demand: too many MBA's, and not enough MBA-level jobs available leads to trouble. This is likely a factor contributing to the disparity in salaries between top raked MBA programs schools and lower ranked ones: with so many MBA programs out there, employers are targeting the top programs only. It's also likely the reason that so many MBA's find themselves squeezed out of the MBA job market, seeking lower-level jobs and being told they are overqualified (see above).
Look into specialized programs geared more towards your particular career goals. That might not even mean another degree, but perhaps some sort of professional certification. Set yourself apart instead of pigeonholing yourself into a job market that is already rapidly shrinking.
Making the choice to pursue another degree is a major life choice that no one should take lightly, and MBA's are no exception. It's a huge time and money commitment, requiring you to make major changes and adjustments in your life. And who wants that if it doesn't pay off in the end?
Calling all HuffPost superfans!
Sign up for membership to become a founding member and help shape HuffPost's next chapter
This post was published on the now-closed HuffPost Contributor platform. Contributors control their own work and posted freely to our site. If you need to flag this entry as abusive,
send us an email
.