Two of my friends (Noah and Montgomery) approached me a few months ago and were asking my advice on some gay destinations. They are in their early 20s, live in West Hollywood, and on a budget, so I knew the location needed to be some place here in the United States. They explained they were looking for a place where they could really relax, but also have some fun as well. I was pretty shocked they did not know much about the history of gay destinations such as Provincetown, Fire Island and Key West. It made me sad to think that the younger generation could be losing touch with these places that are deep-rooted in gay history. After looking at all their options, they decided on Key West, which seemed perfect because it is widely known as the first popular gay destination spot. All of this talk about their vacation got me excited and I decided to join in the fun.
We had such a memorable time, so I decided to do this list:

10. The Drag Shows-
Drag is an important part of any gay culture, so of course Key West has some of the best shows and entertainment in the country! For over 25 years, the Key West drag scene has been lead by Sushi and the Girls at 801 Bourbon Bar. You can also catch newcomer Jessica Grabbit and her incredible voice at Bourbon Street Pub and Randy Roberts (America's Got Talent) at La Te Da.
9. Biking:
Key West is an island that is only 2x4 miles big. Within that eight square miles, you can pretty much stay within a two mile radius for the gay attractions. This is so great because you can rent a bike and use that as your transportation while on the island. We had The Island House call for our bikes ahead of time and they were waiting for us when we needed them. Being able to bike everywhere was actually a lot of fun and great exercise too. Noah said, "Being able to bike around the island gave me a chance to experience the organic and natural feeling of the island."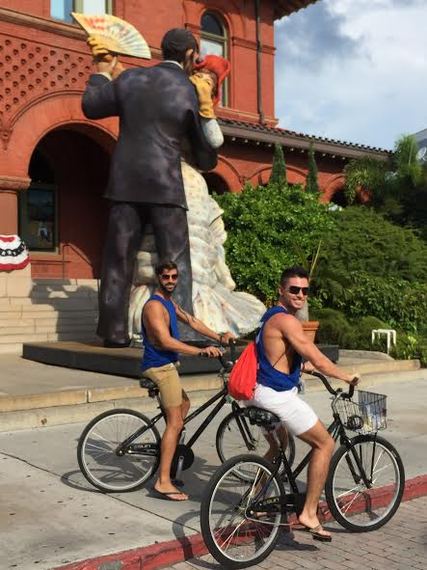 photo credit: Brad Hammer

8. Clothing Optional Gay Snorkeling:
Upon our arrival in Key West everyone kept telling us about this gay snorkeling adventure. I am sure you are asking yourself, what makes this snorkeling adventure gay? Well, you put about 40 gay guys on a yacht, make it clothing optional, add booze, blast music and fly a big rainbow flag! Yes, in Key West they know how to be very festive! Montgomery especially loved the snorkeling, "The clear water, and white sand, and sand dollars for miles, and fish of every color...it felt like something right out of Pixar's Finding Nemo."
7. FURY Adventure Water Sports:
Let me start by saying, I am always a sucker for water sports! Who doesn't love the warm and salty water splashing on your face? C'mon, I am talking about the ocean! But really, I am a fan of being on the water and always love a new adventure. In that spirit Noah, Montgomery and I decided to try parasailing and to go jet skiing. For both of these we called ahead and made an appointment. Noah and Montgomery had to take a quick course and test because they are under 25 years old, so keep that in mind. We scheduled parasailing first and then jet skiing right after. Both were an easy bike ride away from the Island House and located at the Galleon Resorts in Key West historic seaport. The parasailing was a beautiful way to see the island from a different point of view and I had a total blast on the jet-ski!
6. Gay History:
Key West was the original gay destination in North America. Some say it all started with Tennesee Williams coming down for his vacations, which brought more popularity to the island. Key West also inspired work by Jerry Herman, Truman Capote and Terrence McNally. The city also had the nation's first openly gay mayor, Richard Heyman, who served during the 1980s. Currently, it is estimated that about one-third of Key West residents are gay. Noah, Montgomery, and I loved hearing stories from the locals about the gay history of Key West. You can't help but fall in love with Key West even more, knowing the island has been a long time ally and safe haven for the gay community. Jeffrey Smead from The Island House explained, "Key West fascinates you with stories of how LGBTs literally revived this dustbowl island starting back in the 70s. Key Westers still drop names of island legends who are either worldly famous or just locally famous. It's a kind of magical nostalgia that you really can't describe without seeing it in person."
5. Tea Dance-La Te Da:
Gay Tea Dances have been around since the 70s and are legendary when going to any gay destination. We went to the Tea Dance at La Te Da, which is the hot spot every Sunday from 4pm to 7pm. Classic gay anthems blast and create a nostalgic feeling in the air. We definitely drank and danced enough to make all our gay ancestors proud! In fact, Noah and Montgomery both squealed when some old-school Cher came on and then danced the afternoon away with two new lesbian friends.
4. Beaches:
I was actually suprised at how beautiful the beaches are in Key West. We went to Fort Zachary Taylor, which is an 87 acre park with a pre-Civil War Fort. This beach is known for its beautiful sunsets and is perfect for a picnic. Montgomery explained, "The beaches were beautiful, clean, and not overly crowded." Noah added, "I was shocked to find there were iguanas running around every where. Key West has a very tropical island feel."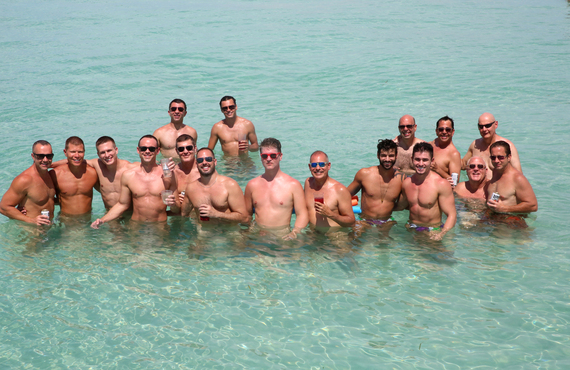 photo credit: Brad Hammer

3. Diversity:
The diversity in the Key West gay community is really something to be cherished. You will find all different ages, races and personalities all coming together to have a great time. It really is a place where everyone is welcome and no one judges you. "Key West was an eye opening experience because we made friends with all types of people. In West Hollywood people tend to keep more to their own group of friends," said Montgomery. Noah added, "Exactly, one minute we would be hanging with the locals and they would be telling us about the history of Key West, and the next minute we would be hanging out with young cute guys from all over the United States. Such a great time!"
2. Friendliness
Everyone in Key West is so friendly, we were all joking there must be something in the drinks that makes everyone so damn nice! I honestly cannot think of a place that has so many kind-hearted people and with overall such great energy. Noah explained, "Being in Key West is a nice step away from L.A. Everyone is very friendly and approachable. It really feels like everyone on the island is your friend." Montgomery added, "It's so true and it's not just the gay community either. We got lost going to the beach and everyone was so sweet and trying to help us out."
1. Island House Resort
The Island House should be at the top of the list, as a destination for every young gay man. You will never find a resort that is more welcoming to their guests. The food and service are impeccable. Not to mention their happy hour every day, which draws the biggest crowds on the island. In fact, we had such a great time at the Island House, we found ourselves spending the majority of our time at the resort. We did so by lounging at the pool, hanging out at the bar, or spending time in our beautiful suite. Noah agreed, "Everyone was extremely accommodating, the food was amazing (try the mango cheesecake!), and our suite was a beautiful escape from reality." Montgomery added, "I absolutely loved the staff. They were so generous it actually felt like you were at a friend's house, not a resort."
REAL LIFE. REAL NEWS. REAL VOICES.
Help us tell more of the stories that matter from voices that too often remain unheard.