Anderson Cooper, CNN Headline News and Dr. Phil all spent this past weekend fretting over a YouTube video of little girls dancing to Beyonce's "Single Ladies" - while showing the tape over and over and over and over again.
What terrible acts will come from people viewing this video, these journalists asked, as they showed the little girls twirling and dancing. Over and over. And over.
But there're plenty of reason to be afraid - to be very afraid. You see, the world is coming to an end... and all the signs are right in front of us!
SIGN #10 THAT THE WORLD IS COMING TO AN END: Oil
All that damn oil in the Gulf of Mexico.
Sure, sure, you could say that it's just a result of corporate interests endangering all our lives. You could blame lax oversight by the government, or the government letting them put an explosively shoddy oil drill out there in the water to begin with.
Or you could do like Brit Hume and just deny that there's actually any oil in the water:
But no. The fish and plants are being choked to death by "enormous oil plumes in the deep waters of the Gulf of Mexico, including one as large as 10 miles long, 3 miles wide and 300 feet thick in spots."
What little oil we have left is just pouring into the ocean and killing all the stuff that keeps our planet in balance.
SIGNS #8 and #9 THAT THE WORLD IS COMING TO AN END: Earthquakes and Volcanoes
It's not just the oil... the whole world is trying to turn itself inside out.
Did you see that volcano in Iceland? The earthquake in Haiti? The one in Chili? Heck, just three weeks ago a quake hit eastern Tennessee. It seems increasingly likely that the entire world is going to swallow us up.
SIGN #7 THAT THE WORLD IS COMING TO AN END: Locusts
Yeah, that's right. Locusts.
Australia's currently being devastated by a swarm of locusts - the size of Spain! Really.
What, you think they're not going to come here next?
(Oh, yeah, there's also a plague of rats in Inner Mongolia.)
SIGN #6: THAT THE WORLD IS COMING TO AN END: Melting Ice Caps
Yeah, yeah, I know. Al Gore's a liar.
So's NASA and all them fancy satellite-machines up in the sky.
The signs are all right here! Why can't you see them?
SIGN #5 THAT THE WORLD IS COMING TO AN END: Famine
Over a billion of us are starving. Asia and the Pacific are home to over half the world's population and nearly two thirds of their people don't have adequate access to food. More than 60% of the world's chronically hungry people are women, and in the United States it's estimated that over 16 million children are going each day without proper meals.
SIGN #4 THAT THE WORLD IS COMING TO AN END: Pestilence
There's monkeypox, avian flu, the pig disease, on and on they go.
These diseases are adding up, people, and unless you're Donald Rumsfeld or the stockpilin' stockholders of Goldman Sachs, you're gonna get bit and it's going to be the end of you and of us and of everything. We're all gonna die.
SIGN #3 THAT THE WORLD IS COMING TO AN END: NSFW!
The world is awash in sin, everyone so fascinated with the nether regions of each other and in particular of celebrities. Look at all these naked celebrities!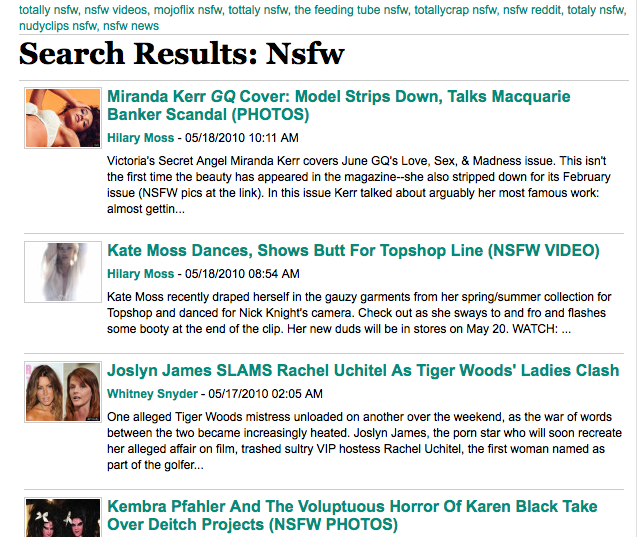 SIGN #2 THAT THE WORLD IS COMING TO AN END: The Economy
We're $12 Trillion dollars in debt. We keep running out of money and then just blindly printing more.
Unemployment's at 10%. Or, well, that's not quite right... if you're used to making $150,000 or more a year, unemployment's only at 3%. But if you're in the $20K or under category, you're enjoying rates of unemployment over 30%.
And personal bankruptcies up 15% over last year.
SIGN #1 THAT THE WORLD IS COMING TO AN END: The Anti-Christ Walks Amongst Us...
Yeah. That one. Barry Hussein.
And only one force can save us. The Tea Party.
Because they're the only ones brave enough to step up and defend this nation - to stop Barry from bankrupting the country, selling us off to China and letting terrorists come to our shores willy-nilly to blow us up.
[T]he American people have taken a look at what this administration's done. They're running banks, insurance companies, car companies. They nationalized the student loan business.... They've taken over health care. They're about to do to financial services what they did to health care. Their appointees over at the FCC are trying to take over the Internet.
You see that? The anti-Christ is consolidating his power to bring the entire world to its final climactic end, all under the guise of a government cramdown of, oh, just about everything.
And the only people who can stop them, who even seem to notice!, as I said, are - not including the telecom industry, all the media conglomerates, the entire financial services sector, the health insurance industry, the pharmaceutical industry and oh, pretty much every other multi-billion dollar private corporation in the world that have no power outside of being able to spend as much as they want advertising against him and fomenting this revolution - are the brave grassroots patriots of the Tea Party.
A lot of people are finally waking up -- just look at Rand Paul and the Tea Partiers in Kentucky.
Isn't it time you joined them?
Isn't it time we take back this country and stop it from what Obama is taking it to?
****
Meghan O'Hara is the executive producer of THE IFC MEDIA PROJECT which returns for its third season on the Independent Film Channel this May 24-27th in a four night docu-series event featuring stories on FEAR, WAR, GREED and DISASTER.
REAL LIFE. REAL NEWS. REAL VOICES.
Help us tell more of the stories that matter from voices that too often remain unheard.