When my grandmother died in June I didn't really know how to process it. My mom often mentions how hard it is that the person she wants to talk to most isn't there anymore. It's difficult to wrap my head around the fact that such an important person in my life is gone. Something that's been equally difficult, though, has been walking in her shoes these past six months.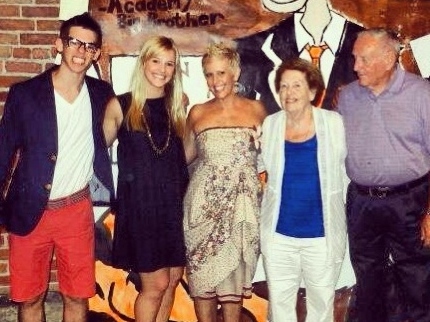 From left to right, the author Nick, his sister Charly, mother Julie, grandmother Margaret, and grandfather Chuck

One day my mom and I live in a cozy apartment, and the next day we uproot our lives to the other side of town. In the daze of grieving my grandmother -- taking care of my grandfather was almost a distraction. As life wore on, however, we adjusted to the new center of our universe -- caregiving.
With such a monumental shift having happened in our lives this year, I've reflected a great deal on what this all means for society at large. As we enter the New Year, here are 10 things caregiving taught me in 2013:
1) This Problem Is Only Getting Worse
My first blog about caregiving was titled "Why Millennials Should Be Terrified of Alzheimer's" for a reason. I said it then, and I'll say it again -- millennials need to start discussing the health concerns of elderly people. Here's part of what I wrote in that August blog:
The segment of the population over age 65 is also expected to double by 2030. While the number of older folks increases, the rate of those with Alzheimer's will also increase. Millennials like myself need to acknowledge the fact that we will become the manifestations of these horrifying statistics. The five million Americans currently with Alzheimer's are only a third of the 15 million projected to have the disease in 2050. I'm terrified to think what life will look like for the elderly when I turn 65 in 2058, and others in my generation should share that fear.
In 2014 I hope we do a better job at raising awareness. A great resource for that I discovered this fall is called AlzChat, where experts discuss via Twitter Alzheimer's related issues every Monday at 3 p.m. It's a great way to learn more, network, and raise awareness for Alzheimer's all from the comfort of a smart phone.
2) Don't Assume You Know Anything About Caregiving Until You've Actually Done It
Caregiving is extraordinarily stressful. People don't seem to understand that caring for someone with Alzheimer's isn't the same as hanging out with an old person who sometimes doesn't remember where their keys are. People with Alzheimer's don't know what a key is. Alzheimer's isn't the same as just being senile.
When people don't understand how serious this situation is, it compounds that stress. Caregivers don't have the luxury of being able to always plan out their schedule weeks in advance. What we do on a given day is dictated by my grandfather's mood. It can take up to two hours to get him ready to go somewhere. It can be difficult and draining to be around an Alzheimer's patient all day by yourself if you have to be. Sometimes they are belligerent, sometimes they have bowel issues, and sometimes they just want to take off running down the street. With that constant stress -- some understanding from non caregivers would be much appreciated.
What's a good way to give understanding and support to a caregiver? My mom and I have been extremely grateful to our friends these last few months. Without them we couldn't have possibly made it this far with our sanity in tact.
If you know someone who is going through the tough process of caring for a loved one -- make yourself available. Don't intrude into their lives all the time, but just call or check up every once in awhile. When people get stressed, they have a tendency to isolate themselves. Being isolated and a caregiver can be maddening, so having that support system of friends can mean everything in the world.
It's hard to confront loss. Not only have we had to deal with the sudden loss of my grandma, we've had to watch the ongoing slow death of my grandpa from Alzheimer's. I personally became a bit numb to my feelings a few months after my grandmother's death. I wanted to throw myself into work, and not think about the stress of caregiving. But when I let myself cry, and sit with that pain -- it begins to feel better. Sit with the pain, and don't try and mask it with work, alcohol, or anything else.
One of the greatest things about my situation is that my mom and I have the support of each other. Having someone in your corner to help you support the person being cared for makes all the difference in the world.
6) It's Not All About You
One of the hardest things about me taking care of someone else was learning that this means I can't do what I want, when I want, all the time. We are here to do one thing, and that's take care of my grandpa in the best way for him. Sometimes I have to check my ego at the door.
One example of this is when my grandfather is restless he wakes everyone up in the middle of the night. Instead of reacting with anger or frustration, I have to understand that it's not all about me getting a perfect night's sleep. This exercise in humility is surely transferable to every aspect of our lives. When I'm reflecting on how to be an effective agent for positive change in our world, it's important I think about the bigger picture rather than my personal comfort.
While this might seem like a cruel contradiction to not be so selfish but also not be so selfless, but it's just part of caregiving. If you are working yourself into the ground, and don't have a leg to stand on, get help. You didn't cause this disease, and you shouldn't have to fight it alone.
8) Look For The Joy In Life
Not every day is going to be a screaming match or a horror story -- so don't treat every day like it will be. Some parts of everyday will probably go really well. Take account of those moments, and be thankful for them.
Even in this year of upheaval and unrest, I have so much to be thankful for. My health, family, and friends are just a few. Learning to take in those blessed moments in a day is critical to maintain a positive perspective.
Whether you are a religious person or not, taking a breath and being mindful makes getting through the day so much easier. Every day I try and do a meditation with this site called sacred space. The site guides me through a reflection on being present in my life.
If you don't write down those aha moments that come to you throughout the day, they will sink back into the ether of your subconscious. Whatever adversity you are facing in your life, the lessons you learn from it could impact so many other people. Don't let those moments slip away.
Hopefully these 10 things I learned from caregiving can help you be more prepared to enter 2014. The sorrow I've seen being around Alzheimer's really has shown me how interconnected we all are. You might not be caring for a patient in the future -- but we can all show a little more tender, love, and care for each other this new year.
Popular in the Community