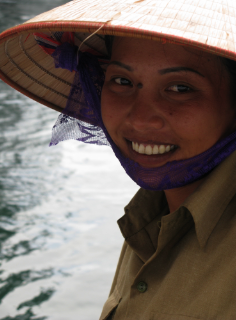 I have just returned from a two-week trip to Vietnam including Ho Chi Minh City, Ke Ga Bay south of Phan Thiet, Nha Trang, Hoi An, Hue, Halong Bay and Hanoi. Up until this visit, I had always thought the Bhutanese were the friendliest people in the world, but the Vietnamese are equally friendly. My many preconceived ideas were all wrong. Here's what I learned:
1. The American War
The Vietnamese hold no grudges against Americans in spite of the war. After all, the Vietnamese fought the Chinese for over a thousand years, then the French, and finally, us. These days, they live with a socialist market economy and have invited the world - including former enemies -- to invest in the new Vietnam.
2. Crossing the Street
The first thing I noticed on arrival in Ho Chi Minh City was the endless stampede of motorbikes in every direction making it virtually impossible to cross the street. James Sullivan (author of Over the Moat) advised me to just proceed slowly and predictably and NEVER try to make a dash for it. The bikes will work their way around you. He said that the Vietnamese people understand themselves not as individuals but as cogs in a collective, so when Vietnamese drivers turn out onto main streets, they don't even look because they understand that everyone else will look out for them.
3. Get a Good Guide
Sure, you can use a guidebook, but then you'll miss meeting the locals (except hotel and restaurant staff). I used Exotissimo which has excellent guides throughout the country who speak very good English and who are much more knowledgeable and fun than a guidebook. Ask your guide to show up on his/her motorbike with an extra helmet, hop on the back, and let your guide introduce you to the cities of Vietnam in a way that a car can't. Eat meals with your guide because then you'll dine in non-touristy local restaurants where you'll be able to sample local specialties of the region which otherwise, you'd never know about.
4. Learn A Couple of Vietnamese Words
Most tourists don't bother to learn two simple words: hello Xin chao and thank you Cam on. If you learn these two words -- even if you have to write them on your palm -- you will not only bring an amazed smile to Vietnamese faces, but you'll also form an instant bond.
5. Venture Out Alone
Don't be afraid to take a walk alone - either in a city or on the beach. One morning while staying at the Princess d'Annam Resort on Ke Ga Bay, I rose at dawn and walked a mile down the beach to a fishing village. The fishermen were just returning home with their catch in little round thatched boats. Although they didn't speak a word of English and I could only speak my two Vietnamese words, it was one of my best memories.
6. Take a cooking class
Even if you don't cook, some luxury hotels offer cooking classes, such as the Sheraton in Nha Trang, the first hotel to open a cooking school. My cooking lesson began with a trip to the local market with the chef -- by cyclo (a three-wheeled bicycle powered by a driver). There were no other tourists at the local market, and it was a cultural experience -- one woman was shaving pork rind with a razor. Another packed sticky rice into a box made of a palm leaf and tyied it closed with twine. We returned to the Sheraton and I learned how to make fresh spring rolls and Pho, the famous beef-based noodle soup.
7. Carry the name and address of your hotel in Vietnamese
Don't assume every taxi driver or cyclo driver speaks English (most don't). The better hotels, such as the famous Hotel Sofitel Legend Metropole in Hanoi will give you a business card with that information, but if your hotel doesn't, ask the concierge to write it in Vietnamese.
8. Choosing the right Boat in Halong Bay
If you're going to Halong Bay (and how can you not?), you've probably seen all the romantic photos of the limestone mountains and little wooden boats called junks. Be careful which boat you choose because your junk might be junk. I went on the Emeraude, a replica steamer with 37 cabins. At the same time, some friends of mine chose a 12-cabin junk. That seemed like a more authentic experience -- until they told me their ceiling leaked onto the bed and they couldn't sleep the entire night.
9. Always Bargain and Remember, There are Plenty of Shops to Choose From
Except in shops where the proceeds go to disabled or wounded local Vietnamese (and the prices are fixed), always bargain -- the Vietnamese expect it. I fell in love with a wooden water puppet in Hanoi. The salesman said it was $10.00, and we settled for $7.00. I was so happy with my purchase that I decided to buy a second puppet at another shop in a different neighborhood. For the exact same puppet, the salesman wanted $40. I walked away - and you should, too.
10. Go Business Class
It's a looonnnnggggg flight home, and the last thing you want is to sit in a cramped non-reclining seat. Spring for business class. I chose JAL, the most environmentally global airline. Their First Class features the JAL Suite with 5-inch wide padded armrests, a 180-degree flat bed, custom-fitted mattress, a huge 19-inch personal monitor and BOSE® headphones. I didn't go First Class, but equally excellent was JAL's business class. My shell-type seat reclined to almost horizontal, provided excellent privacy, and besides all the great amenities (including excellent Western and Japanese food), I could choose from 132 movie, music, video and game channels.