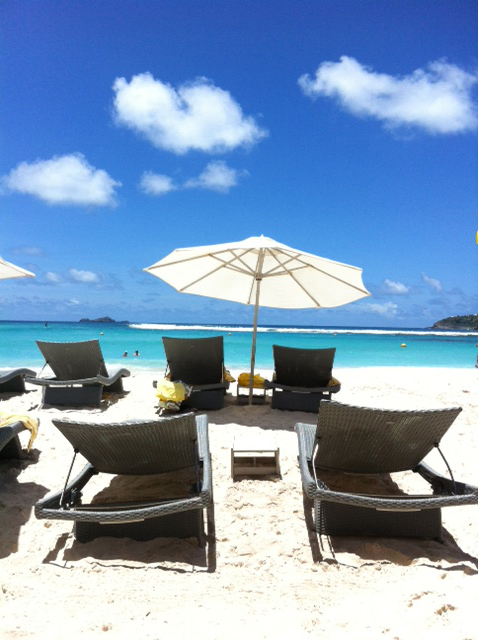 The view of St. Jean Beach at Tom Beach Hotel

While many people skip a visit to the Caribbean this time of year due to hurricane season, the early summer months are actually the most ideal time to visit if you are looking for a low-key vacation, without the flooding of tourists and high season hotel prices. This is exactly what I had in mind when I decided to visit Saint Barthelemy, an island I was often intimidated by due to tales of $30 appetizers and $20 cocktails. Even for a New Yorker, these prices seemed a bit extreme. But, as the saying goes, "When in Rome, do as the Romans do, then cry about your bank account balance later."
After a few days of research, I decided on Tom Beach Hotel, whose restaurant La Plage, was the pulse of beach and nightlife, even in the island's slower month of June. But first I would spend a day in St. Maarten at Holland House Hotel, whose ideal location in Phillipsburg makes for an easy walk to shopping (Island Blush being one of my favorites). Have lunch with a view at the hotel's restaurant, then take a scenic cab ride to one of the island's best restaurants, L'Auberge Gourmande.
The next day, a 45-minute ferry ride took me to an island that many people consider only for the rich and famous. I am neither, and had the time of my life. With its unspoiled, often remote beaches, rolling hills that lead to a breathtaking view of an emerald blue ocean and the food -- oh that food -- St Barths is an ideal island for anyone looking to splurge on a little piece of Caribbean paradise mixed with European style.
Here are 10 things you must do if you are first-time traveler to St Barths. I have the pounds and memories to prove this is a great starting point to discover this gorgeous island.
1. Stay at Tom Beach Hotel on St. Jean beach. This is the hippest, most intimate location on the island, where the staff is ready to please and party with you at any given moment.
Added bonus: Nikki Beach and Eden Roc are just a five minute walk down the beach, and both are great places for an afternoon lunch on sand.
2. Stop at Maya's to Go, Kiki-e-Mo or U-Marche for a baguette, charcuterie, decadent brie and a bottle of French wine to enjoy a beach picnic.
3. Rent a car and explore some of the islands most breathtaking beaches, including Saline, Colombier, Gouverneur and Shell Beach. At Shell, order the burger and a mojito from Do Brazil restaurant. Ignore the price. It's worth it.
4. Head to Tom Beach's restaurant La Plage for their Friday night dinner and party. Devour a pumpkin bisque soup that is almost impossible not to weep over. Watch a fire show on the beach over creative, addictive cocktails.
5. Looking for a party? Then visit First club in Gustavia, where most locals will be over the weekend, partying into the wee hours of the morning to everything from Motown to techno before they head to the Yacht Club right below.
6. There's breakfast and then there's brunch. And then there's the brunch of all brunches, at Le Gaiac. Located in the gorgeous Hotel Le Toiny, Le Gaiac is well known for its gastronomical dining experience in the evening. Like many New Yorkers, however, brunch is my favorite meal of the day, and after the brunch at Le Gaiac, I can happily and sadly say that no brunch experience I've had will hold a candle to the one here. Fresh lobster, rack of lamb, salmon, puréed asparagus and crab, quiche, fruit tarts, crème puffs-- it was a sea of food as endless and as beautiful as the ocean view from the dining area.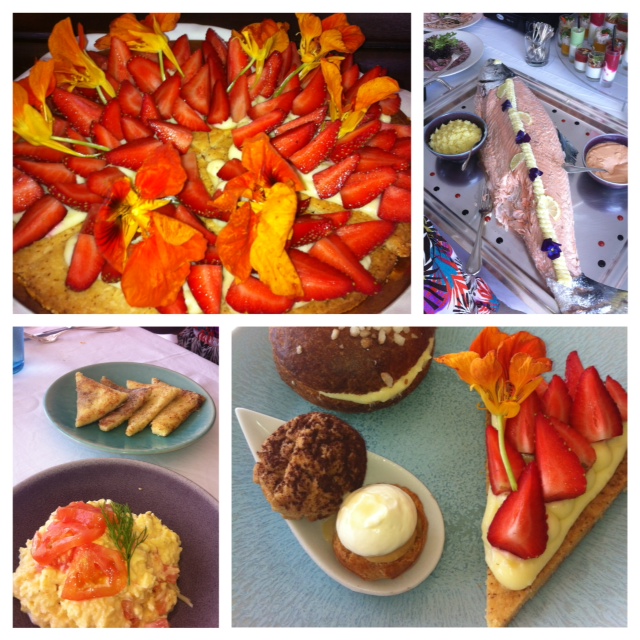 The exquisite brunch at Le Gaiac at Le Toiny Hotel

7. Spend some time at St. Jean beach watching the planes take off from Gustavia airport with a cocktail and goat cheese and honey panini from the beach bar at La Plage in hand. Be thankful for this moment. Take a sip of your cocktail. Glance at the ocean. Repeat admission of gratitude.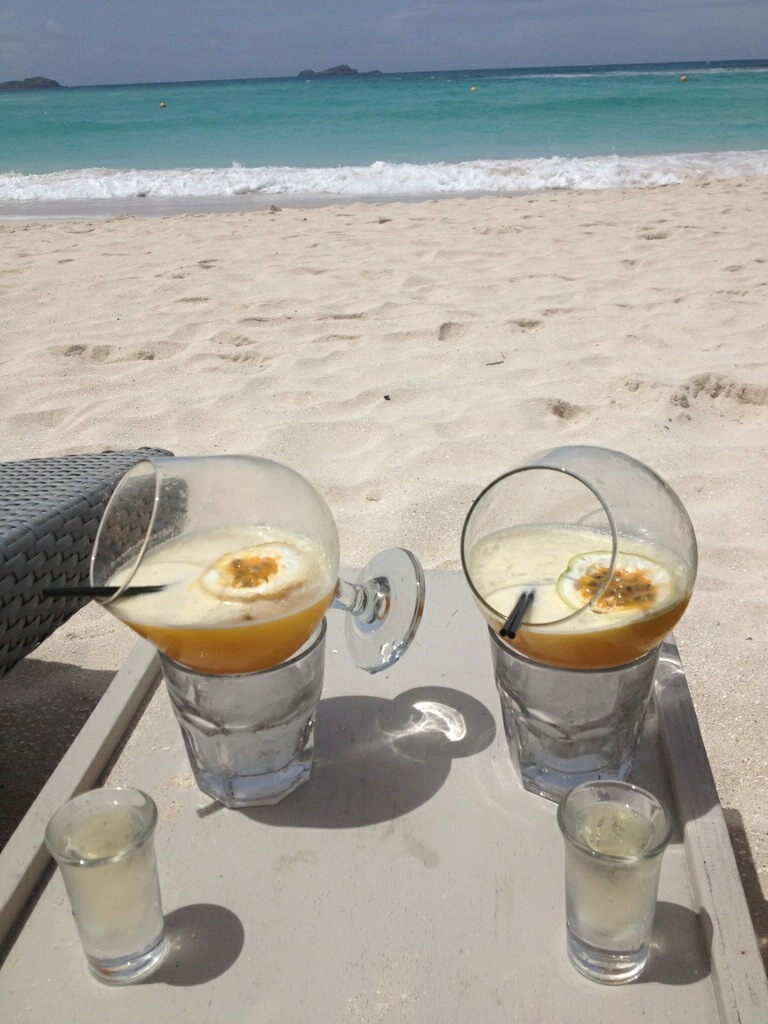 Passionfruit cocktail with champagne at Tom Beach Hotel
8. Enjoy a Ti punch at Le Select while watching foot and car traffic pass by. Sip slowly; this drink will catch you as sneakily as a thief in the night.
9. Drive up the hills from Gustavia to the town of Lurin as the sun begins to set. Santa Fe restaurant, a local favorite, will not only offer delectable dishes like a tomato tart and fall-off-the-bone coq au vin, it will also present a majestic view of the ocean and St. Kitts and Nevis in the distance.
10. Do some shopping in Gustavia if your pockets allow for it. My personal favorite was the pharmacy, where many French beauty products were readily available that are double the price on Amazon. Stop at La Creperie and choose from over 30 selections of savory sweet crepes.
Though I only spent three days in St. Barths, it was long enough to know that it is a special island that I will definitely visit again. So, my question for you is, where should I go when I return?
Popular in the Community