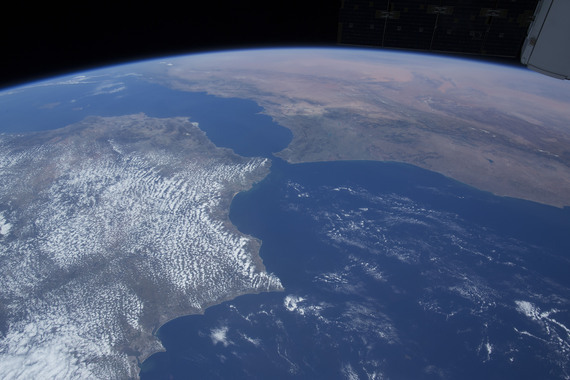 Witness an astronaut's view of the Strait of Gibraltar, Spain (left), the Mediterranean Sea and North Africa from the International Space Station (ISS). (NASA/IMAX)
Here are a few things you should know about the stunning 3D space documentary that opened in IMAX and IMAX 3D theatres on April 29.
1. The IMAX cameras spent about 15 months in space, logged more than 180 million miles, and were operated by astronauts across three separate missions.
2. The space station crew shot most of the film's footage and images during their personal time during evenings and weekends.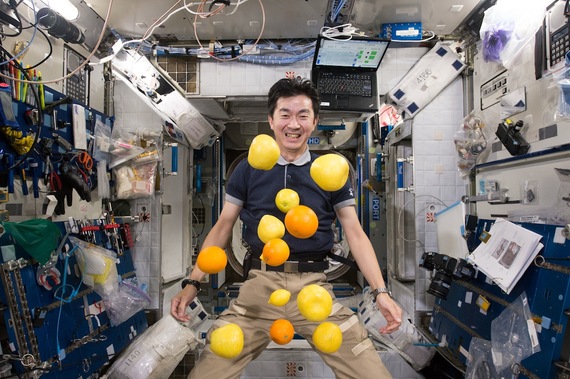 Japan Aerospace Exploration Agency (JAXA) astronaut Kimiya Yui unpacks a supply of fresh fruit. (NASA/IMAX)
3. In all, the astronauts photographed a quarter of a million images and captured over 10 terabytes of video footage.
4. In addition to displaying footage of Earth from the ISS, the filmmakers show what it's like to live and work in space today.
5. This is the first IMAX film to use the Cupola, which contains seven windows arranged in a hemisphere to provide a 180-degree field-of-view.
6. In one memorable scene, Italian and European Space Agency astronaut Samantha Cristoforetti is seen floating inside the Cupola holding a still camera aimed at Earth.
7. NASA Commander Terry Virts - who is depicted in this film -- piloted the Space Shuttle Endeavour which transported the Cupola to the ISS.
8. The zero-gravity expresso cup used by Cristoforetti was co-invented by NASA astronaut Donald Pettit, who flew in space on ISS Expedition 30/31.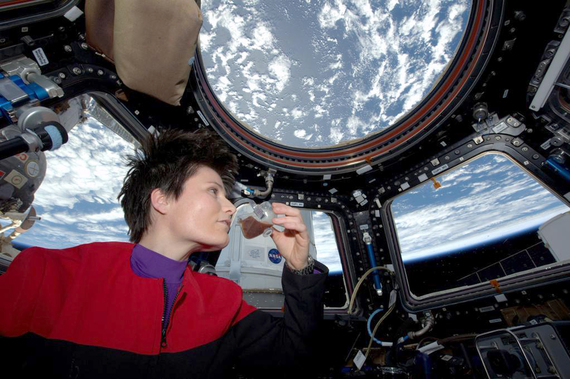 Cristoforetti - dressed in a Star Trek Voyager uniform - takes a sip of espresso while looking out of the Cupola window. (NASA/S. Cristoforetti/B. Sterling)
9. The state-of-the-art IMAX digital cameras were able to capture never-before seen nighttime scenes.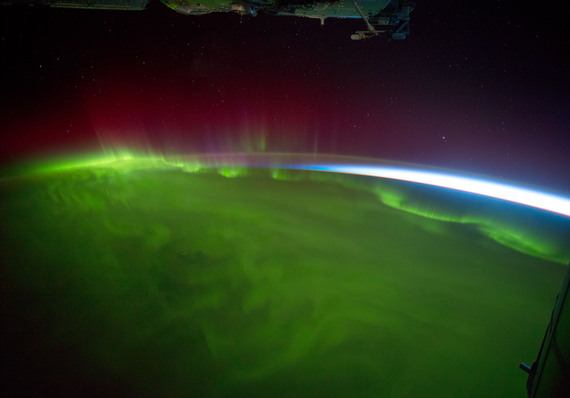 Earth's magnetic shield protects us from the sun's radiation. In vibrant, stunning colors, the aurora is the shield in action. (NASA/IMAX)
10. The film's spectacular views from space illustrate the devastating impact humans have on Earth.
From IMAX director Toni Myers, this film provides a stunning glimpse of Earth from space and the effects of humanity over time--as never seen before. This breathtaking film, narrated by Academy Award Winner Jennifer Laurence, offers the inspiring message that it is within our power to protect our beautiful planet.
Related
Popular in the Community