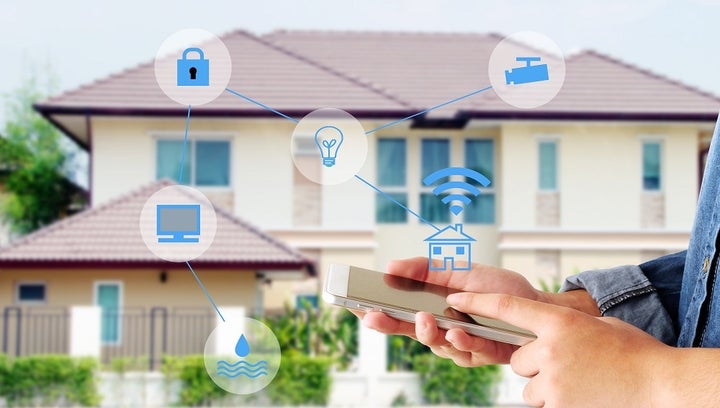 It's been a busy year for the smart home. Heck, 2017 might even be the year for smart technology, especially if it crosses over from the early-adopter phase into mass-market adoption. We'll only know that for sure in hindsight, when the final sales and installations of smart home devices are tallied.
My hunch is the tipping point is still a few years out, but 2017 was a huge leap step forward.
And so, here are ten big takeaways from this year in smart home tech.
1. Voice control is here to stay
When Amazon Echo, with its ubiquitous assistant Alexa, first hit the scene in 2014, no one saw it coming, which made some wonder if it would be gone just as quickly. But sales have been sizzling ever since—millions of Amazon devices were sold over the holiday season, Google did its own brisk business with its suite of Google Home products, and others such as Samsung, Apple and Microsoft are clamoring to enter this market.
Why It Matters - Smart speakers are no passing fad. The question is, will homeowners use them primarily for basic functions, like checking the weather and setting timers -- or will they turn the speakers into smart home hubs, activating entire suites of connected devices, including lights, locks, cameras, and more?
2. "Do-It-For-Me" consumers are driving the market
Earlier this year, HomeAdvisor partnered with CEDIA on a survey of nearly 1,500 smart home pros around the country. One key finding: 8 in 10 pros saw an increase in smart home requests, with many now getting requests on a weekly, if not daily basis. That means homeowners today are calling their handyman, electrician, plumber and HVAC folks for smart home product install and repair, which signals that smart home tech is already integrating into typical home maintenance routines.
Why It Matters - While some smart home products are DIY, most consumers will require professional support with the installation and maintenance of their smart home systems. Prudent smart home pros are creating scaleable business models that can handle these relatively small smart home projects, knowing they'll lead to long-term clients and steady revenue streams.
3. Hubs are solving the "interoperability" problem
A big challenge for smart homes is the fact that connected devices running on different wireless standards, such as ZigBee and Z-wave, aren't always compatible. Rather than waiting for the industry to standardize, makers of smart home hubs, like Samsung SmartThings, are creating a back-end solution by ensuring their hubs can handle all products and protocols.
Why It Matters - Confusion around interoperability has been a major barrier to entry for many consumers. The fact that people can now confidently walk into a store and know that this or that connected device will work with their hub is a big deal. It's become part of the edge hubs have over smart speakers when it comes to controlling the smart home.
4. Smart technology is becoming a major selling point
Millennials have become the largest cohort of home buyers, and they're also the biggest adopters of smart home technology. Here's a case where two plus two equals with five --with five percent being the average price increase of a home that has smart home features, according to the National Association of Realtors.
Why It Matters - Getting a home ready for market now includes technology. At the very least, I always tell sellers to add a smart lock to their front door. It will create a "smart" first impression, while making it easier for the real estate agent to come and go with prospective buyers.
5. Retailers want to help consumers become 'smarter'
From Best Buy's partnership with Vivint this summer to the more recent announcement by Lowe's that it will launch 70 "smart home" centers nationwide, major retailers are finding ways to educate consumers on the benefits of smart home technology.
Why It Matters - For all the benefits of smart home technology, consumer education remains the largest hurdle to adoption, according to our survey of smart home pros. The fact that retailers are now competing to deliver the best in-store (and in some cases, at-home) service should help close the knowledge gap, paving the way to wider adoption.
6. Older homeowners seeing value in smart tech
7. Smart kitchens are heating up
The kitchen is often regarded as the last frontier in the home for smart technology, but that's starting to change. Another HomeAdvisor smart home survey from 2017, this one focused on consumers, found that kitchen appliances are the smart home product they're purchasing the most.
Why It Matters - The kitchen is where Americans spend the most remodeling dollars. Manufacturers who invest in smart home technology -- we're seeing smart refrigerators with built-in connected cameras and cooking appliances that can be controlled remotely -- stand to capture the largest share of this growing market.
8. Smart thermostats are getting cheaper
Thermostats that automatically adjust the temperature when homeowners are asleep or away can save hundreds a year in energy costs. But their $300 and $400 price tags are prohibitive for most consumers.
Why It Matters - Only about a third of U.S. broadband households currently consider smart thermostats an affordable smart upgrade. But new, less expensive ones on the market should help to change that perception, leading to broader adoption and significant energy savings.
9. Renters are getting smart, too
The 43 million renters in the U.S. is the greatest number in 50 years, according to the Pew Research Center. Manufacturers of smart home devices are targeting that market with a slew of ultra-simple smart devices, including stick-on cameras and smart outlets that enable remote control of plug-in electronics, be it a lamp or room air conditioner.
Why It Matters - Many renters eventually take the plunge into homeownership. When they do, their experience with simple smart home products will encourage them to consider larger systems, for example whole-house security and light controls.
10. "Insurtech" is gaining traction
Leak detectors that prevent flooding; WiFi smoke alarms that keep a small kitchen fire from burning down the house; security systems that notify local authorities. These smart technologies have the potential to save homeowners (and in turn, insurance companies) big money. Hence the rise in "insurtech," a portmanteau of insurance and technology.
Why It Matters - As CEPro reported in September, more insurers are insisting they receive data from security systems before granting their typical 10 percent discounts. As the practice grows, more homeowners will make the investment in smart home tech. And artificial intelligence is giving us ever-smarter sensors with the power to predict home maintenance issues before they arise. That might be the most exciting development of all in the smart home space in 2018 and beyond.
Dan's Bottom Line
Predicting the future of technology can be a fool's errand, and smart home technology is no different. Nevertheless, the sheer volume of activity in the space this year makes me believe the best is yet to come. Whether you're a homeowner looking to add value to your home, a service professional intent on growing your business, or a manufacturer aiming to attract new customers, smart home technology should be part of your strategy.
Related
Popular in the Community