Editor's Note: This post is part of a series produced by HuffPost's Girls In STEM Mentorship Program. Join the community as we discuss issues affecting women in science, technology, engineering and math.
Paleontology is inherently a crowd-pleasing science - it's mysterious, bizarre, and catches your attention as a kid. But you don't have to find a dinosaur in your backyard to get involved in paleontology. If paleontology is something you want to do for a living, try out some of the following advice. These tips will help get your feet wet and build your resume for when you eventually start sending out applications... plus, they're incredibly fun!

1. Volunteer at local museum or lab
A lot of paleontological work gets done by volunteers, including sorting, cleaning, finding, and even identifying fossil material. If you live in a college town then there is a good likelihood that the school has a museum or a Geology/Earth Science department. Many natural history museums also accept volunteer assistance. With a museum, check out the membership options or see if they have a volunteer program. If you're interested in paleontology as a career, this can be a great way to network and gain valuable resume experience.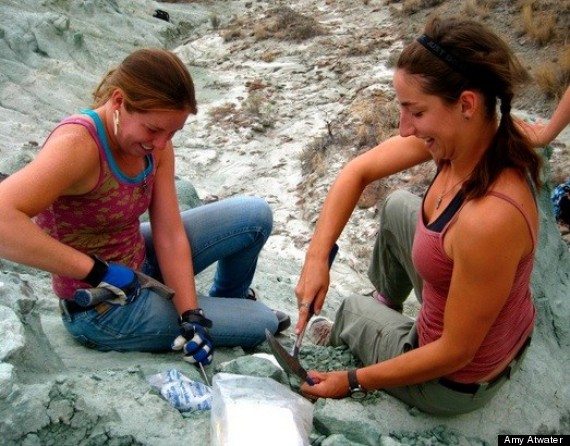 2. Participate in digs
Having fieldwork experience can make a world of difference on college or scholarship applications, and in my opinion it is the best part of paleontology. A lot of what captivates people about the science is the element of mystery, and field work really taps into that. There are all sorts of opportunities to get outside and dig up fossils such as Passport in Time (PIT) projects offered through the USFS, or private digs offered through museums in places like South Dakota, Wyoming, Montana, Colorado, and Utah. I also encourage participation in science summer camps that are based around paleontology, such as the Paleontology Research Team camp offered through the Oregon Museum of Science and Industry (OMSI).
3. Read, Read, and Read
If you are serious about paleontology then you better hit the books (or audiobooks). It is your responsibility as a scientist to be knowledgeable about your field. Here are a number of books, mostly non-fiction, that I would recommend: Ever Since Darwin by Stephen Jay Gould (anything by Gould is worth reading), Vertebrate Paleontology by Michael Benton, The Dinosaur Heresies by Robert Bakker, Your Inner Fish by Neil Shubin, and of course, On the Origin of the Species by Charles Darwin. For some fun fiction books that could also be sold as mildly educational, try Raptor Red by Robert Bakker (this was literally my favorite book growing up) and Remarkable Creatures by Tracy Chevalier.
4. Participate in science contests
Science fairs are great opportunities to practice your science skills and create your own experiment. Usually science fairs are sponsored by local school districts, though there are larger science contests out there, too, such as Google's online Science Fair. When I was a senior in high school I was a finalist for the American Museum of Natural History Young Naturalist Award for my research on oreodonts and while I did not win (I still got $50, helped pay for prom!) it was still a great learning process and it inspired me to continue putting my work out there.
5. Study up on math and science
If you're interested in paleontology as a career you will need to get a college degree in a relevant field, such as biology or geology. These majors require taking all sorts of science classes and math courses, too. PLEASE PLEASE PLEASE do not let this discourage you!! So many students, especially female ones, allow themselves to be intimidated by these STEM classes but there is no need for that. Give yourself plenty of time to study tough concepts and don't be afraid to ask clarification questions or ask for help. Other courses that would be useful in paleontology include geography, computer programming, GIS, anthropology, statistics, and anatomy and physiology.
6. Start networking
If you would like to be a successful paleontologist then you should start talking to one! I remember being terrified to talk to college professors when I was in high school but it paid off nicely in the future. I encourage you to contact professional paleontologists in your area and explain your desire to be more involved in paleontology. You may have to go out of your comfort zone to talk to people with similar research interests as yourself, but I almost guarantee that they will be impressed with your ambition. A good professional connection may lead to research projects, jobs, fieldwork opportunities, or a letter of recommendation.
7. Join scientific societies
There are a number of professional societies in the United States that have spots for student members (undergraduate or graduate). A few, such as the Society of Vertebrate Paleontology, even allow members under 18 years old if they have parental permission. These societies (GSA, NAPC, AGU, SVP, etc.) have meetings all over the country during the year. If a meeting is ever taking place near your town you should register for at least a day pass and check it out.
8. Check out the National Parks
National Parks are a goldmine for paleontology opportunities with more than 230 NPS areas known to contain fossils. Fossils from the parks collectively represent every period of geologic history and are incredible resources for the public. Recently the NPS started the National Fossil Day campaign to promote public awareness and stewardship of fossils. If you are visiting any National Park this October 16th be sure to ask about any special programs going on in honor of National Fossil Day. Many parks also have activities for paleo-minded kids such as the Junior Paleontologist Program.
9. Apply for internships
I have been lucky enough to be a part of two incredible internship programs, the Student Conservation Association (SCA) and the GeoCorps program offered through the Geological Society of America. These internships work with the National Park Service, Bureau of Land Management, or U.S. Forest Service and give students (or recent graduates) hands-on work experience. My time as an intern was invaluable; I made many professional contacts, vastly increased my geologic knowledge, improved my communication skills, and both internships opened the door for actual paid positions with the National Park Service.
10. Stay passionate
Paleontology is a tough discipline to work in, there aren't a lot of jobs available and there are still societal pressures that discourage many people from pursuing this science. But if you truly got the love you can make it as a career, or as a well-loved hobby if that's your preference. Paleontology offers a glimpse into the another time that we can never fully get back. This science is the closest thing we have to a time machine, but with more room for imagination. Fossils represent mysteries to solve, adventures to embark, and stories to share. There are millions of reasons to be a paleontologist, which one will inspire you?
Related
Popular in the Community