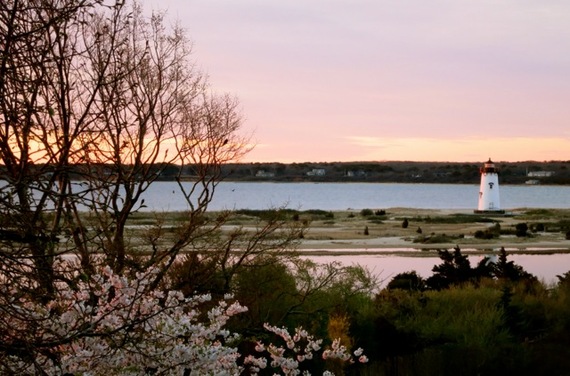 Read this headline and you're most likely thinking "Oceanfront" -- but in this case, the water body can be ocean, lake or even river. These ten hotels and inns in the Northeast US stand out for beauty, design, service and overall ambience. Some, like the Sagamore, Otesaga and Yankee Clipper Inn have been hosting generations of vacationers. Others, like The Break in Rhode Island, are brand new and just "breaking" onto the "must-stay" scene.
Of course, you can read about each of these properties and things to do in each destination on GetawayMavens.com.
1. Inn By The Sea, Cape Elizabeth ME. Grand, but not grandiose, Inn By The Sea keeps both top-notch luxury and eco-friendly practice sacrosanct. To top it off, it's "big-pet-friendly." Sitting by the fireplace in the bar, you'll hear the clip-clip sound of greyhound, lab or retriever pawnails on polished marble; guests and their charges checking in. One of Forbes Top Ten Green Hotels that embodies eco-friendliness, the Inn uses biofuel to heat the hotel, solar panels to heat the pool, and indigenous plantings to draw a Hitchcockian number of birds to its lush gardens.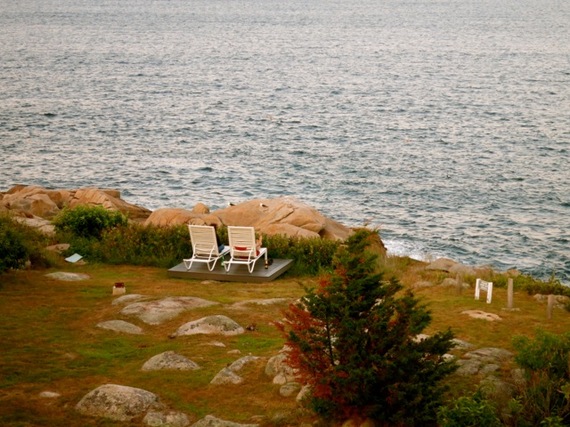 2. Yankee Clipper Inn, Rockport MA. The setting -- off a main road on a windswept rise over the Atlantic Ocean -- has something of The Ghost and Mrs. Muir about it. Walk inside to a small reception area where a beautiful wood-paneled lobby/parlor evokes the burnished interior of a clipper ship. Rooms are a throwback to a gentler time, and the grounds are magnificent -- dotted with lounge chairs for maximum ocean-appreciation and wave-watching.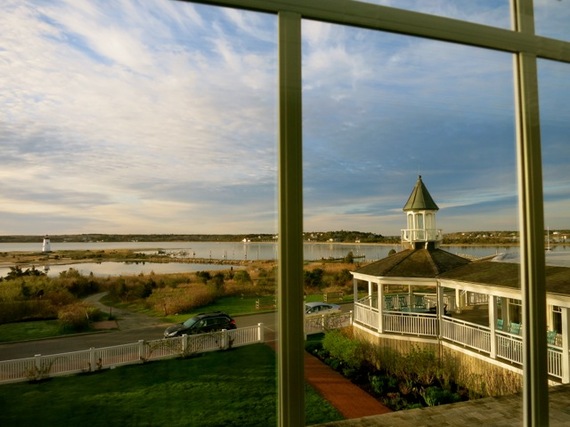 3. Harbor View Hotel, Martha's Vineyard MA. You can pitch a tent on this exquisite site and be happy. But the recently refurbished Harbor View is of course far from camping or even glamping, and has risen to the level of luxury/casual "Beachy Chic." The Edgartown Lighthouse, a dancer's leap from the Inn's wide whitewashed wraparound porch (complete with rocking chairs), glows in the setting sun while boats return to harbor.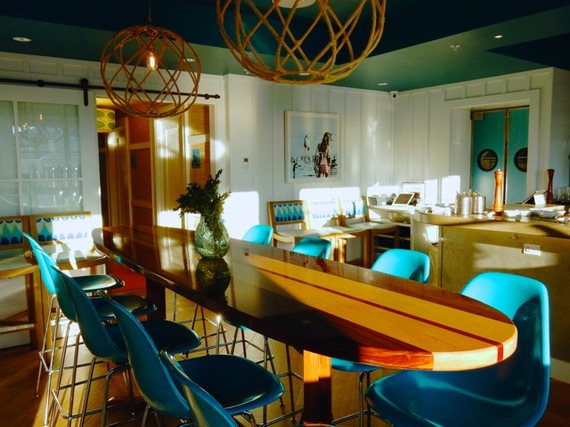 4. The Break , Narragansett RI. On a side street in a quiet residential neighborhood a couple of blocks from the steely Atlantic Ocean, this beautifully and whimsically designed 16-room boutique hotel is a respite for travelers who appreciate what's come to be a growing trend in American hospitality: the happy middle ground between stark minimalism and over the top glitz, efficient, friendly, but not overly fussy service, and in-house "small-bite" farm-to-plate destination dining. The newest on the list (opened in June '15), this latest Lark Hotel Group property has all these elements plus some, and will be winning plenty of travel awards in no time.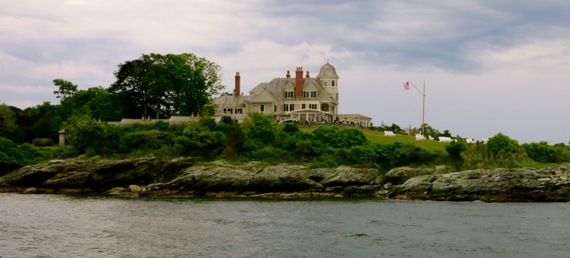 5. Castle Hill Inn, Newport RI. Three miles removed from the madness of downtown, the Castle Hill Inn sits on headlands overlooking Narragansett Bay, making it the perfect vantage point from which to watch boat traffic coming in and out of Newport Harbor. Built as a Marine Laboratory and summer home for Swiss-born copper-mining tycoon, Alexander Agassiz, whose studies formed the basis for the modern science of Marine Biology, Castle Hill Inn encompasses both Agassiz's chalet-like house, his own lighthouse, and newly built beach cottages. The inn is what's to be expected from a Relais and Chateaux property: exclusive, highly luxurious, and exceptional service. Plus, it's the only Newport lodging with a private beach.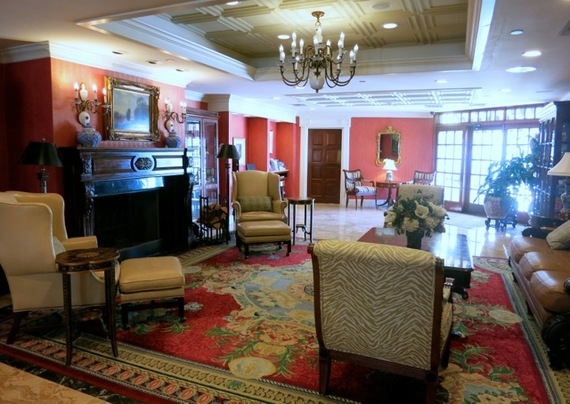 6. Saybrook Point Inn, Old Saybrook CT. The Saybrook Point Inn and Spa, perched on a Long Island Sound peninsula, encompasses a "green" marina, an outdoor heated pool (hot and steaming in the snow-cold days of winter), a large indoor pool, an excellent Spa, a reputable restaurant -- Fresh Salt -- affording dazzling panoramas, a community Fitness Center and a brand new "boutique inn," Three Stories Guesthouse.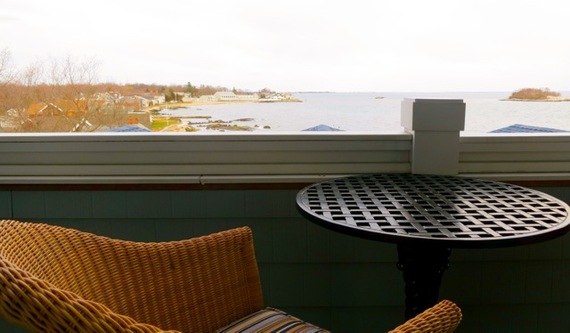 7. Madison Beach Hotel, Madison CT. Though they might have every reason to be haughty, the staff of this luxurious, sandy beach set, first-rate farm-to-table dining boutique hotel is some of the friendliest I've ever encountered. This eager-to-please attitude begins curbside with smiling valets, and continues throughout your stay; each and every employee exudes a proud sense of ownership. All 33 over-sized rooms (large enough for a family of four) face Long Island Sound, with gleaming white plantation shutters that slide open to reveal your own beachfront balcony -- perfect for a romantic glass of wine at sunset. Décor is beachy-keen, with accessories one would expect in a luxury hotel; flat screen TV, free Wi-Fi, cloud-like bedding, glass showers.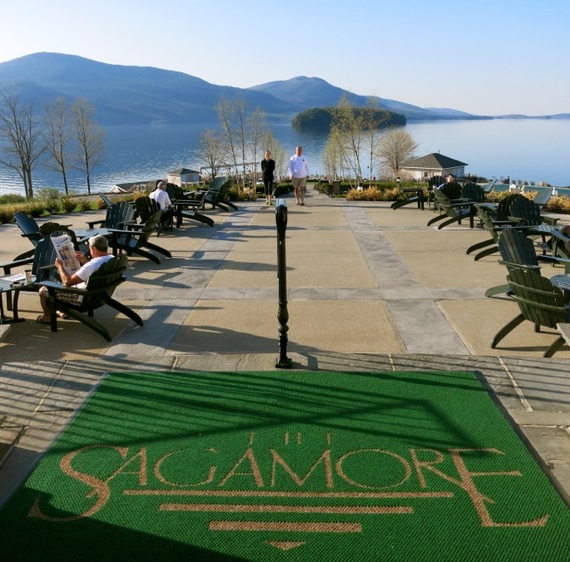 8. Sagamore Hotel, Boltons Landing on Lake George NY. On a private disc of land -- Green Island -- you'll feel far removed from the rest of the Lake George action at the renewed Sagamore Resort. With over three hundred rooms in both the main hotel and adjacent condo-like lodges, a marina, indoor and outdoor pools, a fitness center, five restaurants (two right on the lake), an airplane-hanger sized indoor "Rec Center" and tennis courts, the resort is the kind of campus many visitors never want to leave (until, of course, it's time to go home. And not even then).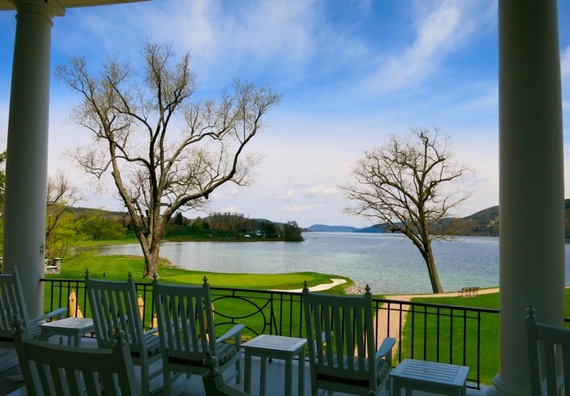 9. Otesaga, Cooperstown NY. Over a hundred years old, this lakeside golf resort still awes Cooperstown visitors. After its $34 million restoration about ten years ago, the Otesaga was voted one of the top 10 US Golf resorts by Conde Nast Traveler. The ambiance remains "old-world" with wait-staff in formal garb -- women in black frocks with white aprons, men in vested suites. The view from the rear veranda is dramatically stunning, especially at sunrise and sunset. On temperate nights, you'll find couples, business groups, and solitary guests sipping drinks, reading and gazing in wonder at the lake and 18th hole of the resort's Leatherstocking Golf Course.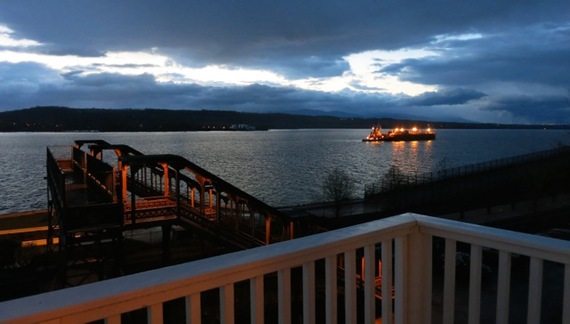 10. Rhinecliff Hotel, Rhinecliff NY. Formerly a "railroad flophouse" turned trendy boutique hotel, The Rhinecliff is a chic, cheeky, luxe way to get as close to the Hudson River as humanly possible without being on a train, and just two miles from downtown Rhinebeck. Each of nine trendy, natural rooms sports burnished wide plank floors, white plump duvet bedding, travertine baths, glass showers and French doors opening onto a balcony with unobstructed views of the Hudson River. The bed is comfortable beyond belief -- so comfy, even the hum and horns and rumbling vibrations from trains stopping and starting right beneath your balcony, feels romantic rather than annoying.
Related