Avoiding Endless Queues and Waits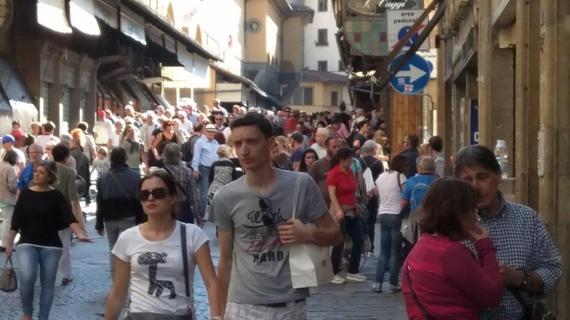 Crowds on the Ponte Vecchio
Wall to wall people is no exaggeration. With one of the world's highest concentrations of art treasures per square foot, Florence is a must stop for tourists. -- But so many visitors are mobbing the city that seeing the art works through the crowds has become a challenge. Endless queues wait patiently in line, first to buy tickets and then for admittance to see the Duomo. Viewers of the Capella dei Magi Medici Chapel can't exceed a specified quota. You almost have to make a date with Michelangelo's David.
Knowing the ins and outs eases the frustration, so here is a Florence "Nightingale" dose of suggested tips for easing the pains of Florence tourism.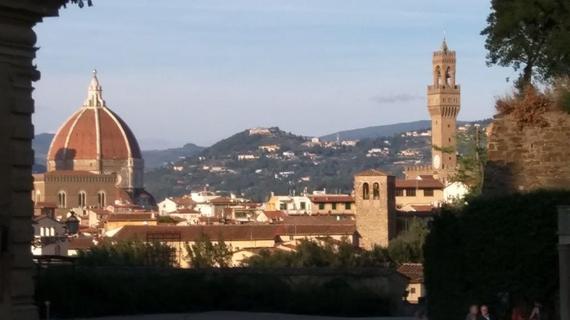 Florence Overview

FREE ORIENTATION
Walking tours introducing the main areas of the city are offered free of charge by guides who collect pay-what-you-will tips at the end. Leaving at 11 am and 2 pm from in front of Basilica Santa Maria Novella near the train station, they help you get your bearings and introduce sites you may choose to revisit.

BOOK AHEAD
Tickets to see David, the seven museums of the Pitti Palace can be booked ahead online. To pay for the convenience, booking fees are added to the admission charge. Try to deal initially with the institutions' official website. Private firms also offer bookings, and may have availability when the official site is sold out, but their fees are apt to be higher.
Once you have reserved a time slot for a particular site, you go there with your ticket confirmation and there are shorter lines to deal with.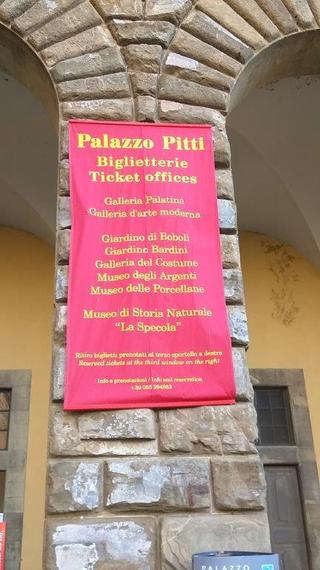 Some tickets are bundled

BUY A PASS
Florence passes cost 72 euro, which may seem expensive, but the fees at most major sites range from 10-16 euro admission fees and add up quickly. Plus the pass allows you to avoid the lines which is almost worth the price alone.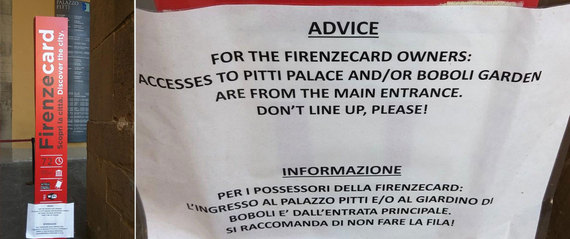 Firenze pass holders avoid queues

CHECK THE HOURS
Opening times vary from site to site and day to day. Schedules posted online may even be out of date. Ideally stop by the site ahead of time to confirm the opening hours on the exact day you're hoping to visit.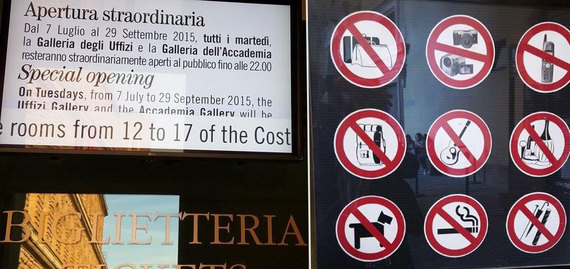 Watch out for extra hours, closings, and restrictions.

BE AWARE OF RENOVATION
Preserving the treasures is an ongoing project. If there is particular you've come to see,be sure to confirm that it will be on view. Screens at the ticket booth may display warnings of gallery closures. The Baptistry of the Duomo has just re-opened after a year's restoration. Recently some works in the the Uffizi's Botticelli Room were removed for restoration and several rooms of the Pitti Palace Costume Gallery were off limits due to new installation.

BE READY TO WALK
There are buses for the locals, but public transit is almost nonexistent in the city center. Taxis vie with pedestrians on the crowded city streets and fares are high.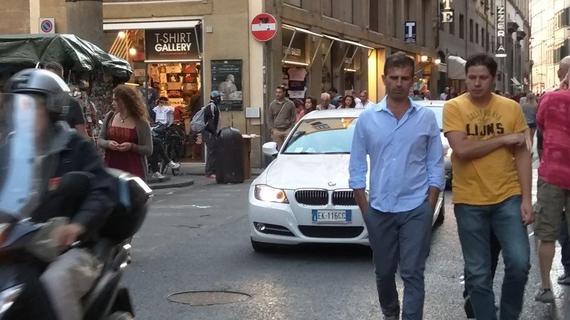 Auto traffic is impeded

LIMIT LIQUIDS
Providing sanitation for the crowds is a challenge. Restrooms, when you find them, may be in remote locations -- down the hall, up the stairs, around the corridor, through the archway -- and then, for women especially, there's apt to be a line. Once located they may require a fee -- have a 50 euro coin, and extra tissue, handy.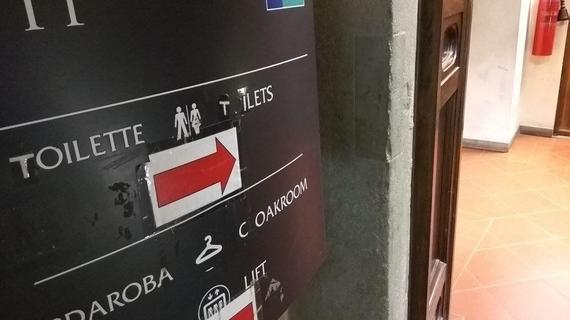 Finding facilities is trying

BRING A BOOK
Despite booking ahead you may find you're required to stand in line. Take advantage of the time to read up in your guide book. Or bring along a history of the Medici family or Irving Stone's racy biography of Michelangelo "The Agony and the Ecstasy."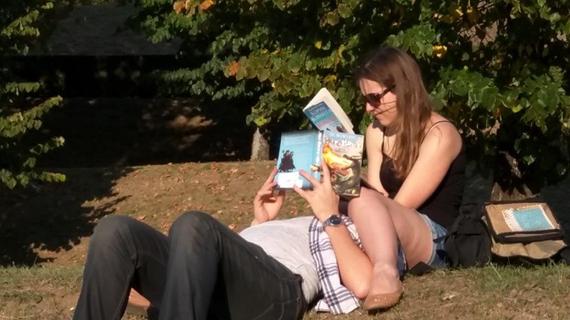 Reading can help pass the waiting time.

BEWARE OF EXCHANGE FEES
Cash dispensing machines are numerous and despite their fees may be the optimal option. People who prefer to travel with cash should beware of currency transaction fees. Recently the charge ranged from 9 to 19 (!) percent for changing a hundred dollars from U.S. currency to euros. At very least compare fees at the exchange booths and shop around.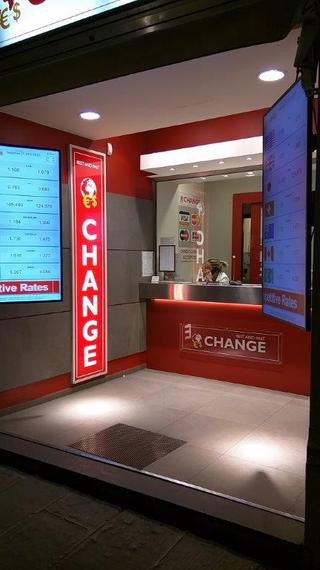 Beware excessive charges for changing currency

APPRECIATE WHAT YOU SEE
Despite the need to strategize, Florence is well worth a visit. Its striated churches, masterpiece sculptures and paintings, Arno vistas, elaborate palaces are one of a kind, rewarding, and well worth any effort required to visit.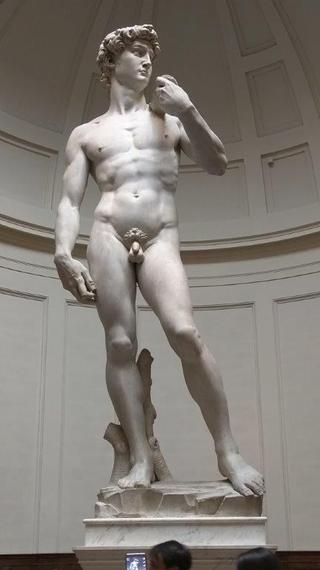 Michelangelo's David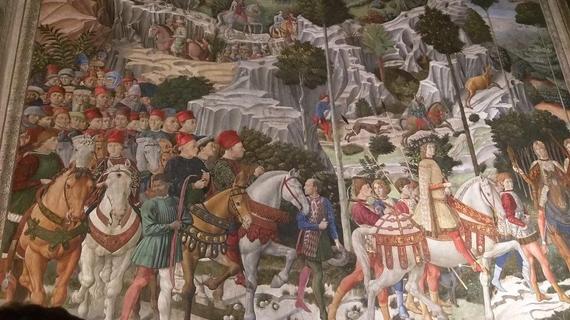 Capella dei Magi