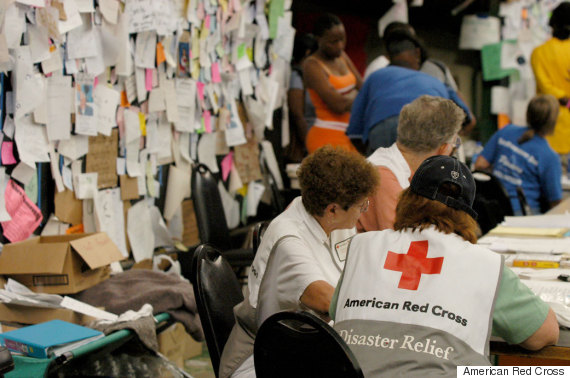 Red Cross volunteers helping families find missing loved ones in front of a bulletin board used to help people trace missing friends and family.
Hurricane Katrina was a storm like no other, and nothing in the last 10 years has reached its magnitude. For the first time, a disaster forced the evacuation of an entire metropolitan area. Survivors who lost everything were dispersed to every state. Millions of people were impacted.
I was in Baton Rouge when the storm roared ashore. It was before social media and since most buildings didn't have power, I had no idea how devastating Katrina was to not only New Orleans, but communities along the Gulf Coast. When I finally saw footage of the aftermath, I sat down and cried. My family is from Texas and I have so many wonderful memories of trips to New Orleans, Biloxi, Mobile, and along the now devastated Gulf.
When the evacuees started to arrive in Baton Rouge, one woman desperately begged for my phone. Her husband was injured during the storm and they were plucked off their roof by separate helicopters. She didn't know where he was. She didn't know if he was alive.
But since that time, everyday technology has made numerous and significant advances to keep people safe and families connected. The American Red Cross has used this technology to help individuals and communities better prepare for and respond to disasters.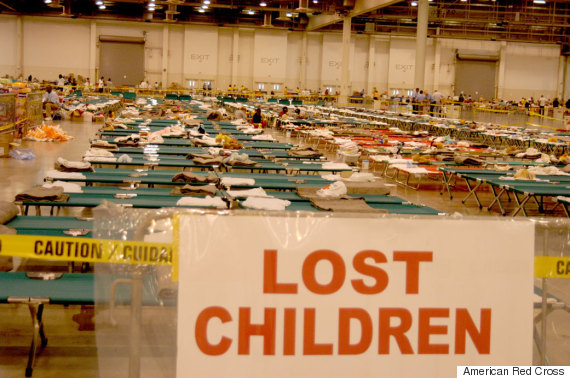 At the Houston Astrodome, children who had been separated from their parents were taken to the Lost Children Station until they could be reunited. More than 16,000 Katrina evacuees stayed in the shelter in the Astrodome complex.

If you were affected by a disaster, do you know how to let people know you are safe?
As Katrina's aftermath flooded New Orleans, countless families were separated. My phone rarely worked and my husband was in Afghanistan. He was so scared when he couldn't reach me for more than a day. So many families faced this same unknown for days, even weeks. Red Cross volunteers tried tirelessly to help.
One woman stayed behind in New Orleans to help her elderly landlord who was disabled. Eventually they were rescued and taken to a shelter in Little Rock, Arkansas. Red Cross workers searched the Internet for her family and found her father in Homa, Louisiana. They facilitated a call between the two and she was eventually able to reunite with her entire family in Homa. But it took time -- painful days of not knowing if where each other was and if they were safe.
After Katrina, the Red Cross realized it was vital for people to have a way to reconnect after a disaster. This led to the development of the Save and Well website, where people can search for loved ones who have registered. After the Boston Marathon bombing, for example, more than 450 people used the site to tell friends and family they were okay.
What about having life saving emergency information in the palm of your hands?
The Red Cross has also created a series of free MOBILE APPS that puts lifesaving information at the user's fingertips when they need it most. The latest release -- the Emergency App -- gives people instant access to customizable weather alerts, safety tips and preparedness information for 14 different types of emergencies.
I know firsthand what it is like to be in the path of a storm. Having the emergency app on my phone provides me with the information I need to stay safe.
Additionally, the Emergency App contains the "I'm Safe" feature, which lets people use their social media channels to let loved ones know they are okay after an emergency. In total, these apps have been downloaded nearly 7 million times and have been credited with saving lives in Oklahoma, Texas, and a number of other states. There is also a First Aid app which puts expert advice for everyday emergencies in the user's hand.
We have heard from users how much they like the apps, including a tweet from a Sandy survivor during the storm:
"Thank you Red Cross for all of the alerts, while waiting for hurricane sandy to arrive. I had no TV updates so this was great to help me. Will continue to use until she clears!"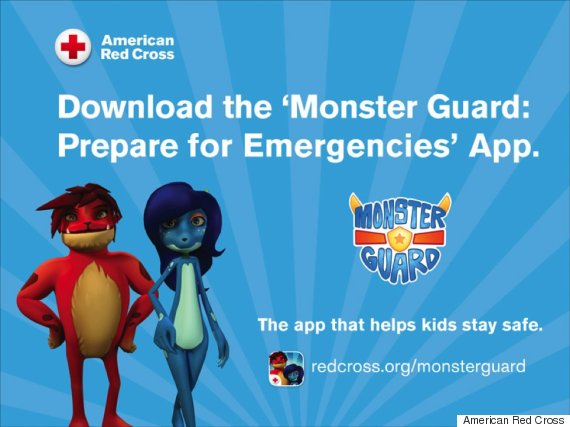 And there is even an app for kids. For seven to 11-year-olds, our Monster Guard: Prepare for Emergencies App is available as a free download. Youth can earn points and incentives in a gaming environment while learning how to prevent emergencies, like home fires, and how to stay safe if severe weather or natural disasters occur. It can be downloaded on iTunes.
The kids in my neighborhood are hooked and now love to talk to me about how to prepare for floods, tornados, hurricanes and volcanos. I keep telling them we don't really need a volcano plan in Arlington, Virginia, but they are learning what to do anyway.
The Red Cross has a long history of preventing and alleviating human suffering in the face of emergencies and I have been so proud to be a part of that effort for nearly 20 years. Seeing how advances in digital and mobile technology can drastically expand our ability to help during a disaster is exciting. We can ensure people have critical information when they need it and use that information to find a shelter, provide first aid, and know that a loved one is safe.
Calling all HuffPost superfans!
Sign up for membership to become a founding member and help shape HuffPost's next chapter