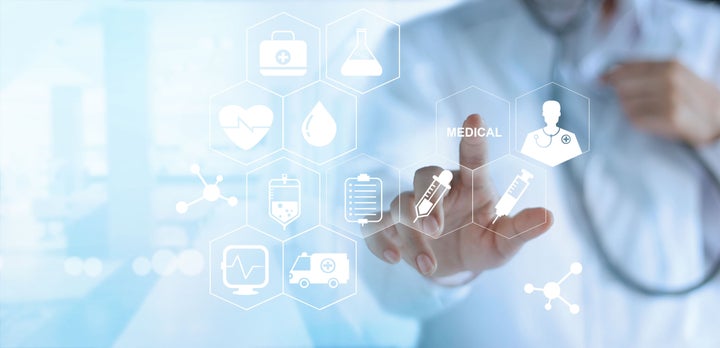 When I started my career as a physician more than 30 years ago, I could only dream of the breakthroughs I'd come to witness. Today, we are seeing disruptive advances in new areas of science, along with a resurgence of research in areas once considered unworthy of pursuit. We are seeing untold opportunities ranging from new therapies for hepatitis C to promising strides in immuno-oncology and targeted therapies, to the potential of gene therapy in delivering cures. We've come a long way in a short time, and scientific innovation is now at a crossroads.
If we are going to unlock the full potential of these exciting opportunities, the entire R&D ecosystem must commit to one thing: further acceleration. Last year, I was honored to join the Blue Ribbon panel for Vice President Biden's Cancer Moonshot, and I was inspired by the Moonshot's goal to achieve a decade's worth of progress in five years. In that spirit, I am challenging us all to think about what a decade's worth of progress in half the time could mean – not just in cancer research, but in battling every single disease that's plaguing society, and devastating patients and families around the world.
But what do we need to make this dream a reality? In short, we need a more efficient R&D ecosystem able to more rapidly advance promising compounds through the research, development and approval process, while also ensuring patient access.
We need to foster new development paradigms to shave years off the process while ensuring therapies have appropriate risk-benefit profiles. We need to sustain and even increase funding for the National Institutes of Health (NIH), allowing basic research to flourish while growing the next generation of scientific talent. We need a regulatory system built for the 21st Century.
At Pfizer, we're relying on small efficacy studies earlier in the development process to help us make decisions about a compound's fate sooner. Ideally, the results of these small, early studies will either give us the confidence to commit to accelerated development, or we "fail fast," ensuring resources are allocated quickly to the next wave of promising potential therapies. But advancing such new paradigms is only one piece of the puzzle.
To achieve more than a decade's worth of progress in less than 5 years, we need an NIH that is well funded and able to foster basic research while also continuing to move forward promising public-private partnerships and initiatives such as the Accelerating Medicines Partnership (AMP), the Cancer Moonshot and the All of Us Precision Medicine initiative. These programs offer endless possibilities for more rapidly advancing science. I've had the privilege of working closely with Dr. Francis Collins, director of the NIH, on the Cancer Moonshot and AMP initiatives, and I've seen firsthand the Institutes' drive and commitment to advancing human health.
When I think about accelerating innovation, I also think about the Food & Drug Administration (FDA), our steadfast partner in drug development. The FDA has already pioneered the use of breakthrough therapy pathways which have rapidly advanced much-needed therapies for cancer and rare disease patients. However, patients suffering from other difficult or chronic conditions need the same swift access to novel medicines. We welcome bold moves by the FDA to incorporate new technologies into the regulatory process, including the expanded use of accelerated approvals, and the use of new surrogate markers for outcomes. I'm greatly encouraged by the early efforts of FDA Commissioner, Dr. Scott Gottlieb, and look forward to working with him and the agency to enable an even faster, more productive regulatory system.
Access to leading care is a key tenet of the United States healthcare system. But we can do this faster, more efficiently and for more patients than ever before. Not long ago we rose to similar challenges brought on by the genomics revolution, and today patients are benefitting from some of the most transformational breakthroughs science has ever seen. A decade's worth of impact in half the time is ambitious, but we wouldn't be where we are today had we not pushed the boundaries beyond what we once thought possible. We've done it before, and I believe we could do it again.
At Pfizer, we apply science and our global resources to bring therapies to people that extend and significantly improve their lives. Every day, Pfizer colleagues work across developed and emerging markets to advance wellness, prevention, treatments and cures that challenge the most feared diseases of our time, and for more than 150 years, we have worked to make a difference for all who rely on us. Learn more at www.pfizer.com/science.
Related