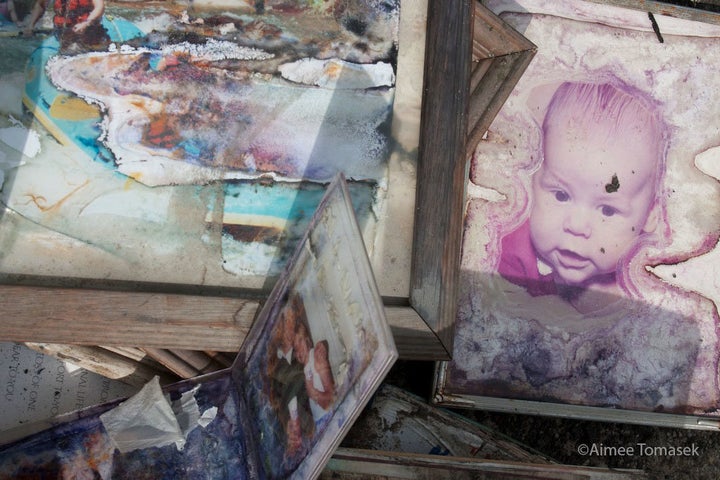 Belinda Reboul is still grateful for the strangers who came through her home swinging sledgehammers at everything in sight. 
The two-story house was nestled on a friendly block in the New Orleans suburb of Chalmette in St. Bernard Parish. With good neighbors and a tight-knit community, Belinda and her husband Patrick had raised their three kids in that home. 
Today, it exists only in memories. Even photos of the house, like all of the Rebouls' possessions, were destroyed a decade ago by Hurricane Katrina. 
Back in early 2006, I leaned against Belinda's living room wall and fell right through the decaying drywall into the kitchen. That was roughly six months since the floodwaters receded. From floor to ceiling, everything in the house was soft, rotting and speckled with black mold. 
Belinda couldn't have been nicer when I eventually introduced myself:
"Hi! I'm here to gut your house."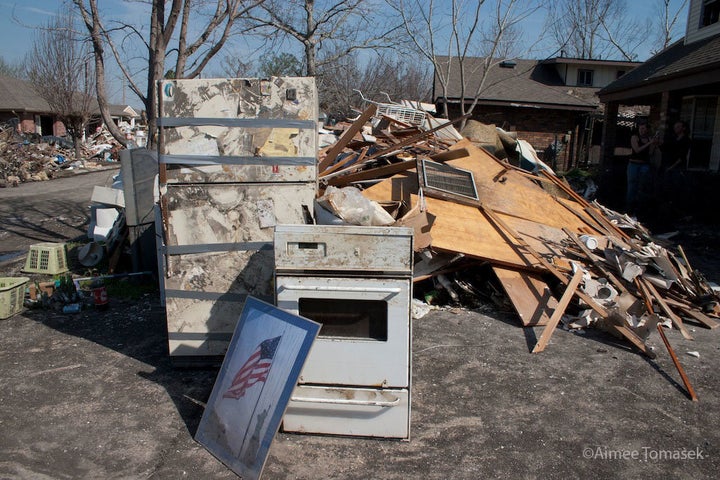 When Katrina came bearing down on New Orleans in late August of 2005, Belinda had apparently hoped for the best: She had tucked several keepsakes, including her and Patrick's wedding photos, into a Rubbermaid box on the second floor to keep them out of reach of Katrina's rising floodwaters. 
Instead, Hurricane Rita came through weeks later and ripped off part of the roof. The already flooded home now had damage on the second story and wouldn't be inhabitable anytime soon.
After the hurricanes, the family moved to nearby Metairie -- a stay they hoped would be temporary. 
Instead, Metairie was the first of four moves Belinda and Patrick would make over the next 10 years. Securing a new flood insurance policy on their old home would soon prove an insurmountable task. And even if they were able to rebuild their house, their neighbors were gone. The community they once shared was never coming back. 
"There are so many people I know who did not go back," Belinda Reboul told me in a recent phone call. Her neighbors, she said, lost a big sense of community, including their church and schools.
"Without that connection, you feel lost. You feel gone. You never get that feeling back," she said. "It was your community, your home. It's that sense of community that will never be the same." 
In fact, Chalmette's population declined by almost half in the decade bisected by Katrina, according to 2000 and 2010 Census data. 
Post-Katrina, Reboul said the demographics of the parish changed, yielding a much poorer area. A current Google Street view of their old block shows mostly bald patches of land dotted by a house every few plots. 
"[Chalmette] was never rebuilt the way it was when my family and I lived there," she said. "Couple of schools, lots of sports facilities... a great place to raise kids."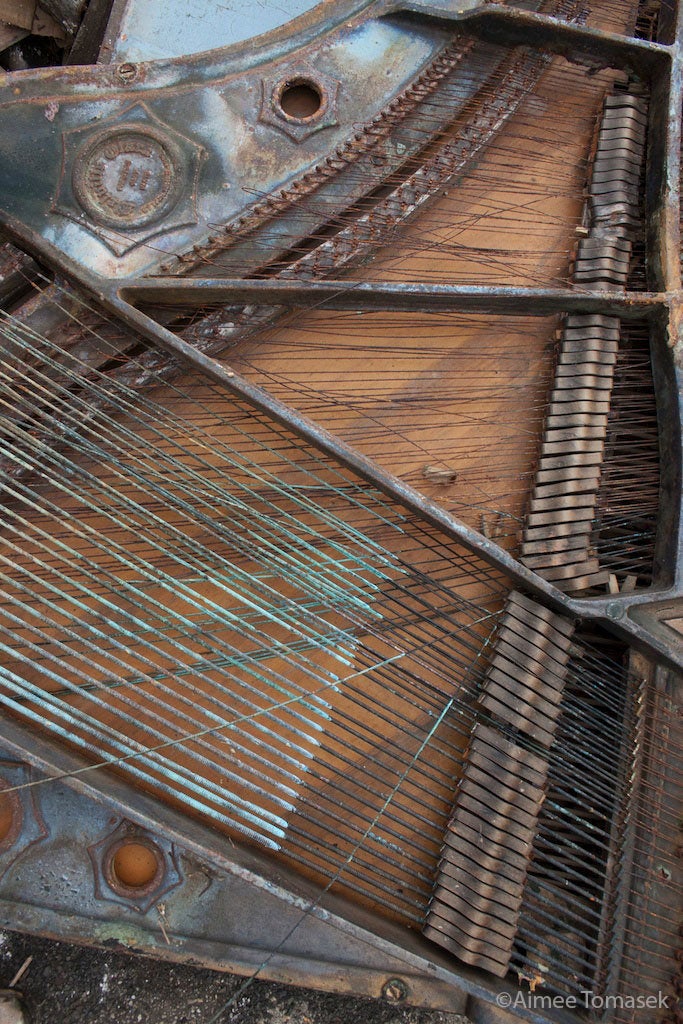 I traveled to New Orleans in the early spring of 2006 with a tiny background in construction and zero clue of what to expect. 
Volunteers who came to New Orleans to assist with cleanup were housed at "Camp Hope," the optimistically named FEMA site in St. Bernard Parish. Church groups, college students, AmeriCorps members and others all stayed at the campsite for days or weeks at a time while gutting homes at no cost to the owner.
After a bus deposited us in a neighborhood, we amateur wrecking crews were given surgical masks (efficacy: dubious), the occasional hard hats and the instruction to wear steel-toe, steel-shank boots lest a rusty nail slide through our soles. 
Most houses we passed in St. Bernard Parish had the "Katrina X" on them. The most crucial information was the number in the bottom quadrant. It told you whether a body was found in the home.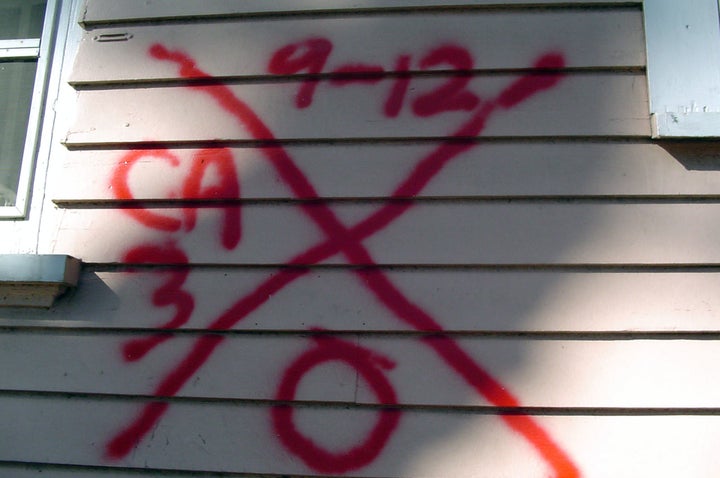 The houses volunteers worked on had been OK'd by officials for structural integrity and no bodies. Teams at Camp Hope shared their stories at the end of the day. The best discovery: Several hundred dollars worth of cash that had been hidden in a wall (the young volunteer turned it over to the tearful homeowner, which was written up in the Times-Picayune). The worst: A badly decomposed dog found in a bedroom. 
But even in the absence of dead animals, the smell of those decaying homes was impossible to forget. The odor only intensified once we started disturbing piles of rubble that hadn't been touched in half a year. It was dank and muddy -- the "Katrina smell." 
If we found a refrigerator, we wrapped it in duct tape and carefully dragged it to the curb -- every home we gutted had been abandoned with food still inside. Everything that could potentially grow mold was tossed out. 
Sentimentality is in my nature, so it took a while for me to learn what "everything" meant. 
This personal check made out to Belinda? Yes. These pictures of her kids? Yes. 
By the time we were done, the amount of salvageable items from the Rebouls' home -- a few odds and ends, mostly porcelain -- could fit into a picnic basket. 
Belinda drove out to meet us one day and brought boxes of Krispy Kreme donuts. She was dressed to work, and helped us as we tore down drywall, tore out carpets, ripped down sinks and emptied her home until there was little left but the studs. 
A few times I sheepishly brought items to Belinda hoping to reunite her with some prized possession. Sometime she would tear up, but she knew the rules better than I did. The item would inevitably be tossed in to a wheelbarrow and dumped outside the house. 
I didn't understand how literally tearing Belinda's home apart was helpful -- or for that matter, why she was so appreciative of the effort. 
Aimee Tomasek, my college photography professor whose New Orleans ties had prompted her to bring several current and former students on this trip, explained.
"This is getting them to a place where they can rebuild," she said.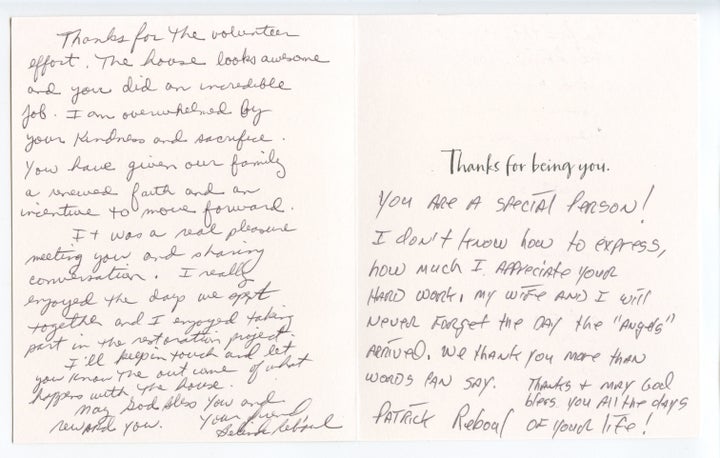 Several years ago the Rebouls made the decision to have their house in Chalmette -- or what was left of it -- torn down. 
"It was actually quite traumatic, watching the wrecking ball come through," Belinda said. 
Because of the way many flood insurance policies were written pre-Katrina, many homeowners were unable to get much relief from damage caused by flooding. If property was damaged because of water that came from up under the door, you were out of luck. If the home was damaged by water coming in from above -- like when Hurricane Rita damaged the Rebouls' roof --  you might fare better.
Belinda admitted the family "lost a lot of money" as a result of Katrina, but noted they were still far luckier than many others she knew of. The baseline for "lucky," in many cases, was simply that your family and friends survived the hurricane. 
"We've been moving around quite a bit," Belinda told me a few days before the 10th anniversary of Katrina. "We haven't found a home we liked until quite recently."
Post-Katrina, the Rebouls left their rental in Metairie and bought a house only to sell it after two years. 
"It never felt like home," Belinda said. Another move followed. Finally, she and Patrick built a house in Mandeville. Their beloved Chalmette is directly across the water, on the other side of Lake Pontchartrain. 
Belinda still yearns for her lost community, but I suspect she's largely nostalgic only because I'm asking her to revisit those memories. She and Patrick actually love their home in Mandeville, she said. They have a garden and are looking forward to retiring.
Ten years on from Katrina, Belinda said, they don't plan to move again.  
"This is probably the only home we can call home." 
REAL LIFE. REAL NEWS. REAL VOICES.
Help us tell more of the stories that matter from voices that too often remain unheard.