According to romance novels and just about every romantic comedy, the moment you realize your significant other is "The One" will be all rose petals and fireworks. But in reality, it's often the small moments that mean the most.
Below, HuffPost readers share the relatable, everyday moments that made them think to themselves, "Yep, this is the person I want to spend the rest of my life with."
1. "When he found out how much of a secret geek I was, and actually found it attractive. When he knew I was quoting 'Star Wars' to him, I knew that was it." -- Caitlin W.
2. "It was a rough day in the office for him, and he came home very tired and standoffish. I was in the den doing my class work and he walked in with a cup of tea, placed it down and on the napkin wrote 'I love you' with a smiley face." -- Ashley L.
3. "It was our second date, though we'd known each other for a few months before this. We were in his apartment, drinking casually while listening to music with him singing and dancing along. He came over and sat by me and just kind of laughed and smiled at me, to which I asked, 'what?' and he said, 'I don't want to freak you out, but I can see you being the mother of my children.' It didn't freak me out at all, though, and that's when I knew." -- Samantha L.
4. "I knew my S.O. was 'The One' when he met my daughter for the first time! They had an instant connection and still, to this day, he loves her as if she were his own! Going on four years we have three happy, beautiful babies." -- Ashley N.
5. "When he offered to help tutor my 10-year-old son, who was struggling terribly in school. He picked him up from school almost every day, fed him and sat at the table with him for hours going over homework and doing school projects -- all while I worked and went to college." -- Kerryanne C.
6. "I knew I liked him when he let me crash on his couch the first week we were dating. I was horribly sick and couldn't get off the couch. He must've spent $100 at the pharmacy to make sure I had exactly everything I needed. I knew I loved him when he went to work and left me love notes inside my box of cereal." -- Jennifer P.
7. "Roughly six months into our relationship we were window shopping together at Pottery Barn. We both fell in love with the same lamp, of all things, and then started talking about our dream houses. When our dream homes were essentially the same, something clicked in my head and I was like, 'yes, this one.'" -- Katy B.
8. "On our third date, I showed up to his house and he had Oreos and Butterfingers (my two favorite things) waiting for me. I knew I was going to marry him right there. He showed me from the start that he was thinking of me and my happiness." -- Kate E.
9. "About a year into our relationship, he was packing to leave for work for a few weeks and I was freaking out about the amount of spiders in our house. He told me not to worry about them. I asked why, and he said, 'I packed them all in my suitcase.' At that time, because of how much of an emotional wreck I was with him leaving, he knew the perfect, sweet way to make me laugh. That's when I knew for sure." -- Marta I.
10. "She stayed up all night with me, huddled under blankets in the study lounge of a college dorm. We talked about our families, our lives, our past, our fears -- everything. There was an easiness and trust between us almost instantly. As the sun came up, we laughed about the fact that we should get some sleep before helping a friend move. We had only known each other for less than three months. That was sixteen years ago." -- Dayna S.
*Note: Some responses have been condenced and edited for clarity.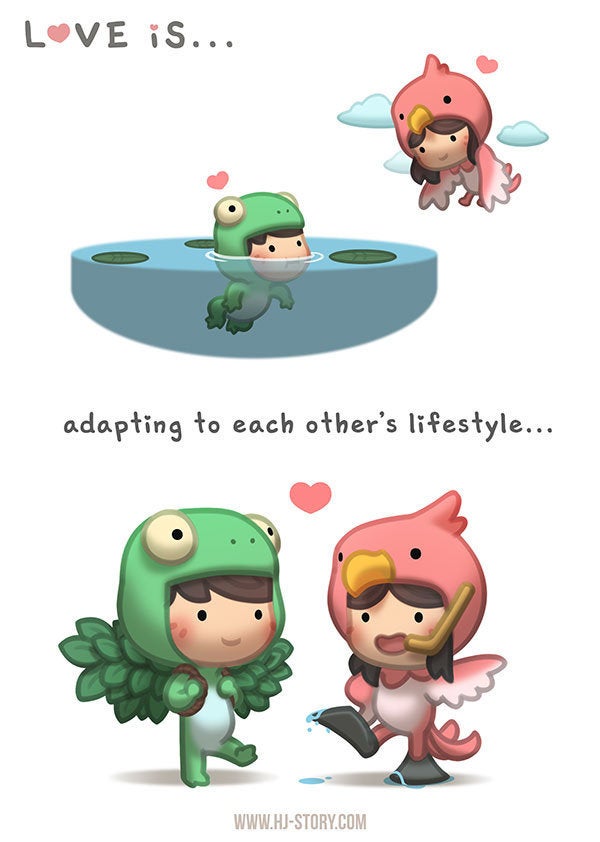 Love Is... Illustrations from HJ-Story