A Republican floor leader in the Tennessee House of Representatives blocked an amendment that would have created an exemption for victims of rape and incest to an anti-abortion bill by arguing that such cases are too difficult to confirm.
State Rep. Sheila Butt tabled the amendment, which was proposed by Democratic Minority Leader Craig Fitzhugh, by saying that a bill requiring patients to wait 48 hours after a mandatory in-person counseling session shouldn't be altered with such an exemption. The legislation does make an exemption for patients who are experiencing medical emergencies.
"This amendment appears political because we understand that in most instances this is not verifiable," Butt said. "Let's make sure that these women have the information and understanding to act. Madam Speaker, I move this amendment to the table."
Fitzhugh rejected Butts' characterization of his amendment.
"I just don't think women take something like rape or incest lightly," he said. "And I can't imagine any person would take advantage of that type of situation. Fortunately or unfortunately, it may not happen much. But it is certainly a condition that women need to be protected from, and that we should not give them a more burdensome process because their pregnancy is a result of one of these two actions."
Democratic State Rep. John Ray Clemmons said in a statement send to The Huffington Post that Butts' comments were "disheartening."
"It was truly disheartening to hear a female Republican member of this House question the integrity and honesty of other women who seek to exercise their constitutional right to have an abortion when they have been victims of rape or incest," he said. "By voting against this exception and then stating that 'in most cases this is not verifiable,' she not only infringed upon women's constitutional rights, she also insulted victims of such heinous acts and belittled their serious, personal struggles."
Supporters of waiting periods say the time before the procedure is intended to ensure that patients are making an informed decision. Opponents argue such provisions are designed to make patients jump through medically unnecessary hoops and are paternalistic. Protesters at the legislature dressed in 1950s outfits to make that point ahead of the vote.
In 2013, a study conducted by the Texas Policy Evaluation Project, which studied the impact of the abortion rights laws on Texans, found that the state's mandatory 24-hour waiting period imposed both emotional and financial burdens on patients.
The debate over the waiting period came as the state House also considered a piece of legislation that would require clinics performing abortions to meet the construction standards of outpatient ambulatory surgical centers. A similar law in Texas, which is being challenged by abortion rights advocates, forced numerous clinics to shut their doors because they couldn't afford the cost of the upgrades. Three of the seven clinics offering abortions in Tennessee do not currently meet the ambulatory surgical requirements.
Butt previously courted controversy in February when she suggested that a National Association for the Advancement of White People -- she called it a "NAAWP" -- be created, as modeled off the NAACP.
Her office did not respond to a request for comment to clarify her position on cases of rape and incest.
Before You Go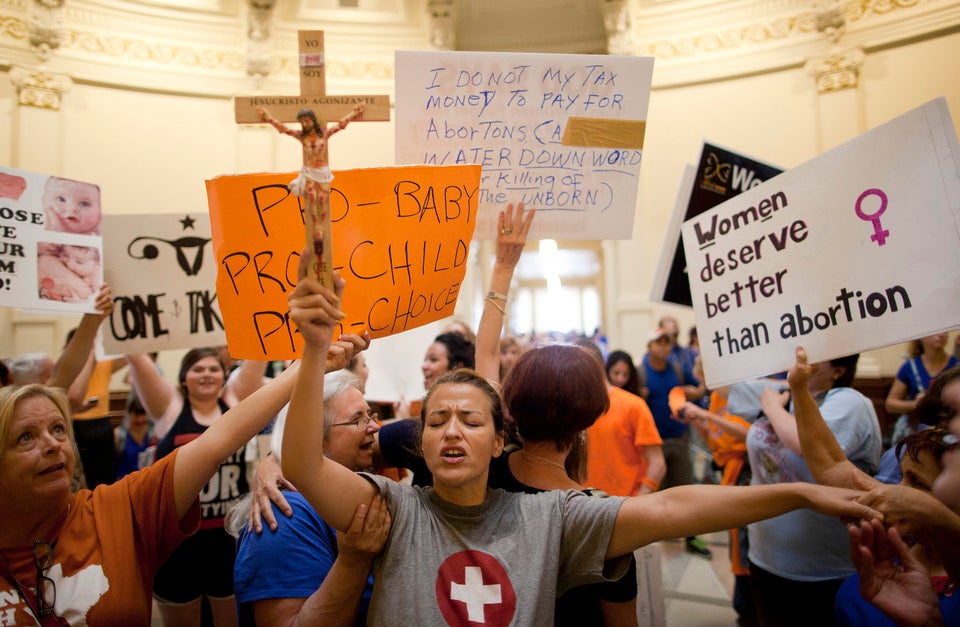 Abortion Protests Around The Nation
Popular in the Community