Tennessee just made it legal for mental health professionals to turn away patients if they violate the therapist's "sincerely held principles." 
Despite widespread condemnation from LGBT advocacy groups and medical organizations, Gov. Bill Haslam (R) signed the bill into law on Wednesday, according to The Associated Press. He had previously said he wanted to meet with counselors and therapists on both sides of the issue and deliberated over whether to sign the bill until the final deadline.
The GOP-sponsored religious freedom bill, widely interpreted as a means of discriminating against LGBT individuals, passed both chambers of the state legislature earlier this month. Originally, the legislation had stated that counselors and therapists could turn away patients based on "sincerely held beliefs," but the state House then broadened the phrasing to "sincerely held principles."
Opponents of the bill fear that the new wording could lead to other forms of discrimination, as the bill does not clearly define what legal grounds mental health professionals can or cannot use to restrict patients.
In justifying his decision to sign the bill, Haslam told The Tennessean that "I was concerned about the legislation -- the connotations," but ultimately authorized it because it does not allow mental health professionals to turn away any patient who is experiencing an emergency. It also mandates that if they refuse to see a patient on personal grounds, they must refer that patient to another professional.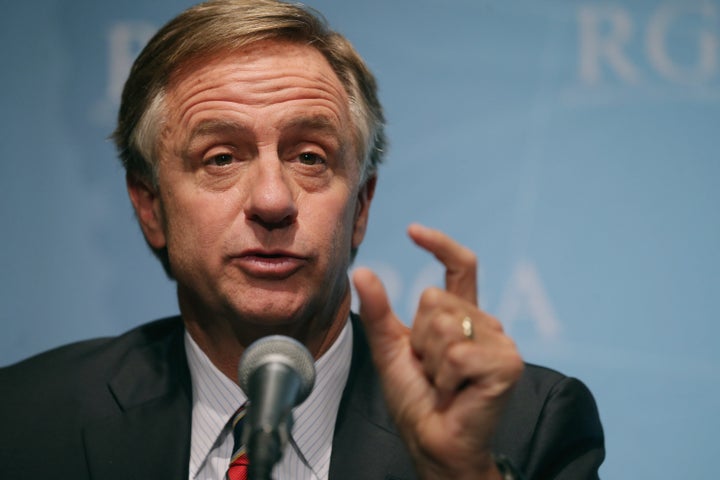 According to the American Counseling Association, a professional group that called the measure an "unprecedented attack," Tennessee is the only state with such a law. It violates the group's code of ethics, which delineates that mental health professionals cannot refuse to serve patients based on "personally held values, attitudes, beliefs and behaviors."
The ACLU of Tennessee condemned Haslam's decision, describing it as "yet another attack on the LGBT community in the wake of marriage equality."
"This measure is rooted in the dangerous misconception that religion can be used as a free pass to discriminate," the group said in a statement Wednesday. "Allowing counselors to treat some potential clients differently from others based on their personal beliefs defies professional standards and could cause significant harm to vulnerable people."
UPDATE: April 28 -- To protest the law, the American Counseling Association, which is scheduled to hold its annual conference in Nashville next year, may move it elsewhere, the group announced Thursday. In addition, Washington state's secretary of state, Kim Wyman (R), said she and her staff will not attend this summer's meeting of the National Association of Secretaries of State in Nashville, in part because of the law. 
Calling all HuffPost superfans!
Sign up for membership to become a founding member and help shape HuffPost's next chapter
BEFORE YOU GO
PHOTO GALLERY
Big Wins, Bigotry and Backlash: The LGBT Political Stories of 2015