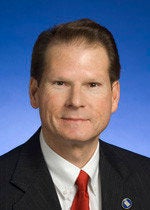 Although GOP state leadership has asked him to back off the issue, the Republican sponsor of Tennessee's so-called "Don't Say Gay" bill will continue to press for legislation banning discussion of LGBT issues in elementary and middle schools, the Associated Press reported on Tuesday.
"We don't want students to be exposed to alternate lifestyles," Hensley said, according to The Tennessean. "If their parents want them to know about that, they can teach them at home."
Although he did not say he would veto the measure, Republican Gov. Bill Haslam called last week for lawmakers to drop the bill, arguing state legislators should focus on more pressing matters.
State Sen. Stacey Campfield (R-Knoxville), who sponsored the Senate bill, told the Los Angeles Times that schools need what he called "Don't Teach Gay" legislation.
Campfield has previously claimed -- incorrectly -- that HIV spread to humans when a gay man had sex with a monkey, a statement that earned him the ire of gay rights supporters and led one restaurant in Knoxville, Tenn., to refuse him service, according to the Los Angeles Times.
Other legislators are also under fire for the legislation. State Rep. John DeBerry (D-Memphis), a minister and supporter of the bill, will likely be challenged by a Democrat this year in his new district, which includes a larger proportion of the Memphis gay community.
"The basic right as an American is my right to life, my right to liberty and my right to the pursuit of happiness," DeBerry said in defense of the bill earlier this month. "Within that includes being able to run my home, raise my children as I see fit and to indoctrinate them as I see fit."
Popular in the Community