Tennessee's Republican-controlled House on Tuesday retaliated against Memphis for removing two Confederate monuments by withholding $250,000 previously earmarked for the city's 2019 bicentennial celebration.
"The amendment and the explanation is hateful," Akbari said before the vote.
But Republicans were not moved, and the amendment passed with a strong majority. In a largely party-line vote, only five Republicans joined 22 Democrats in opposing the measure.
Memphis itself had been legally blocked from removing the statues of Confederate general and Ku Klux Klan leader Nathan Bedford Forrest and Confederate president Jefferson Davis from two public parks, according to The Commercial Appeal. But in December, the city council voted unanimously to sell the parks to a local nonprofit, for a reported $1,000 each. That evening, the nonprofit took down the monuments.
Some people in the majority-black city had been voicing their discomfort with the lingering reminders of the Confederacy for well over a decade. Tennessee House Republicans strongly opposed removing the statues, however, and have called for an investigation into the legality of the parks' sale.
"The law was very clear, and they got smart lawyers to figure out how to wiggle around the law," state Rep. Gerald McCormick (R) told Nashville Public Radio.
Memphis Mayor Jim Strickland (D) said on Twitter that officials "followed the state law down to the letter of it."
Ahead of the city's 200th anniversary in May 2019, Memphis government officials have been working on a plan that Strickland calls "Memphis 3.0." According to the project's website, organizers aim to develop "great neighborhoods" and "walkable/bikeable communities connected by effective transportation options," among other goals.
"While we would have appreciated the additional funding, the ongoing planning for the joint city-county bicentennial will continue unchanged," Strickland said.
The story has been updated with comment from Mayor Strickland and news of the GoFundMe page.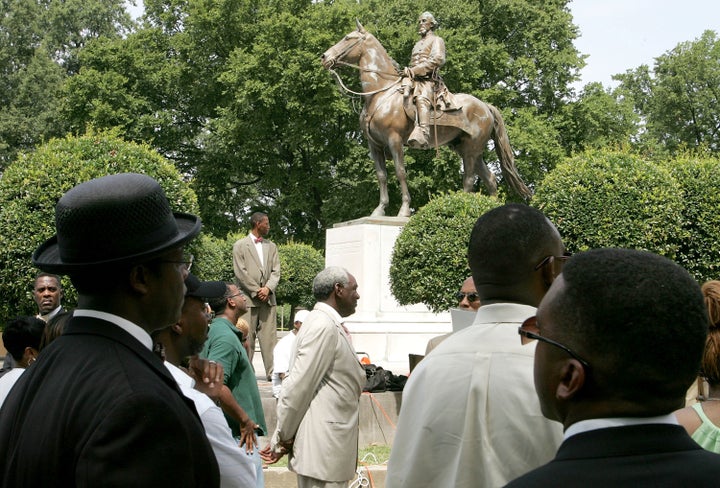 Popular in the Community