Four Marines were shot dead Thursday after a gunman brazenly opened fire on two  military facilities in Chattanooga,Tennessee. The shooter was also killed and three people -- including a police officer -- were injured, city officials said.  
The injured cop was shot in the ankle, but is recovering, Chattanooga Mayor Andy Berke said. Tennessee Sen. Bob Corker said that one of the persons injured was "fighting for their life," at a press conference late Thursday night.
Muhammad Youssef Abdulazeez, who police have identified as the shooter, allegedly used "numerous guns" when he opened fire at a military recruitment center around 10:45 a.m., authorities said, before driving to a Naval and Marine reserve center about 7 miles away. 
Witnesses described him spraying the front of a military recruitment center in a shopping mall with bullets, CNN reported. "I could not believe how many bullet holes were in that door. It was insane,"April Grimmett told the network.
"It was a regular day. I mean, he just pulled up. I didn't think anything of it," witness Laneesha Lewis told WSMV. "He had his drop-top and he looked to the side. And the next thing we know, he lifted up his arms like this and a big black gun. And just it was one shot, and then it was endless shots, one after another. Just unloading."
The situation lasted for about 30 minutes before the gunman was killed. It is unknown whether he shot himself or was shot by police. 
In a statement, Attorney General Loretta Lynch called the shooting a "shameful and cowardly act of violence" and announced the FBI would take the lead in the national security investigation.
"In the days ahead, we intend to work with our partners in law enforcement and the intelligence community to ensure that the American people are protected and that justice is served," she said.
Authorities will investigate the shooting as an act of domestic terrorism, U.S. Attorney Bill Killian said.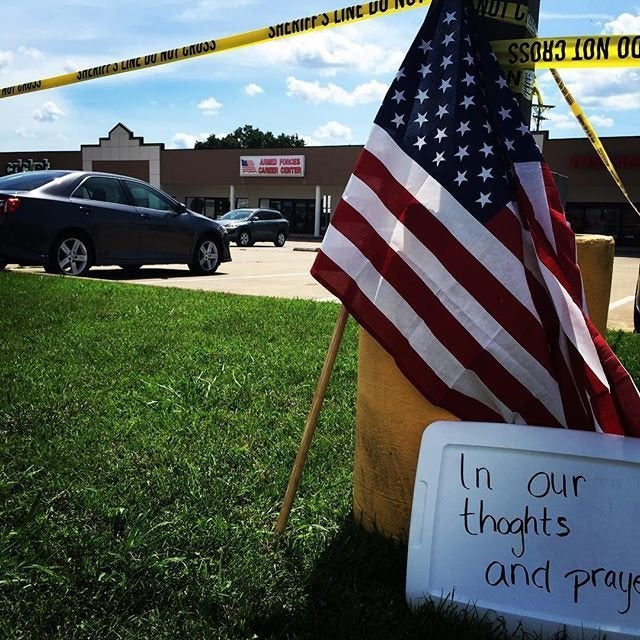 Officials had not released much information about Abdulazeez, but some
details of who he was had surfaced
. Officials said that he was a naturalized U.S. citizen and was born in Kuwait. He graduated from the University of Tennessee in 2012 with a degree in electrical engineering, and had been active in sports during high school. Police reportedly arrested Abdulazeez for a DUI in April in Chattanooga. He was not on federal law enforcement's radar prior to the shooting,
according to a U.S. official
. A motive for that attack had not been made public, but officials believe he acted alone.
"We have no idea what his motivation was," an FBI official said late Thursday night. Abdulazeez had no known ties to an international terrorism, the official said.
"It is incomprehensible to see what happened and the way that individuals who proudly serve our country were treated," Berke said at a press conference Thursday.
"As a city, we will respond to this with every available resource we have," Berke said.
The names of victims, including the four Marines who were killed, had not been released.
Marilyn Hutcheson, who works near the shootings, said she heard the shots.
"I was out on break this morning and I heard about 10 or 15 rapid fire shots, just 'pop pop pop pop,'" Hutcheson said. "The next thing I knew, there were cops everywhere. It's just a frightening situation."
Carolyn Taylor, who works across the street from the second shooting location, told the Chattanooga Times Free Press she had heard what seemed like "eight, 10 rounds at a time."
Twitter user Mike Ball posted a photo of the alleged shooting site.
PHOTO GALLERY
Chattanooga Shooting
This story has been updated throughout. Reuters contributed to this report.
 CORRECTION: A previous version of this story indicated the shooting took place on a military base. 
Calling all HuffPost superfans!
Sign up for membership to become a founding member and help shape HuffPost's next chapter