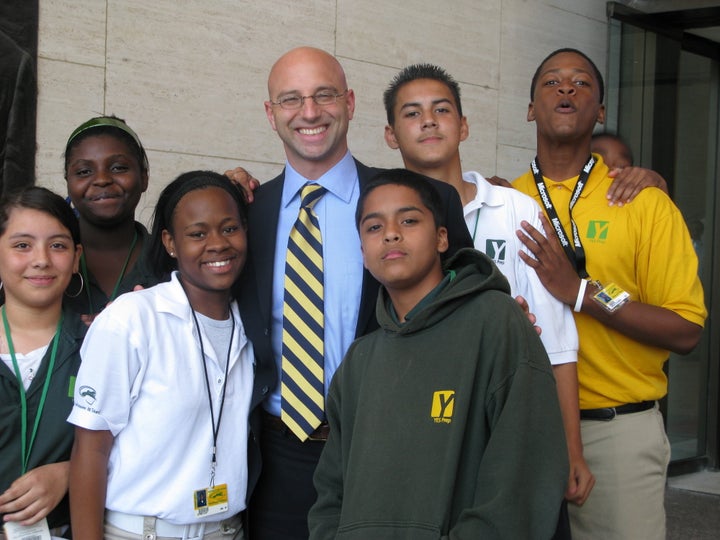 By accepting a job as superintendent of a new Tennessee school district, Chris Barbic has positioned himself as the face of an up-and-coming governance model for reforming failing schools.
The state of Tennessee tapped Barbic, a successful charter school organizer, to run a new special "Achievement School District" that encompasses five of the state's worst-performing schools, officials announced this week. The arrangement puts the state in control of these schools and allows the state to contract the schools out to charter school networks or form partnerships with non-profit organizations.
"The daunting part of it is what's exciting," Barbic said in a phone interview with The Huffington Post.
As the Obama administration stresses increased accountability and autonomy of public schools nationwide and prepares to reauthorize the Elementary and Secondary Education Act, the emergence of the district in Tennessee will be a test case for one of its key reform measures: an increased focus on bottom-of-the-barrel schools. The district will be created by funding from Race to the Top, a school-reform competition sponsored by the U.S. Department of Education.
U.S. Secretary of Education Arne Duncan joined Sen. Kay Hagan (D-N.C.) last week as she announced the School Turnaround And Rewards Act, legislation formally introduced on Thursday that would effectively spur the creation of special districts similar to Tennessee's. The measure encourages states to target five percent of their lowest-performing schools for intervention from the state government.
State control of schools is hardly a new idea. New Jersey began running Newark's schools in 1995, and on Wednesday evening, the East St. Louis Board of Education voted to allow the state of Illinois to control its schools.
But Tennessee's situation is different, since it involves state handling not of entire districts, but of schools handpicked for their failure. "This is a relatively new model of school reform," said Kenneth Wong, director of Brown University's Urban Education Policy Program. "It's neither entirely local control nor state control. We're going to see more alternative ways of running a school like this."
The inspiration for Tennessee's new venture comes in part from Louisiana, which established a state-run Recovery School District in the wake of Hurricane Katrina. While the jury is still out on the method's effectiveness, Wong said, the Louisiana schools contracted out to charter school networks within the district outperform others.
Similarly, Hawaii has two geographic areas called "Zones of School Innovation" that encompass under-performing schools. They receive extra state attention but are contained within a single statewide district.
Some critics say they are wary of the new model because, as a structural fix, it doesn't address instruction or outside factors. "It's on the cheap, and I think we're seeing people trying to put the blame on teachers when it's really a systemic issue," said Charles Russo, Panzer Chair in Education and adjunct professor of law at the University of Dayton. "My guess would be if they get lucky and it works in one place, they can trumpet it as a great success story."
Depending on whether the state removes the scores of ASD schools from the evaluations of their local districts, -- which, a spokesperson for Tennessee's education commissioner said, are still in the making -- isolating failing schools could give local districts an artificial bump in their performance averages.
Whether the model succeeds will in part depend on Barbic, who founded and runs YES Prep Public Schools, a network of Houston charter schools lauded for sending 100 percent of its high school graduates to college. He will run the Tennessee's district in the 2011-2012 school year, moving to Nashville with two children and his wife, Natasha Kamrani, a former Houston school board member.
"A lot of [school] networks are trying to prove that the success we were having five or ten years ago can happen at a larger scale," said Barbic, who added that he will broaden the scope of his management style. "The scale for the special district is significantly larger. That's the challenge that has gotten me excited: to prove we can do this."
Hiring a charter school leader as superintendent of a public school district signals confidence in a model that has led some to accuse its backers of trying to privatize education. Charter schools are publicly funded and can be privately run, and have figured prominently into the nation's debate over the future of education.
Despite his background, Barbic says he doesn't have a philosophical investment in any specific institutional structure. He cares about results. "What I try to tell people is that this is less about charter vs. not charter," he said. "I'm pretty agnostic about charter schools. … If it [a school] is lousy, we'll close it down and try to reconstitute it after we give it the support it needs."
In his new job, which begins on August 1, he will have the mandate to hire and fire teachers as he pleases, he said. Otherwise, he would not have accepted it. "I won't start firing teachers willy nilly, but I do believe that having the ability to control who you can bring in is an important part of how we turn things around," he said.
Barbic's appointment comes at a time of major turnover for superintendents of highly visible school systems. In recent weeks, Chicago, New York City, Montgomery County, Md. and New Orleans' Recovery School District have hired new superintendents. Detroit, Atlanta and Broward County, Florida, are still on the hunt. And last week, Newark hired Cami Anderson to lead its troubled schools.
Unlike Newark, Tennesse's new district is not contiguous. Four of the ASD's schools are in Memphis, with a fifth in Hamilton County. The state plans to grow the program beyond the first five, and deemed eight additional schools in Madison County, Knox County and Metro Nashville eligible for inclusion.
Since the ASD does not encompass a single geographical area, Barbic will probably not grapple with the evergreen municipal problems that hobble education systems, such as poverty, security and gang violence. But these issues may factor into achievement in each ASD school. "That could generate some tension between the special district and the local school system," Wong said.
The new model has its potential pitfalls, Barbic acknowledged. "No one will be busting out the confetti and pom poms when we show up," Barbic said. "If we can build a partnership with the local districts, we can avoid being seen as an evil bureaucracy coming in."
For now, Barbic said he plans to wait to receive the schools' scores for the year before deciding on his next steps. "You don't want to start writing prescriptions until you figure out what the problem is."
Support HuffPost
The Stakes Have Never Been Higher
Related
Popular in the Community