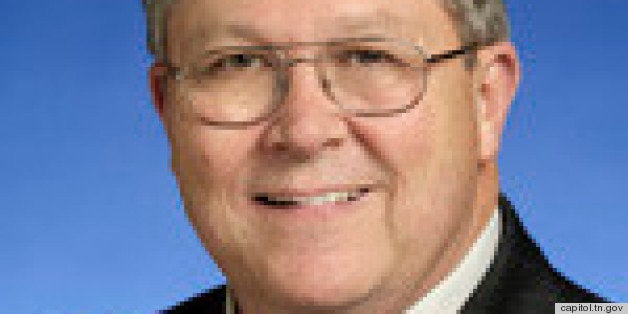 State Rep. John Ragan says the fresh round of criticism he has faced for sponsorship of so-called "don't say gay" bill is uninformed and unfair because he was trying to completely transform the bill so that it had "absolutely nothing to do" with homosexuality.

"It really irritates me in a major fashion," said Ragan, R-Oak Ridge, in an interview.

An article posted on both The Daily Kos and The Huffington Post chides StudentsFirst, a national education reform organization, for declaring Ragan a Tennessee "educational reformer of the year" while he was sponsor of the "don't say gay" bill (HB1332).
Rep. Ragan insists he's not anti-gay. In his view, it isn't an anti-gay bill but a "mental health bill" that merely compels teachers to refer kids to mental health professionals. The latest version says that school officials must "notify parents or legal guardians in the manner specified by law for such a medical referral" if a child is, among other things, suspected of being lesbian, gay, bisexual, transgender, queer (LGBTQ) or gender-nonconforming.
Putting aside the ill-conceived, even dangerous, idea that teachers should be functioning as spies and should be required to essentially out their LGBTQ students to their parents, who are then statistically quite likely to abuse or disown their kids as a result, it's worth noting that the American Psychiatric Association hasn't classified homosexuality as a mental health disorder since 1973. So why Rep. Ragan still believes that LGBTQ kids should be encouraged to seek medical help I'm not sure. I have no idea where he's getting his information.
The Knoxville News also reached out to Brent Easley, the state director of StudentsFirst in Tennessee, for comment. Easley provided a statement from StudentsFirst declaring Ragan's bill "an ill-conceived, harmful piece of legislation that would have represented a backward step for Tennessee schools and kids." But Easley said that he and others within StudentsFirst had not seen the rewritten version of the bill.
That's odd. In the entire year that StudentsFirst was raising funds for Ragan, the state director of StudentsFirst never saw an education bill that their educational "reformer of the year" was pushing? You'd think that they'd have called him up every once in a while to discuss what bills he was working on. Isn't that what a lobbying group is supposed to do? Regardless of their personal relationship with Ragan, the bill wasn't a big, clandestine secret. It was tracked right there in plain sight on the Tennessee state legislature's website for anyone to see. Search the site for "education" or "John Ragan" and the progress of the bill through the legislature is quite clearly tracked by date and action: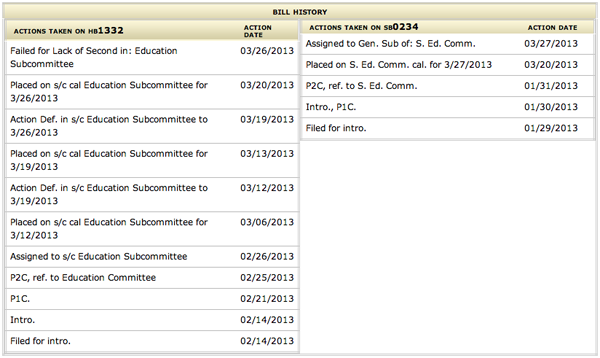 The "don't say 'gay'" bill was actually pretty big national news just over a year ago. If you run a Google News search for "don't say gay" during the bill's most recent active period, from Feb 2013 to March 2013, you can find hundreds of Tennessee state and national mentions of the legislation. It received very substantial news coverage, both nationally and locally, but somehow it didn't ping on the radar of the education experts at StudentsFirst?
If StudentsFirst Tennessee and its state director weren't paying any attention to one of the more explosive education stories coming out of Tennessee in 2012, one wonders what exactly Brent Easley's job as an educational reform professional is? And if StudentsFirst national was caught completely unaware by this story, what are their 75 staffers doing all day?
StudentsFirst national released a statement on Monday in response to this story. No one from StudentsFirst has ever mentioned whether they have formally rescinded their honor or requested that Rep. Ragan return the money that StudentsFirst PAC gave him. This prompted Salon to conclude, "Michelle Rhee's group stands by anti-gay honoree." I'd say that this is an accurate summation, and in the four days since it was posted, StudentsFirst has not clarified what their ongoing relationship with Rep. Ragan will be.
StudentsFirst's statement is carefully crafted to condemn the bill but not its author, as though the bill somehow wrote itself. (Well, to be fair, maybe the bill was written by ALEC.) StudentsFirst references the bill only by its bill number, not as it's far more commonly known: the "don't say 'gay'" bill. In fact, StudentsFirst's entire statement would conform to "don't say 'gay'" directive by carefully and quite conspicuously omitting any use of the words "lesbian," "gay," "bisexual," "transgender," "LGBT" or any variation on them. If you didn't already know that StudentsFirst was specifically discussing LGBTQ inclusion in schools, you could read the statement and still not know that.
The statement was not an apology, nor did it show any real evidence of contrition, nor has StudentsFirst indicated whether they will endorse and fundraise for Rep. Ragan again in the future. And there was also no promise that if StudentsFirst does continue to work with Ragan, they will watch him more closely and work to educate him to conform with their own stated policies and principles that schools should be safe, welcoming spaces for all students to learn.
Popular in the Community