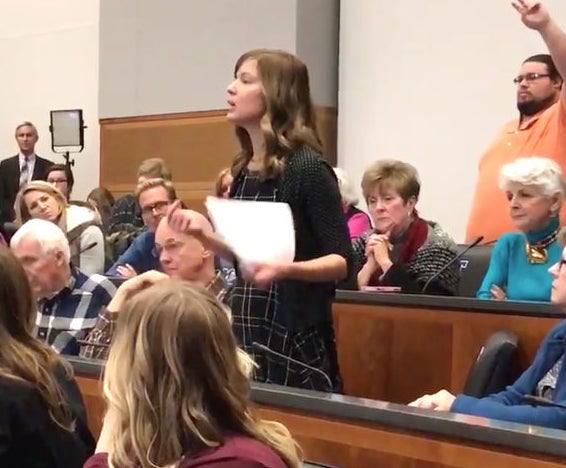 It's ironic, but the Republicans who are jumping up and down to repeal the Affordable Care Act (along with anything else President Obama accomplished) are now getting a taste of their own venom—the same treatment they've dished out since Democrats began work to pass the law eight years ago.
The Affordable Care Act, better known as Obamacare, is something many Republicans claim is hard to understand. Unsurprisingly, a recent NY Times poll confirmed once and for all what many of us already knew from reading online comments—one-third of Americans don't know they are the same thing.
Perhaps our Government should have hired some writers like myself who could've explained things more clearly than most politicians who haven't been handed a script. Or perhaps they should have consulted Jessi Bohon.
During a Tennessee town hall meeting on Thursday evening, which Rep. Diane Black (R – TN) attended, the 35-year-old teacher stood up and delivered her passionate, succinct reasons as to why she didn't want to see Obamacare repealed.
"My name is Jessi Bohon and I'm in your district. It's from my understanding the ACA mandate requires everybody to have insurance because the healthy people pull up the sick people, right? And as a Christian, my whole philosophy on life is pull up the unfortunate. So the individual mandate, that's what it does. The healthy people pull up the sick.
If we take those people and put them in high-risk insurance pools, they're costlier and there's less coverage for them. That's the way it's been in the past, and that's the way it will be again. So we are effectively punishing our sickest people.
And I want to know why not, instead of fix what's wrong with Obamacare, make companies like Aetna that pulled out and lied to their consumers about why they pulled out, and said they pulled out because Obamacare was too expensive, but they really pulled out because of a merger. Why don't we expand Medicaid and have everybody have insurance?"
Bohon received applause from around the room.
Rep. Black responded: "About 20 million people did actually come into the program who were uninsured," she said. "You don't want to hurt one group of people [in order] to help the another. We can help both groups at the same time."
Bohon shot back: "How many of those people were in states where they played a political game with people's lives?"
Black's reply? "I'm going to pass this one."
Bohon later told CNN that she "voted for Hillary Clinton in the presidential election." She said that she learned why helping the needy was so important because she grew up in a coal-mining town in Virginia. "…in Appalachia, because we were so poor there...we had to take care of each other," she said.
Taking care of each other is a concept that many should consider—even if they're not one of those who need taking care of.
Calling all HuffPost superfans!
Sign up for membership to become a founding member and help shape HuffPost's next chapter