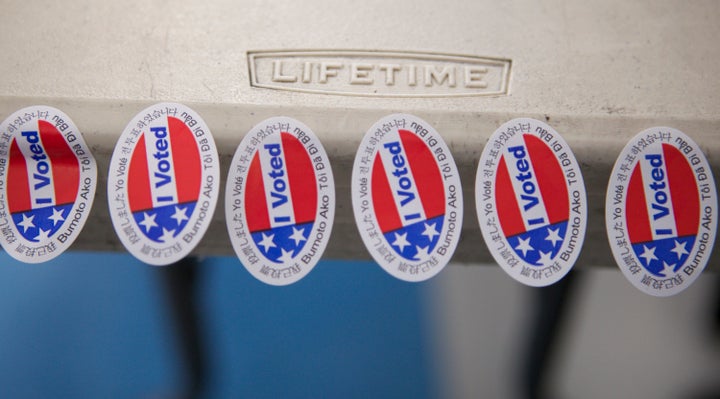 A Tennessee program meant to mitigate the potential disenfranchising effects of a new voter identification law is reaching only a small percentage of residents who don't have ID, a new report finds.
Tennessee's voter ID law went into effect at the beginning of the year, requiring citizens to present state or federally issued photo identification, such as driver's licenses, passports or concealed handgun carry permits, in order to cast a ballot. Student IDs and library cards were excluded from the list of acceptable forms of identification, though officials in Memphis are mounting an effort to make library cards acceptable.
Pro-voter ID legislators responded to concerns over the law by requiring the state to issue free photo IDs to residents who can't afford them. According to an inquiry from the Institute for Southern Studies, however, the state has only "issued 20,923 state IDs for voting purposes to citizens in Tennessee." That potentially leaves hundreds of thousands of Tennesseans still lacking the ID they will need to vote in November.
According to studies by voting rights group the Brennan Center, up to 10 percent of registered voters nationwide lack valid photo ID cards. Using that figure, the Institute for Southern Studies points out that Tennessee, with around 3.9 million registered voters, may be home to more than 380,000 citizens who wouldn't be able to vote if elections were held today.
Elderly Tennesseans could fall victim to a particularly complex problem, as earlier reports found that 126,000 registered senior voters have already partaken in a state program allowing them to get driver's licenses issued without photographs, which aren't valid to use at polling stations.
The huge disparity between the number of voters who still need IDs and the number of IDs issued could portend mass disenfranchisement. From the Institute for Southern Studies Facing South blog:
That figure would only cover 17 percent of Tennessee seniors who are registered to vote but who, according to state records, lack photos on their driver's licenses, potentially leaving as many as 100,000 citizens aged 60 and up without the needed identification to vote.

Using the higher estimate of 10 percent of state voters without photo ID -- both seniors and non-elderly citizens -- the number of Tennesseans lacking the required ID could reach up to more than 300,000.
Voting rights groups maintain that voter ID measures discourage eligible voters -- particularly the elderly, students and minorities -- from exercising their franchise. In this case, voters wanting to use the state's free ID provision must make their way to a Department of Motor Vehicles office and submit a number of documents for approval. Opponents argue that this process can be time-consuming, difficult for non-driving individuals and sometimes impossible if a person doesn't possess the required documents. Furthermore, they contend that the laws are enacted to address a voter fraud problem that studies have found is rare.
Proponents allege that voter fraud is more prevalent than those studies suggest, and claim that legislation is needed to preserve the integrity of elections.
While Tennessee is one of the few states that has offered to issue IDs free of charge, its law has already led to some problems at the polls. According to recent Associated Press report on nationwide voter ID efforts, the state had 154 blocked ballots in its March primary.
Voter ID efforts are igniting a firestorm of controversy across the U.S. Attorney General Eric Holder addressed the legislative moves earlier this week, equating them to "poll taxes."
While voter ID measures in states including Texas await federal approval after challenges to their constitutionality, similar legislation has already gone into effect in others. A report earlier this month found that Pennsylvania's voter ID law could end up disenfranchising hundreds of thousands of eligible voters.
Calling all HuffPost superfans!
Sign up for membership to become a founding member and help shape HuffPost's next chapter
BEFORE YOU GO
PHOTO GALLERY
Voting Laws That Make People Angry