"Tennessee loved his women," Rex Reed said of Tennessee Williams who was born 100 years ago today. "He didn't want to sleep with them, he exalted them in a completely different way." Legendary actresses who brought Williams' characters to life held court with Reed in a panel opening the 25th annual Tennessee Williams New Orleans Literary Festival. As fans mourn the death of Elizabeth Taylor who played Maggie in Cat in the film version of Cat on a Hot Tin Roof, actresses Shirley Knight, Carroll Baker and Zoe Caldwell shared their recollections of Williams with Reed in a panel discussion at Le Petit Theatre.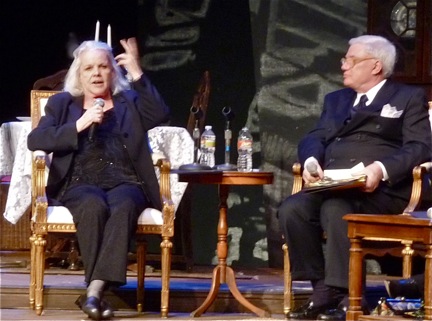 All three actresses told Reed they did not start out wanting to be movie stars, almost unheard of in today's celebrity-maddened culture. Baker (pictured at left) described walking away from a successful film career in America and moving to Italy with her two children and $8,000 in the bank. She made a life there. Williams visited her once a year telling her every time, "I haven't seen you in ages!" Starting out in show business as a young magician with a difficult working relationship with her rabbit eventually led to a switch to an acting career. "I did not like that rabbit," Baker said. Advance publicity posters from Baby Doll raised a holy furor before her movie Giant had came out, and Baker described her first experience with the press: an AP reporter calling to ask for her response to Cardinal Spellman denouncing her role from the pulpit at St. Patrick's Cathedral. "Which film?" she asked. Rumors at the time ran rampant, and at one point, "They said I really slept in a crib!" All in all, she would rather have been an anthropologist.
Caldwell spoke of her Tony-winning role in Slapstick Tragedy, one of her many Tony Awards, and of Williams' habit of sitting in the balcony, laughing through the sad moments in his plays. "All he did was laugh, with a sort of sweet Heh Heh," she said, adding that he once said the laughter was his protection. Her role in Slapstick Tragedy required that she wear whiteface, and was one of his plays which stymied critics who he sometimes referred to as "the carrion birds" according to Reed, who was both a critic and a friend of Tennessee.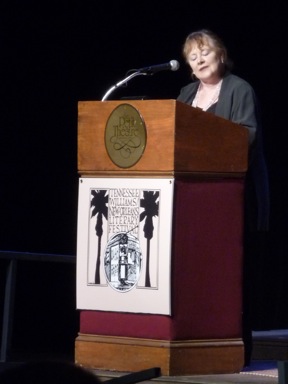 Williams once told Knight (pictured at right) that he wished every play he wrote after Streetcar Named Desire would have been produced without his name attached, to see if the response was different without the filter of what critics expected from a Tennessee Williams play. Streetcar featured the role Knight felt she was born to play, and Williams once told her, "I finally have my Blanche." She also starred in the film version of his Sweet Bird of Youth with Paul Newman, but at the height of her success dropped out of movies to study acting with Lee Strasberg. Reed pointed out that despite looking like a Louisa May Alcott character, "Beth in her last winter," Knight is very, very outspoken. She has been arrested 43 times for marching for civil rights (jailed in Chattanooga), protesting nuclear power plants, and rallying for women's rights. "I can't help it," she told Reed. Knight said her dream role is King Lear, because the men in Shakespeare plays get all the good lines. When Reed suggested a production at Le Petit Theatre, the crowd broke out into applause so there's a suggestion for next year's festival.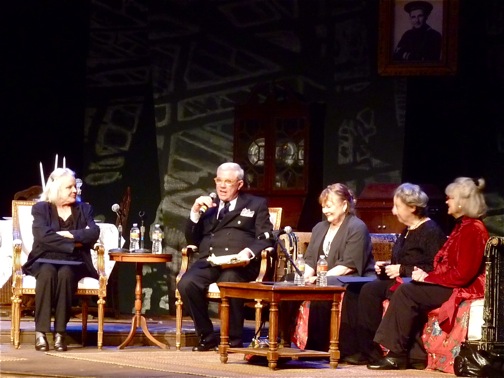 A highlight of this year is Al Hirschfeld's drawings of Williams' characters unveiled at the Historic New Orleans Collection. Panelist Louise Hirschfeld Cullman described her late husband's ability to attend opening night of a play and capture the soul of its characters in his line drawings: "He was a journalist who drew."
Pictured above: Tennessee Williams New Orleans Literary Festival panelists (from left) Baker, Reed, Knight, Caldwell and Hirschfeld Cullman.
Kicking off the festival was a Baby Doll screening on the roof of the Chateau Bourbon Hotel following a cocktail contest won by Stella's Loose Goose. Williams' birthday will be celebrated tonight in a Le Petit party hosted by writers Darrell Bourque, Dorothy Allison, Robert Olen Butler, Armistead Maupin and John Waters along with actors Baker, Knight, Christian LeBlanc, Jeremy Lawrence and Grace Zabriskie.
After a weekend of seminars and special events, the Festival will conclude Sunday with the annual Stellabration in Jackson Square. Contestants stand below a French Quarter balcony and shout to Stanley and/or Stella at the top of their lungs (except for a mime who came in second one year and mimed "STELLAAAAA" at the top of his eyebrows).
For the past 25 years, panelists at the Tennessee Williams New Orleans Literary Festival have described its namesake as bawdy, perverse, maddening and brilliant. His archetypal roles linger in the public consciousness to this day. And Tennessee loved the actors and actresses who have brought his characters to life.