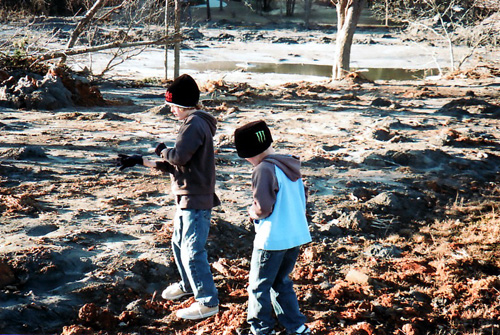 Just-released independent water sampling data from the Tennessee coal ash disaster has shown alarmingly high levels of arsenic and seven other heavy metals, including cadmium, chromium, lead, mercury and thallium.
"I've never seen levels this high," said Dr. Shea Tuberty, Assistant Professor of Biology at the Environmental Toxicology and Chemistry Lab at Appalachian State University. "These levels would knock out fish reproduction ... the ecosystems around Kingston and Harriman are going to be in trouble ... maybe for generations."
Arsenic levels were especially worrisome. "From the water samples you gave us, we had anywhere from 35 to 300 times that [EPA] level" of 10 parts per billion for drinking water, said Tuberty to Upper Watauga Riverkeeper Donna Lisenby, who floated a kayak around the "ashbergs" on Decmber 27, five days after the disaster.
After testing for presence of 17 elements that are regulated by the EPA for drinking water, the Appalachian State University team of Tuberty and Dr. Carol Baybak found that the three water samples and one sediment sample provided by volunteers from the Waterkeeper Alliance and Appalachian Voices showed that "eight of them popped out as significantly higher than they should have been for drinking water."
The test data can be found here.
Meanwhile, the TVA continues to stall and delay releasing their water sampling data. TVA, which continues to refer to the disaster as a mere "ash slide," states that "information regarding air quality and water quality has already been published." Clicking the link provided by TVA for "water sample data" directs readers to data that was taken at the city of Kingston Water intake on Dec 22 and 23, the day of the disaster, and before the material started to migrate downstream. TVA does not provide any updated water sampling data on their website.
Chris Irwin, attorney for United Mountain Defense (UMD), a Knoxville-based non-profit that has been at the site since the day of the disaster writes on Jan 2:
"As I type TVA is trying to conduct their press conference - but they are having a small problem: volunteers from United Mountain Defense have handed out the latest [water] test results to all of the press there and are refusing to stop. I just got off the phone with one of our volunteers. He said at first TVA threatened to arrest him if he did not leave. He said he would not--and all the cameras turned on him."
"Gil Francis--TVA's Public relations guy apparently nearly had a heart attack. If UMD can get this data, why can't TVA?"
While some authorities are proposing dredging to remove the ash from the bottom of the Emory River, "dredging will be a nightmare," said Waterkeeper volunteer John Wathen of Alabama. "Constantly stirring the material will cause continuous turbidity issues. Turbidity, or fine clays is where the toxins are contained. Dredging will keep this material waterborne and in transmittable form to be dealt with for miles."

Related
Popular in the Community