Brian Jagde is Don José in San Francisco Opera's presentation of Calixto Bieito's Carmen through July 3. The Saturday performance, July 2 at 7:30 will be simulcast to AT&T Park for the annual Opera at the Ballpark. The cast will include Irene Roberts (Carmen), Ellie Dehn (Micaëla), Zachary Nelson (Escamillo), Edward Nelson (Moralès), and Brad Walker (Zuniga). Conductor Carlo Montanaro marked a spectacular debut at the opening night performance. "Don José is a brute," said Brian. "I always warn people - he's a killer!"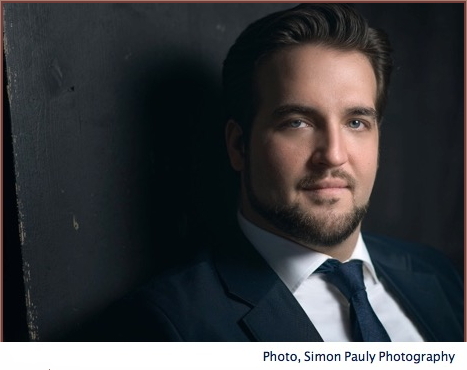 "This production is so highly stylized. I always try to approach the role first through the book. The story [by Prosper Mérimée] starts before what we see in the opera. He's already murdered some people and got caught for the last one. That's why he's a soldier. He was given a choice - go to jail or join the army. The army offered a little more freedom - he wouldn't be sleeping in a jail cell. He's just an insecure guy who kills people. He gets so violent, so angry. It's the only way to resolve his issues with them, the only way he knows to solve his own problems."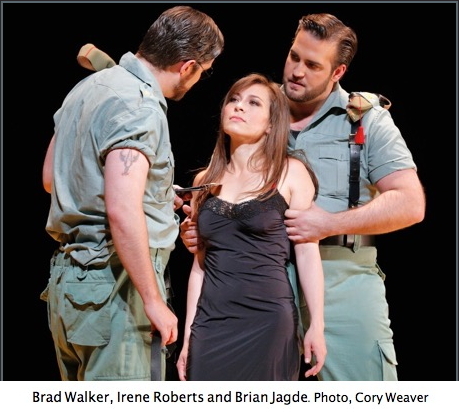 "Insecurity is something we all go through. I had to learn how resolve certain issues. So, I use that part of my history and then go further with it. Don José is usually onstage before Carmen sings the Habanera. 'Be on guard,' she says, 'because if you love me, I'm not going to love you.' That is what the whole aria is about - this personality trait of hers. She throws away guys who throw themselves at her. If you don't do that, she will think - 'Ah, he's interesting!' In this show, you don't see José getting that at all. The first time she sees me, she throws me a flower. I don't know who she is or what she is. She is actually the kind of woman he wanted to be with all the time. He thinks a relationship should somehow go towards what his family had. Obviously, that is not her style. This relationship was meant to butt heads."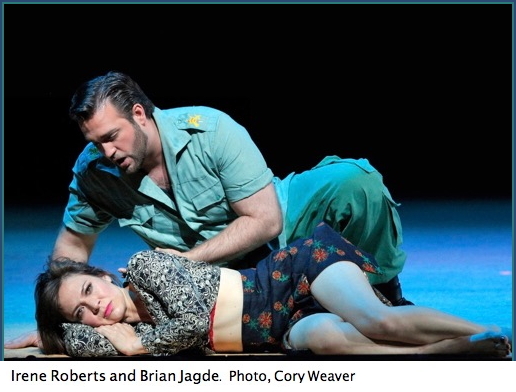 The production by Calixto Bieito has been in circulation since 1999. Its revival director, Joan Anton Rechi, marks his debut with San Francisco Opera. The show is loaded with a long list of manipulations, motivations, omissions, and novel settings that seasoned viewers have been assessing since its world premiere in Catalonia. Seventeen years later - especially for newcomers attending this Saturday's July 2 simulcast at AT&T Ballpark - it will be what it will be: an "as is" experience. Bizet's score remains just as exciting as ever and (though there won't be a rose between anyone's teeth) the principal cast and chorus are fabulous. Brian Jagde's lyric tenor chops are enthralling, his rendition of Don José's Act 2 aria, "La fleur que tu m'avais jetée" (The Flower Song) is dazzling. Brian's ascension on the phrase that leads to the sustained high B-flat is delivered gently and seamlessly, the tonal quality is jewel-like. Even at the opening night performance, he knocked it out-of-the-park. As thousands cheered.
"The easiest stuff for my voice is the bigger stuff. The third and fourth act, when I need to get angry - it's easy. I just need to be on the body and sing. Then I can act on top of that. There's so much dialogue missing from the storyline in this production. It's very speedy. In a way, it keeps it flowing and keeps people interested. It cuts Micaëla down to the smallest amount. I did a lot of the French dialogue for the production at Limoges."
That version in January 2014 was directed by Frédéric Roels, with sets by Bruno de Lavenère and costumes by Lionel Lesire. I asked Brian if his familiarity with the original novel was as vital.
"It's always important for the character. I did the same thing with Pinkerton. I take it and put it into the opera as best I can and within the framework. For this production of Carmen, they really wanted to re-interpret the words of the libretto. It makes it very challenging for her character - she must not be too aggressive. In the dialogue of the third act when we're fighting, Carmen says, 'What are you thinking about?' He answers, 'My mother.' She answers softly, 'Go back to your mother. This isn't working.' But that wasn't the intention of the story line. It should be more like, 'So go to your mother, you weakling!' She knew that would bring out Don José's fire and then we'd have that fight. Some relationships live off those highs. We slam car doors, but it's not the same. I understand why an audience might miss the subtleties. But in the close-ups at the ballpark, the audience will catch these small things, the details we worked on so much."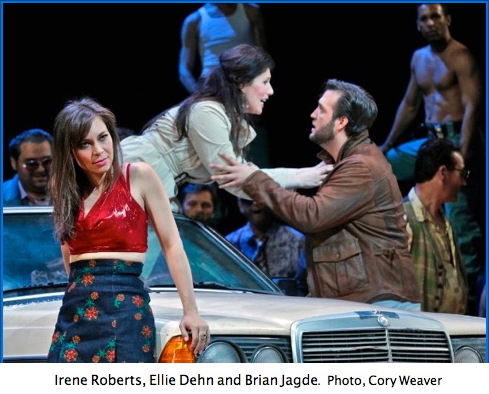 Brian returns to San Francisco Opera in November 2016 for his role debut as Radames in a new production of Aïda. Directed by Francesca Zambello and conducted by Nicola Luisotti, soprano Leah Crocetto is cast in the title role and Russian mezzo-soprano Ekaterina Semenchuk appears as Amneris. Following his SF Opera debut as Carlo Gérard in the Gala opening of Andrea Chénier, Georgian baritone George Gagnidze will sing Amonasro. With contemporary graffiti artist RETNA as Artistic Designer, the adorable floating blue elephant from the 2010 production has probably had its air let out.
"The role of Radames is presenting itself on multiple levels. This is not a traditional production. It's going to be set in a more modern time period. That will mean a big challenge, because I've not done the traditional armaments production set in a certain period of time. The role is beautiful and I'm really loving all the different little things about it. Coming out and singing his big aria, 'Celeste Aida', as the first thing you do - pretty much sets you up. So you have to be ready to go. Some think the aria is a good warm-up. For me, I have to be ready because it is a big challenge."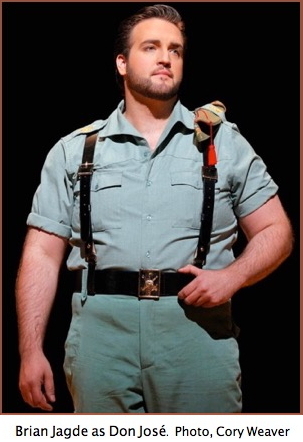 "I think there is a lot of lack in technique out there. In the European scene you see a lot more young singers just getting thrown to the wolves. It's also true in the East European bloc - a lot of turn and burn. Everything came to be about how hot people were and not necessarily about how great a voice they had. If they were a good voice, but still not sure of their technique - if they were good looking, they were thrown onstage and started singing all kinds of roles. Unfortunately, they went into all of this heavy repertoire and suddenly at 30-years-old they can't sing anymore. Going through the role of Radames, I realize how it was done in the past and how it might be done in the future. I'm a lyrico-spinto, but going more towards the spinto roles now - the heavier repertoire which I love to sing. Adriana Lecouvreur is coming up, also Turandot and Trovatore. I think I was very lucky to be in a good American system [a graduate of SF Opera's Adler and Merola Programs] where I was constantly warned to say, 'No.' In my short time as a tenor, I've said 'No' to a lot of roles."
Related
Popular in the Community