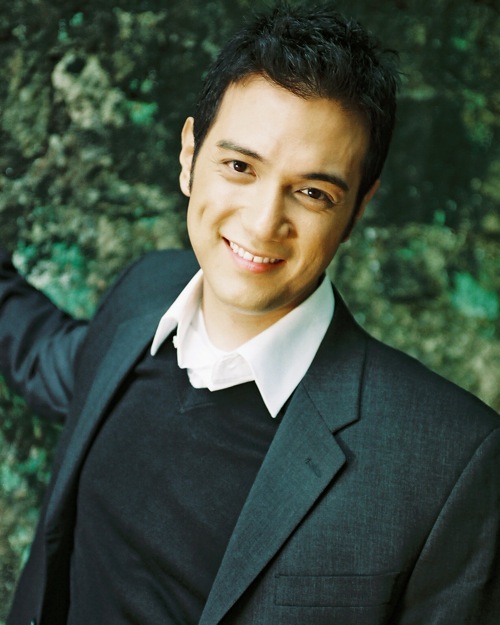 Nick Phan (photo courtesy Balance Photography)
I frequently visit the blog of tenor Nick Phan (grecchinois.blogspot.com - so named because he is half Greek and half Chinese), a friend who happens to be an exceptional and quite eloquent singer. On Friday, November 12, in fact, he reaches a milestone many talented artists aspire to, but never achieve: he is making his recital debut at Carnegie Hall.
One day recently I read his post about National Coming Out Day (October 11), which Nick had written after reading about one of the recent gay suicides that had gotten so much media attention. His words echoed my own feelings, a mixture of both sadness and great resolve, and it made me want to sit down with him at our next chance to discuss some of the issues raised in his post. A few days ago we managed to find some time, so we sat down for a drink and a bite to eat and I turned on my iPhone microphone....
AI: Do you think it's important for a gay performer to be out?

NP: I think it's very important.

AI: Is it just a general question of openness?

NP: No, I don't think it's about that necessarily. I think it's really important because when you are a performer of any sort, you have a public profile and therefore you are an example to very many people. I think you have to be aware of that. You have a social responsibility that comes along with these gifts that we've been given. I don't know if that sounds too idealistic or extreme. It shouldn't distract from the primary focus of your art -- or music, or whatever it is you do. But it's important. It's part of being a public person.

AI: I don't disagree. I'm just asking a question that I've heard other people ask many times throughout my career working with promoting artists. What did you really know about great stars of the past? We certainly knew about Maria Callas's turbulent personal life.

NP: Part of the mystique about her was her personal life. But, we mostly take knowing something about a person's personal life for granted when that person is straight. It's not a big deal. We know so much about Brangelina, and Jennifer Aniston and John Mayer. What do Lindsay Lohan's addiction and rehab and arrests and everything else have to do with her career? Why do we need to know that? But it gets her publicity and attention. She sets an example by the way she lives her life.

AI: Did you ever question how much of your personal life you would let people know about?

NP: Totally. Mostly with my blog. That was really where I had a lot of decisions to make about how public I was going to be about my persona.

AI: How long have you been doing it?

NP: I started it in 2006.

AI: Did you talk to anyone about it before you started writing?

NP: No. I was by myself in Frankfurt, working in Germany. I was bored out of my mind and I figured that since I always wanted to write, why not write a blog.

AI: How vigorously did you debate whether you'd mention your sexual identity?

NP: A lot, actually. I realized that once it's on the Internet it's always there. Everyone can see that. I thought, "What's my mom going to think about what I'm writing?" I can assure you that my mom wasn't happy with that aspect of my blog. When I started it, I wanted to write about what it was like to be living this life that I lead, being on the road and performing. I was dating someone at the time, and I asked myself, "Do I want to go there?" I gave it a moment and concluded, yes I did.

AI: How dramatic was your coming out?

NP: I came out to my friends when I was 16 and it felt fairly dramatic at the time. The decision was huge and completely scary because I was so young and I didn't know what people were going to do. And I came out to my parents when I was 19 and that was even bigger. The consequences of that were even bigger: the financial aspects of taking care of myself were definitely on the table.

AI: Did they handle it well?

NP: No, they didn't. It was very hard on them. I think it's the only time my father didn't go to work and called in sick. My mother didn't handle it well, either. Things were quite contentious between us for years, and they still can be to a certain extent. It's not easy, but I find that our relationship has healed over time. We are much closer every day than we were eleven years ago. But it still can be hard.

AI: But you had no regrets that you had been honest with them?

NP: No, not at all. I felt liberated. If I hadn't done that I couldn't do things like my blog.

AI: Were you openly gay in high school?

NP: Totally -- for the last two years. I was lucky. I went to high school in Ann Arbor, Michigan, at a prep school called Greenhills. We were the children of university professors, and the well-to-do people in that area. A university is a very liberal environment, and Ann Arbor is a huge liberal haven in the middle of a rather conservative state, socially speaking.

AI: So you had a positive experience then.

NP: Totally positive. I came out of the closet, and I found my best friends -- who are still my best friends today. It was the first time I found friends for life.

AI: Where did you go to school after that?

NP: I stayed in Ann Arbor and went to the University of Michigan. Later, I was at the Manhattan School of Music for one year.

AI: As you became more of a performer and you realized this was going to be a way of life for you, and as you got into the business and got more high profile work, did you worry that being openly gay would cause problems for your career?

NP: All the time. And I still worry. So much about being a performer is about dealing with donors, and the people who fund what we do. Coming out is a continual process. I've said to you that I came out twice, but you actually come out every day as you meet people. It's a continual thing. I came out again on my blog without even realizing it -- just by choosing to be open about it on my blog. You end up having to make that choice every day.

AI: Did any professional colleagues - a manager, an arts administrator, a fellow singer -- ever advise you not to publicly talk about being gay?

NP: No. No one ever has. But in our end of the business, things are subtler. But no one ever said, "Don't say this."

AI: I'm a bit older than you, and I can tell you that in the years I did publicity and marketing for Detusche Grammophon and the other labels at Universal -- in the early 1990s -- I was in several meetings where a gay artist was told never to discuss the subject. They were told it was an absolutely inappropriate subject. Some of these artists would talk about their same-sex boyfriend or girlfriend over dinner, but they were told the subject was "the third rail" for an artist to discuss publicly.

NP: No one gave me advice either way. My decision to speak openly about my life came from my moral sense and idealism. The truth is, I'm not really revealing much about my personal life on my blog. When you're straight, the kinds of things I've talked about on my blog -- dating, meeting people, dealing with so many issues of every day life -- are taken for granted. There's nothing "revealing" about a straight person talking about his wife or her kids -- these are just little details. But it's still different for gay people -- and it shouldn't have to be that way.

AI: You've recently been studying songs by Benjamin Britten that were written for his long-time partner -- and, like you, a tenor -- Peter Pears. How much study did you do of their life together in preparing these songs?

NP: Their personal story is actually what got me interested in Britten's music in the first place. I remember being a senior in college and knowing about their relationship in really general terms I got a book of Britten's letters, because I wanted to read their correspondence. And that's what got me interested in his music.

AI: What did you learn about the level of support that they had for their relationship?

NP: It was way ahead of its time, and yet it wasn't. There were also Auden and Isherwood who lived quite openly, and a sense that they were artists and therefore it was okay. One thing I have learned is that they didn't make a fuss about it. They never held hands taking a bow on stage together. There was the public face and private face: they didn't hide it, but they didn't talk about it.

AI: You wrote eloquently on your blog and elsewhere about your sadness with the recent rash of teen gay suicides. Have these recent events wanted you to get more involved and active?

NP: It's just reinforced why I believe it's important to be open. I had a conversation about being out roughly six months ago with a friend after an article about gay actors was published in Newsweek, before the recently publicized suicides, and I told this friend how important it was to show young people that things do get better, that you can be successful and happy as a gay person. It would be easy to say that I don't have this obligation to be open about my personal life if I didn't have this public persona, but I think we do have this responsibility.

AI: Are there any artists on the scene today who inspired you by how they dealt publicly with being gay?

NP: At the upper echelons -- amongst the very top singers -- the only openly gay person that I can think of is David Daniels. He is so phenomenally talented that no matter what he says about himself it's not going to make a difference. I totally look up to him. When I told my parents I was gay, they worried about how it would impact my work. And I remember telling them about the example of David Daniels.

AI: Neil Patrick Harris and Cheyenne Jackson are proving that you can be gay and a very successful actor. Their examples are very encouraging for the future.

NP: There was an article the other day in which someone from the Trevor Project (thetrevorproject.org) was interviewed about the recent media attention that these gay suicides have been getting (towleroad.com). They were asked if the rate of suicides has increased. But the answer is no. It's just that there's been increased media attention that makes it look like there's been a spate of them. Gay suicide by teenagers is a "normal" occurrence. And it's inexcusable.

AI: So, have you made a statement by programming Britten's songs -- including the Seven Sonnets of Michelangelo, which he wrote for Peter Pears -- for your Carnegie Hall recital debut?

NP: No, I have to say it's been totally based on the repertoire. We sort of stumbled into it. We wanted to do some Britten because it's so comfortable for me to sing, but I wasn't trying to make a statement of any kind. But I told you why I first discovered Britten, so you can't really say that his relationship with Pears had nothing to do with it.

AI: One last question before I turn off the microphone: you're making your Carnegie Hall recital debut this month. How does that feel?

NP: Really exciting! And a bit humbling. It's such a great honor to get an opportunity like this, so we are working hard to be our best that night while still enjoying every minute leading up to it. It is most definitely a dream come true moment!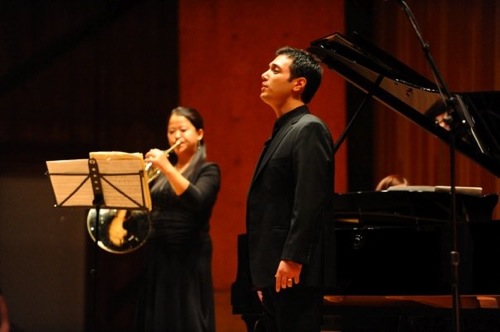 Nick Phan performing at the Marlboro Music Festival (photo courtesy Pete Checchia)
Related
Popular in the Community