This week, Wednesday through Sunday, tenor Simon O'Neill and mezzo-soprano Sasha Cooke join Michael Tilson Thomas and the San Francisco Symphony in Gustav Mahler's Das Lied von der Erde (The Song of the Earth). Described as the perfect song/symphony, the six alternating songs were recorded live in 2008 at Davies Hall with baritone Thomas Hampson and tenor Stuart Skelton and released on the SFS Media label. The songs are Mahler's most sublime works for the voice, requiring gallant vocal chops and bighearted personalities. "I cannot wait to sing with Sasha Cooke," said Simon O'Neill. "Sitting next to her, I'll be the one with the best seat in the house."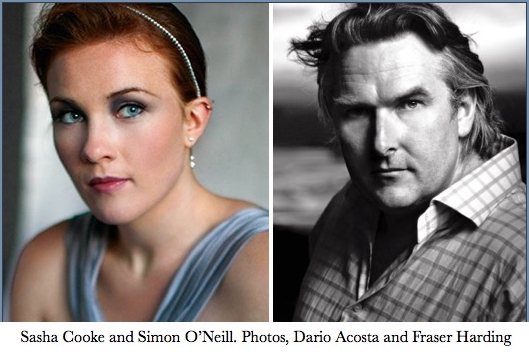 "I've got the full score in front of me now. I do the first song [The Drinking Song of Earth's Sorrow]. The instrumentation is huge. I'm also a brass player. Being 'a brassy' and seeing what the tenor has to cut through - it's pretty daunting. The three tenor pieces are glorious works in themselves. The first starts off with the horns and a massive orchestra. Essentially, you need to be Siegfried. It's always nice when the conductor can give the orchestra a vibrancy at the start and then bring them back slightly when the voice comes in. The second song is like singing Mozart - as in La clemenza di Tito. It has that sort of elegance to it. The third song, a drinking song, is a beautiful piece of music. I love singing lieder generally - Schumann, Schubert, and Strauss. I've just recorded a lieder CD which is being mastered now and will come out later this year. The German Romantic repertoire resonates with me personally and suits me well."
When we spoke, Simon was in Dallas, on a break, preparing for a one-night-only concert presentation of Act I of Wagner's Die Walküre with Michelle DeYoung as Sieglinde. The thought of belting out Wagner before noon prompted me to ask Simon if he would be marking (holding back) his voice during rehearsal.
"No, it's all straight-out singing. Jaap van Zweden is conducting. The Dallas Symphony is a great orchestra along with San Francisco Symphony. What an honor to sing with both of them and just days apart. My general rule is that when the orchestra is there, I don't mark. I only mark if I'm vocally fatigued. I'm there to rehearse. It's something I learned from my teacher, Sir Donald McIntyre, one of the great Wotans - 'Don't mark!' he said. 'You need to develop stamina.' What I've found with a lot of opera singers, particularly in the repertoire of the lighter fachs, is that they mark too much. You have to develop fitness in your voice. You don't want to sing your voice out. No one wins if that happens. But for me, to be there and sing Act I of Die Walküre - it's a joy! The role of Siegmund suits my voice very well. I'm now preparing Siegfried for later this year and Tannhaüser for next year. Tristan will be along the way. These roles are even bigger than Lohengrin and Parsifal."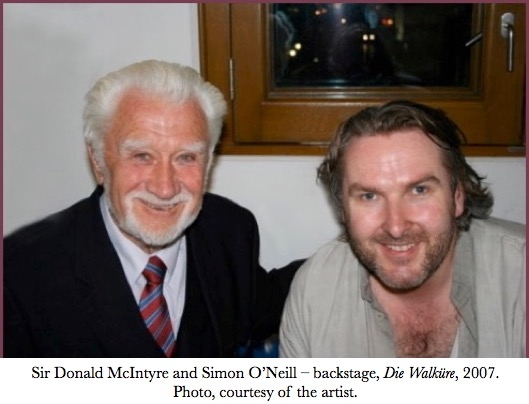 A great introduction to Simon O'Neill's rich vocal prowess is his rendition of the aria "Nessun, Dorma" currently available on YouTube. As probably the most universally familiar piece in the tenor anthology, Simon not only fulfills musical expectations throughout, he catapults his climactic High B into the Celestial. Turandot is suddenly more than the most powerful and desirable of women, even more than an earthly goddess. "La Principessa" becomes her trope - Divine in its application and reserved for her alone.
Simon is from the South Island of New Zealand. He describes his sound/his accent as being all mixed-up at the moment. Conductor Daniel Barenboim once asked him, "What's in the water down there? How does this small country, at the bottom of the southern Pacific, come up with this large percentage of top level singers?"
"I lived for ten years in New York City," said Simon, "so I have this forward American placement - which does work well with one's singing voice. New Zealand's most famous opera star is Dame Kiri Te Kanawa, of course, and Sir Donald McIntyre. I think the New Zealand accent can sometimes get you in trouble with singing opera. It's the A-vowels and E-vowels that are very closed. So, I always laugh when someone says I need to close a particular German or French vowel. We can do that pretty easy in New Zealand, that's for sure."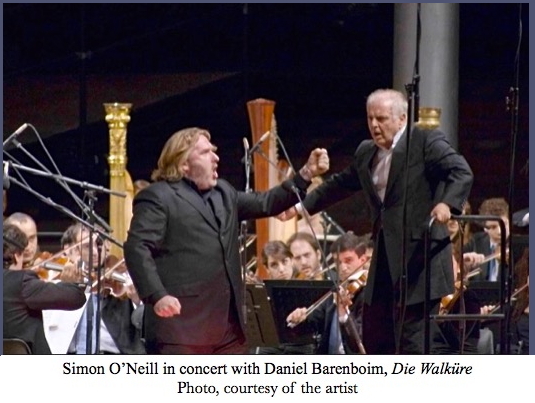 "I'm an opera nerd. Jussi Björling is my idea of the greatest singer of all time. My other favorites are Wunderlich, Pavarotti, Max Lorenz - and then there's a truckload of baritones I love. I have seven recordings of the Ring Cycle on my iPhone. Today I might listen to Max Lorenz singing live at Bayreuth in 1943. I always wanted to be a musician. I've played a thousand instruments since I was eight. When I was an altar boy, I didn't like it - so I became the church organist. I didn't care what I was playing. I was destined to be a high school music teacher. My first degree was in tuba playing and conducting, and then in singing. I ended up at Juilliard and then went into the Merola Opera Program. Now I'm 44 and returning to San Francisco to sing with the Symphony. But twenty years ago? Did I actually think all this would be happening? I don't know. I dreamed that it would happen and it's cool that it is happening. I just want to be a musician, that's all. I don't particularly care what I do. I just want to be in it somehow."
What about the young student tenor out in the audience who dreams of performing Das Lied von der Erde one day, maybe with the San Francisco Symphony? How would Simon advise him, to inspire him to keep at it?
"I love passing on the knowledge that was given to me. Last year I was very lucky to come to San Francisco and work with the Adler Fellows as a teacher, as a coach. I would say to that young tenor, 'Don't overblow your singing. You have to sing this in your voice.' What bothers me at the moment with a lot of tenor singing - around the world actually - is this over-modified sound. The voices are not coming through naturally. They are overly darkened, the sound is overly swallowed. My taste in tenor singing is of the old school - the pre-war German tenor. Fritz Wunderlich, Jussi Björling - and I put Pavarotti in there, too - it's just genius. I would say to this singer that, in the end, this other sound will hurt you. It will damage your voice if you sing this repertoire and over-darken your sound - if you push it down, sit on it. That is not good. The sound has to be elevated. I learned this from singing with the great baritones, such as Donald McIntyre and John Tomlinson. Placido Domingo is perfect at this! He elevates his sound - it's comfortably on an escalator that is going up. That's where I want to be as well. This other sound might feel big to a young tenor in the practice room, but it ain't gonna be big in the theatre - especially with a 106 players in the orchestra behind you. You need to have your voice beautifully aligned, focused and - if you can have a laser in there - that would be good, too."
"I call myself just a plain tenor, but I mainly sing the Heldentenor repertoire. The heavier German romantic repertoire is what I specialize in, what I do around the place. If I can go out and sing Das Lied von der Erde a few times a year - I will be a very happy man."
Calling all HuffPost superfans!
Sign up for membership to become a founding member and help shape HuffPost's next chapter